Last updated: January 26, 2021
How To Choose The Best Haircolor for Skin Tone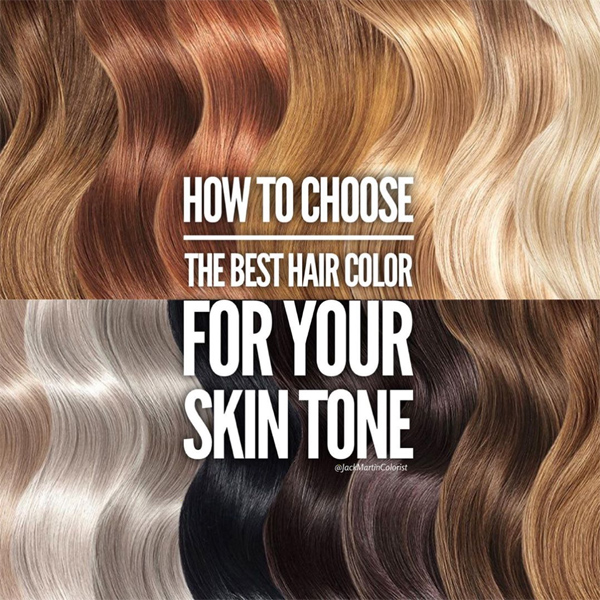 How To Complement Haircolor And Skin Tone
When @jackmartincolorist creates his amazing gray hair transformations, he knows that "gray" isn't a one-size-fits-all color. His jaw-dropping before-and-afters on clients like Sharon Osbourne and Jane Fonda look so natural because he customizes the tone. That's why we are OBSESSED with this super smart breakdown of how haircolor can complement skin tone—use this in your next client consultation!
Cool Skin or Warm Skin?
Start by determining if your client has cool or warm skin. "Examine your wrist, veins and eyes," Jack wrote.
If you see greenish color veins, that indicates more warm undertones.

If you see blue or purple veins, that indicates a cooler skin tone.

If you see a mix of blue, green and purple, that could indicate a neutral undertone.
Check the client's flecks of color in their eyes, too.
Golden or hazel eye flecks can indicate warm undertones.

Blue and gray eye flecks can indicate cool undertones.

A combo of both indicates neutral tones.
Choosing the Right Haircolor For Skin Tone
Now that you've determined your client's skin tone, you can formulate haircolor for the desired end result. "You should make sure that the depth of the color is at least two shades darker or lighter than your skin to avoid looking washed out," Jack wrote.
The basic rules Jack likes to follow are:
Cool haircolors to complement cool skin tones

Warm haircolors to complement warm skin tones
Neutral skin tones have the most flexibility with colors, Jack wrote. "They can go for cool platinum, to beige blonde or golden blonde," Jack said.
Check Out Jack's Post!