Last updated: October 03, 2019
Sterling Silver Transformation
By

Jack Martin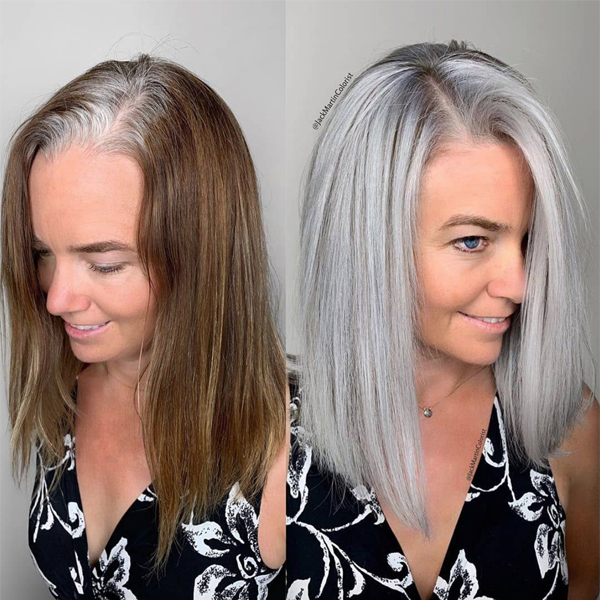 Formula A:

Wella Professionals BLONDOR + 20-volume developer

Formula B:

Wella Professionals Color Charm Permanent Liquid Haircolor 3A/148 + 10-volume developer

Formula C:

Wella Professionals BLONDOR Permanent Liquid Toner Pale Platinum + 10-volume developer
It may not have been a trend we were expecting in 2019, but we're living for the amount of clients who are choosing to embrace their gray. Tired of coloring her hair, this client traveled all the way from North Carolina to California so that BTC Team Member Jack Martin (@jackmartincolorist)–a master at transforming box dye into a gorgeous gray—could give her a sterling silver hue that matched her natural regrowth. Keep scrolling to get the formulas and how-to steps!
Total chair time: 9 hours
COLOR FORMULAS
Formula A:

Wella Professionals BLONDOR + 20-volume developer

Formula B:

Wella Professionals Color Charm Permanent Liquid Haircolor 3A/148 + 10-volume developer

Formula C:

Wella Professionals BLONDOR Permanent Liquid Toner Pale Platinum + 10-volume developer
FORMULA STEPS
1. Start by removing the artificial dye with a color remover, then take very thin sections and apply Formula A starting from where her gray roots begin and place each section in foils. Process until she reaches a pale yellow Level 10.
2. While that processes, take the hair that was left out of the foils and apply Formula B. Let process for 30 minutes to create that salt and pepper look.
3. Open each foil while the hair processes and reapply a new mix of Formula A to any warm areas.
4. Once the hair is done processing, rinse and then tone with Formula C. Process for 20 minutes to neutralize any remaining yellow tones.
5. Rinse again, then shampoo, condition, cut and style using round brushes.