Last updated: January 03, 2020
From Box Dye Brunette To All-Over Silver
By

Jack Martin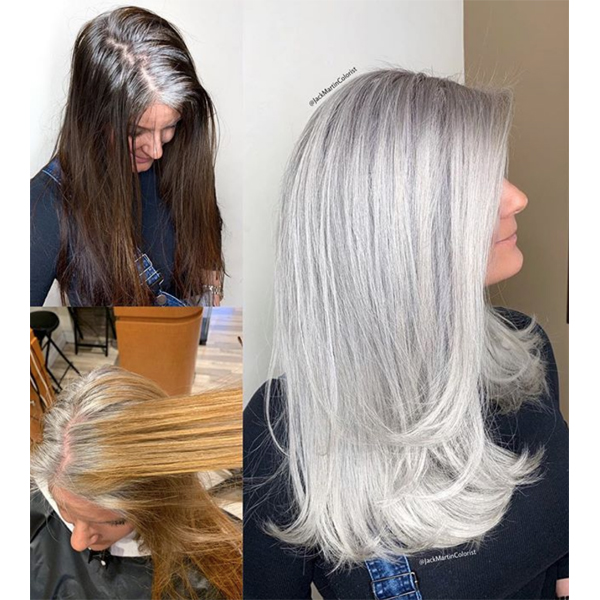 Formula A:

Wella Professionals BLONDOR Multi-Blonde Powder Lightener + 30-volume developer + Olaplex No.1

Formula B:

Redken Shades EQ ½ oz. 9V + ½ oz. 9B + 1 oz. Clear + 2 oz. Shades EQ Processing Solution

Formula C:

Kenra Professional Kenra Color® 10SM + 6-volume developer
Plot Twist: A new client says she's ready to quit her at-home dye sessions in favor of embracing her natural silvery shade. BTC Team Member Jack Martin (@jackmartincolorist) was recently in this exact situation and it took 12 hours to transform box dyed brunette into a stunning sterling silver from roots to ends. And all it took was three formulas, two color removers and lots of patience. Watch his process in the video below, then keep scrolling for the detailed how-to breakdown!
Total chair time: 12 hours
Watch The Video How-To Below
 

 

View this post on Instagram

 
Products Used
COLOR FORMULAS
Formula A:

Wella Professionals BLONDOR Multi-Blonde Powder Lightener + 30-volume developer + Olaplex No.1

Formula B:

Redken Shades EQ ½ oz. 9V + ½ oz. 9B + 1 oz. Clear + 2 oz. Shades EQ Processing Solution

Formula C:

Kenra Professional Kenra Color® 10SM + 6-volume developer
FORMULA STEPS
1. Start by using Malibu C CPR and let it sit for 45 minutes to help remove artificial dye.
2. Then, do two rounds of PRAVANA Artificial Hair Color Extractor and let each round process for 20 minutes. 
3. Apply Formula A throughout the whole head from where the gray regrowth starts to the ends by taking very thin sections. Process for 4 hours. "After an hour and a half, I reopened each foil and reapplied a new lightener mixture on the warm areas until I reached the lightest pale blonde," shares Jack.
4. Rinse, then pre-tone with Formula B and let process for 20 minutes.
5. Rinse again, then blow-dry the hair until it's about 70 percent dry.
6. Apply Formula C to the processed hair only, leaving the natural regrowth out. Process for 30 minutes.
7. Then, apply Olaplex No.2 for 20 minutes to reconstruct the hair.
8. Shampoo, cut long layers (or whatever cut is desired) and style using a blow dryer and round brushes.