Last updated: July 21, 2020
BRASSY BLONDE TO SILVER GRAY HAIR TRANSFORMATION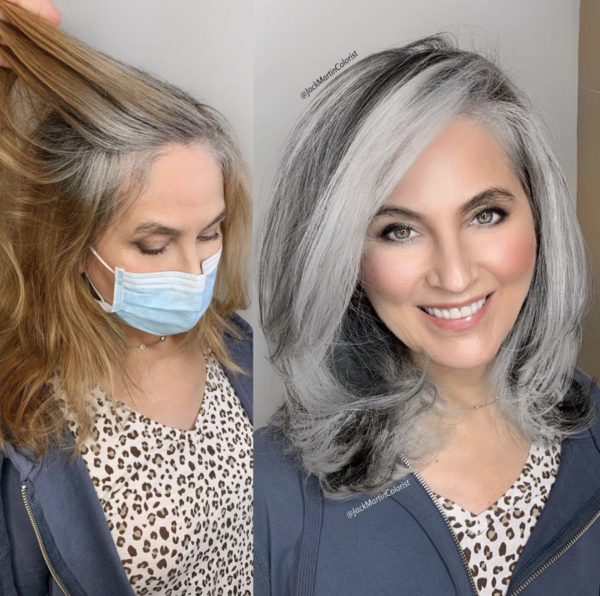 FORMULA A

Redken Flash Lift + 20 volume developer + Olaplex No. 1

FORMULA B

Redken Shades EQ 20g 9V + 20g 9B+80g Clear + 120g Processing Solution

FORMULA C

Matrix ColorSync Sheer Acidic Toner Steel + 6-volume developer

FORMULA D

20g Matrix SoColor Permanent 7AA + 20g SoColor Permanent 8P + 10 volume developer
The Key Tips to Taking Your Clients Gray
Between months of staying at home and the desire for a more low maintenance lifestyle, more and more women are embracing their gray hair and the results are STUNNING. So we asked the first person that came to mind when it comes to transitioning clients to gray hair. Enter Jack Martin (@jackmartincolorist). With high profile celebrity transformations in the books including Sharon Osbourne and Jane Fonda, he is an EXPERT on all things gray hair. So we reached out to him for all the details on one of his recent transformations. Scroll through for some serious JUICE.
Who is this technique for?
The ideal client for this technique is a client with color that is a Level 6 or lighter. Jack does not perform this service on clients with hair that is over processed or that has Henna color in it.
What are the key tips for this technique?
A thorough consultation is a MUST for this service. Jack asks his clients to prepare any questions they  have about the service. The consultation process involves explanation of timing, pricing and products.
Clients also must sign a consent form that states that the health of the hair is priority, and Jack will only push the hair as far as it can go. This sometimes does not guarantee desired results in one session and the client needs to be flexible with this process. Another key part of this contract is that the client must agree to use the recommended product for their hair in order to keep it healthy and maintain color longevity.
How long does this process generally take?
This process takes anywhere from 6-12 hrs depending on clients hair density, length, and starting level. The initial appointment is generally the longest and most expensive. Once this process is complete, your upkeep will consist of toning services or a bleach bath every couple of months.
Products Used
COLOR FORMULAS
FORMULA A

Redken Flash Lift + 20 volume developer + Olaplex No. 1

FORMULA B

Redken Shades EQ 20g 9V + 20g 9B+80g Clear + 120g Processing Solution

FORMULA C

Matrix ColorSync Sheer Acidic Toner Steel + 6-volume developer

FORMULA D

20g Matrix SoColor Permanent 7AA + 20g SoColor Permanent 8P + 10 volume developer
FORMULA STEPS
Step 1: Lighten entire head of hair in back to back foils with Formula A until a Level 10 lift is achieved.
PRO TIP: VERY thin sections are imperative with this technique in order to achieve the desired level of lift. Be sure to leave the natural root out of your foil!
Step 2: Rinse, towel dry, and apply Formula B to the lightened hair. Process for 20 minutes.
Step 3: Rinse, dry hair 70%, and apply Formula C to lightened hair. Process for 30 minutes.
PRO TIP: Applying this steel base to the hair first will help the lowlight formula to not fade brassy.
Step 4: Rinse, fully dry hair, and apply lowlight Formula D in foils. Process for 30 minutes.
PRO TIP: Before rinsing lowlight formula, apply conditioner to silver hair as a barrier to keep it from soaking up any of the lowlight when rinsing. Use cold water to aid in the rinsing process and avoid any running or bleeding.
What does the maintenance and home care look like for this process?
Silver hair has become a highly sought after but notoriously hard to maintain color request. The biggest complaints are fading, yellowing of the hair, and dryness. That is why it is important to talk to your clients about the at home care required to maintain this look. Here are 3 of Jack's favorite tips for clients:
1. Don't wash your hair right away.
Wait 1 week after getting your hair colored before you wash your hair. This will give your hair a minute to recover and replenish any lost oils removed during the lightening process.
PRO TIP: Let your client know it is important for them to start limiting the amount of times they wash their hair. Switching to 1-2 times per week will help the color last a lot longer.
2. Limit heat styling.
Heat styling not only damages your hair, but it can accelerate color fading. Try and let your hair air dry as much as possible. If your hair is naturally straight and you are wanting to create texture, try using heatless methods like foam rollers, sock buns, or braids. If you must use heat, a heat protectant is a necessity. It is important when using thermal styling tools to not exceed a temperature that is safe for your hair. For medium to coarse hair, a temperature of 300-350 degrees Fahrenheit is perfect. If your hair is fine, 200-250 degrees Fahrenheit should do the trick.
PRO TIP: "Apply the heat protectant to hair while it is still wet. If you are using it on dry hair, make sure that you let the product dry first, otherwise you risk baking it into your hair" Jack says.
3. Invest in the right products.
After the silver transformation is done, all products used on the hair must have a white or clear base with the exception of the purple or silver shampoo and conditioner. When your hair is silver, it is prone to staining, so be mindful of what goes on your hair. Over using color depositing products can actually change the color of your hair so it is good to alternate them with color safe shampoos and conditioners.
Between the stress of this service on your hair and the drying properties of toning shampoos, a deep condition 1-2 times a week is a MUST. Apply this to wet hair after you have shampooed and let it sit for the recommended amount of time. You can even wrap you hair in a towel for increased insulation and deeper moisturization.
PRO TIP: Let your client know that all products used must be SULFATE FREE. Show them what to look for on the labels and in ingredient lists.
For other INSANE transformations, visit our JAW DROPPING TRANSFORMATIONS board on Pinterest!