Last updated: November 03, 2023
Quiet Luxury Blonde: The "Old Money" Trend Explained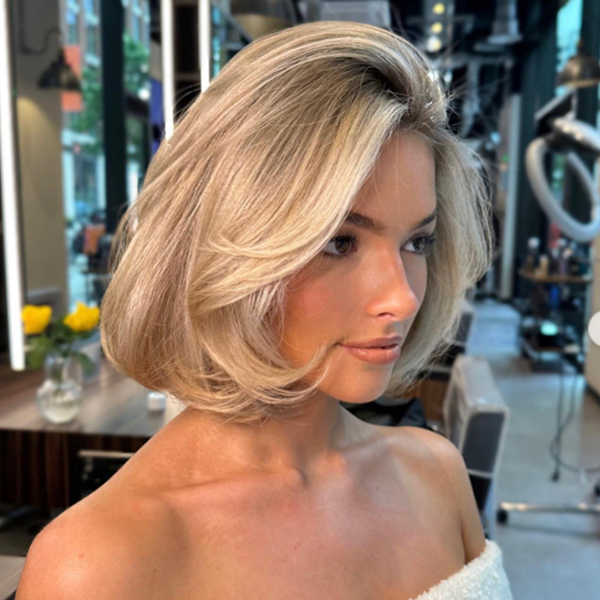 Luxury Blonde, Old Money Blonde, Expensive Blonde—Whatever You Call It, Here's The Breakdown
If you're not part of the Cowboy Copper wave, your clients are likely going to be asking for Old Money Blonde. This stunning hair color nods at the old-timey blonde shades that walk the line of yellow but maintain a neutral hush that clients are loving. The best part? Old Money Blonde is the type of color that clients are willing to upkeep, meaning more frequent appointments and more money in your pockets. 
Natural-looking hair color is all clients are looking for this season and this trend fits the ticket for the high-end, quiet luxury aesthetic booming on social media. We collected formulas, lightening tips and plenty of inspo pics for you to decipher what will best suit the client that comes in asking for Old Money Blonde, keep scrolling to be in the know. 
Shade Variations Of Old Money Blonde
Like all trends, there is never a one-size-fits-all. There is however a few shade variations to hit (and avoid) in order to replicate your client's inspo pics. 
1. Rooted Old Money Blonde
The key is to keep your client's natural root color present throughout the entire head, creating a light glow that pops within the blonde pieces. UK-based stylist and educator Suzi Angelina (@hair.by.suzi) shares this gorgeous transformation with formula for you to try. 
Think of this as less than a root tap, but a "more sheer" root shadow. You'll never quite be able to tell where the root ends, but the veiled dimension will brighten the raw-lifted look. 
Suzi's Old Money Blonde formula:
Foils: Moroccanoil® Blonde Voyage Powder Lightener + 20-volume developer
Root melt: Moroccanoil® Color Calypso Demi-Permanent Cream Color 5N + 5-volume Oxidative Cream Developer
All-over toner: Color Calypso Demi-Permanent 10.12 + 9.13 + 5-volume Oxidative Cream Developer

2. Warm-Based Old Money Blonde
Notice we're calling this warm, NOT golden! Be super careful when formulating a warm-based blonde to not overpower your formula with straight gold to avoid a flat end result.
Think about it in literal terms, "oid money" comes from decades (centuries even) ago; so the techniques, products and color theory used during that time were simple with raw lifts—that is the goal to emulate. Blonde bombshells of the past rocked the deeper, monochrome blonde color that reflects warmth without the yellow shadow that we now call "old money blonde". 
To best balance warmth within a bright blonde, you'll need to do a few things:
"I said it once and I'll say it again, warm tones look good on everybody," says Texas-based stylist Haley Clapp (@live2dyebyhaley). 
Try Haley's warm Old Money Blonde formula:
Roots- Redken Shades EQ™ 06G + 06NB + Shades EQ™ Processing Solution
Lowlights- Shades EQ™ 07G + 07NW + 07NCh + Shades EQ Processing Solution
Mids & ends- Shades EQ™ 010NW + 010G + 09NB + Shades EQ Processing Solution
3. Old Money Blonde with All-Over Dimension
This take on the trend is most ideal for clients veering away from the all-over blonde look, but still wanting to "feel" very blonde. 
A low-lighted variation of this look will need to have an undetectable blend while also balancing a ton of contrast. Precision foils and tip-outs will be the prominent techniques you'll want to use opposed to overly concentrated subsections or V-painting/balayage techniques. 
Two Bright Hairline Techniques You Need
Two words that are non-negotiables for this trend: Bright and seamless. Two techniques that can create bright and seamless? Scandinavian hairline and back-to-back hairline foils. Which ever process you prefer, read the two demos below for the perfect blonde hairline every time. 
1. Scandinavian hairline:
"Bleaching the very fluffy baby hairs after a stitched foil placement will give you that next level, Scandinavian blonde halo of lightness around the face," explains Que Hair Salon Sydney owner Monique McMahon (@moniquemcmahoncolour). The ultra thin application shown below is nothing more than a tap of lightener along the hairline throughout the baby hairs.
Pro Tip: Doing this technique at the bowl will ensure an efficient rinse without over processing. 
2. Back-to-back hairline foils:
"Try this is you're afraid to isolate the hairline, aka, Scandinavian hairline," says hair and business educator Mirella Manelli (@mirellamanelli).
At the hairline, foil three babylights back-to-back leaving no hair in-between each foil. Make sure these are the LAST foils that you apply!
Before pulling foils throughout the head, remove these hairline foils first. 
Carefully rinse and detangle these foils before pulling the remaining sections. 
"I use Kenra Professional Simply Blonde No Ammonia Lightener for this technique. It creates a softer line across the entire hairline," Mirella explains. 
Click below to watch her demo: