Last updated: November 25, 2020
How To Transition Box Dye To All-Over Gray Or Silver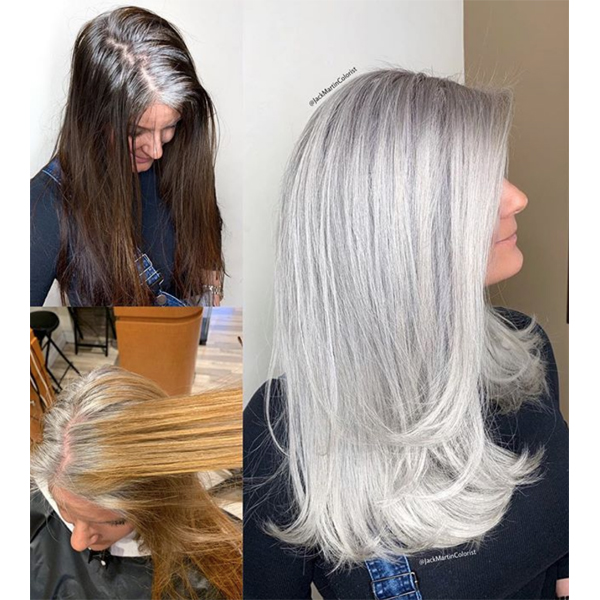 Formula A:

Wella Professionals BLONDOR Multi-Blonde Powder Lightener + 30-volume developer + Olaplex No.1

Formula B:

Redken Shades EQ ½ oz. 9V + ½ oz. 9B + 1 oz. Clear + 2 oz. Shades EQ Processing Solution

Formula C:

Kenra Professional Kenra Color® 10SM + 6-volume developer
5 Tips For Box Dye Color Corrections
We as a society will do pretty much anything to slow the aging process down, which is why so many guests resort to at-home box dye sessions to hide their silvery strands. However, we've seen a recent spike in clients choosing to embrace their gray. Because these transformations are some of the harshest, we reached out to color correction master and BTC Team Member Jack Martin (@jackmartincolorist) for his advice. Here are five need-to-know tips when transitioning box dye color into an all-over gray or silver.
Products Used
1. Prepare For This To Be An All-Day Service
Know that the consultation and the actual transformation should happen on two totally different days. Why? Because it could easily take anywhere from 12 to 15 hours, so you won't be able to fit in other clients. So use the consultation time to ask a lot of questions—like how long she's been using box dye and why she wants to embrace her gray—to discuss maintenance and to determine if her hair will be able to handle the makeover. 
If the client is 100 percent ready to embrace her gray and Jack determines her hair is healthy enough to handle it, he'll collect a non-refundable deposit (which is half of the total cost) and then they'll settle on a day in the future for the transformation. 
Click here to get the how-to steps for the above formula!
2. Don't Go Right In With Lightener
One of the most common mistakes colorists make when doing this type of transformation is applying lightener directly to the box dyed strands. Sure, you'll still get lift but not without the major risk of over-processing and damaging the hair. That's why Jack uses Malibu C CPR first to soften the box dye color and then PRAVANA Artificial Hair Color Extractor to remove the artificial pigments. (Click here for Jack's process, including his fave formulas and detailed how-to steps!)
3. Let's Talk Maintenance
Transforming box dyed hair into a stunning silvery shade is a serious investment for clients (more on that later), which is why you can't let her leave without products and tips for maintaining her tone. Products-wise, Jack sends his clients home with four total: Oligo Professionnel Blacklight Anti-Yellow Violet Shampoo, Joico Moisture Recovery Shampoo and Conditioner and Joico Moisture Recovery Treatment Balm. As for tips, here's what Jack shares with his clientele:
Do not shampoo more than twice a week (and use cool water).
Wear a hat when outside because sunshine can change the tone of the hair.  
Before going swimming in saltwater or chlorine, condition the hair first and then get it wet to prevent it from acting like a sponge. "

If the hair is full of conditioning treatment and water, it won't absorb anymore from the salt or chlorine water,

" shares Jack.
Try to avoid heat styling but if you must, don't set the tools higher than 350°.
4. The Art Of Pre-Booking 
Now that her hair perfectly matches her natural color, she may think she won't need to come back. This is where the art of pre-booking comes in. Explain to her that coming in every 8 to 12 weeks for a quick toner refresh will help maintain her silver hue (and prevent it from fading or looking drab). Also, this transformation can be harsh on the hair so entice her to come back for some conditioning treatments. Although Jack says these clients usually come back not only because they trust him but because they paid a high price and don't want to risk ruining their hair somewhere else. 
5. How To Price
As we mentioned earlier, this kind of transformation is a serious investment for clients. So how much money are we talking? Of course, pricing depends on factors like location, level of experience and the thickness/density/length of the hair. So for reference, Jack, who has been licensed for almost 30 years and is located in Tustin, Calif., prices his back to gray makeovers anywhere from $1,800 to $2,500.
Click here to find out how Jack achieved this stunning silver ash shade!