Last updated: September 08, 2017
Unconventional Metallic Mermaid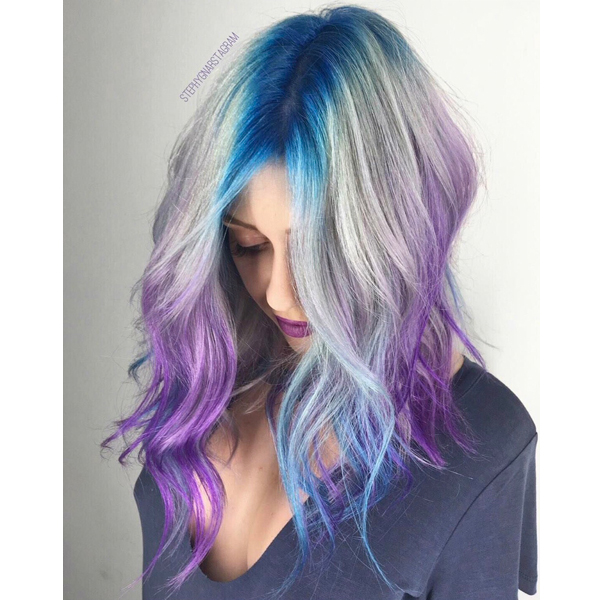 Formula A (lightener):

Wella Professional BLONDOR + 25-volume developer + b3 Brazilian Bond Builder

Formula B (toner):

Equal parts Redken Shades EQ 9V + 9T + 9RB + Processing Solution + b3

Formula C (base):

Pulp Riot Aquatic + Pulp Riot Nightfall + b3

Formula D (midlengths):

Pulp Riot Mercury + Pulp Riot Lilac + b3

Formula E (ends):

Pulp Riot Velvet + Pulp Riot Cupid + Pulp Riot Powder + b3
Stephany Smith (@stephygnarstagram), a stylist at Parlour e.lev.en Salon in Huntington Beach, Calif. and the 2017 #ONESHOT Hair Awards winner for Unconventional Shot of the Year found her niche in creating bold and unconventional looks. We got all the deets for her winning submission so you can turn your edgy clients into metallic mermaids too. Get the color formulas and how-to below!
Want to be featured? Tag your pics to #behindthechair!
Total time: 4½ hours including the time it took to create different styles and take photos.
Pricing: $500
COLOR FORMULAS
Formula A (lightener):

Wella Professional BLONDOR + 25-volume developer + b3 Brazilian Bond Builder

Formula B (toner):

Equal parts Redken Shades EQ 9V + 9T + 9RB + Processing Solution + b3

Formula C (base):

Pulp Riot Aquatic + Pulp Riot Nightfall + b3

Formula D (midlengths):

Pulp Riot Mercury + Pulp Riot Lilac + b3

Formula E (ends):

Pulp Riot Velvet + Pulp Riot Cupid + Pulp Riot Powder + b3
Products Used
VIDEO
HOW-TO STEPS
1

Apply Formula A to the regrowth only, then process with a cap under low heat for about 20 minutes. Process for an additional 5 to 7 minutes with no heat. 

2

Next, shampoo using Goldwell Kerasilk Reconstruct Shampoo. Then, apply a light amount of conditioner on her ends before applying the toner. 

3

Apply Formula B with a bottle over her base for only 1 minute, then finish toning the rest of her hair for an additional minute. Shampoo again but do not condition.

4

Next, apply Formula C on top of her base. "I decided to color her hair while it was wet mainly because she changes her hair a lot and blues can be harder to come out, so there was less commitment coloring over wet hair," shares Stephany.

5

Then, split applying Formulas C and D half and half from the roots to the back.

6

Apply Formula D through her midlengths mainly to tone and help create a barrier between colors when rinsing. Then, using a balayage technique on the ends, color block and alternate applying Formulas C and E throughout her ends. Process for 20 minutes. 

7

Rinse with high pressure cold water while holding the ends up to avoid bleeding. Do not shampoo or condition. 

8

For the style, start by applying Oribe Run-Through Detangling Primer and Oribe Supershine Moisturizing Cream on wet hair. Then, blow-dry using the Dyson Supersonic Hair Dryer and an Olivia Garden round brush. Give her subtle beachwaves using a flat iron. Finish the style by applying Oribe Dry Texturizing Spray to the roots and Supershine Moisturizing Cream to the ends.  

Formula A (lightener):

Wella Professional BLONDOR + 25-volume developer + b3 Brazilian Bond Builder

Formula B (toner):

Equal parts Redken Shades EQ 9V + 9T + 9RB + Processing Solution + b3

Formula C (base):

Pulp Riot Aquatic + Pulp Riot Nightfall + b3

Formula D (midlengths):

Pulp Riot Mercury + Pulp Riot Lilac + b3

Formula E (ends):

Pulp Riot Velvet + Pulp Riot Cupid + Pulp Riot Powder + b3

Formula A (lightener):

Wella Professional BLONDOR + 25-volume developer + b3 Brazilian Bond Builder

Formula B (toner):

Equal parts Redken Shades EQ 9V + 9T + 9RB + Processing Solution + b3

Formula C (base):

Pulp Riot Aquatic + Pulp Riot Nightfall + b3

Formula D (midlengths):

Pulp Riot Mercury + Pulp Riot Lilac + b3

Formula E (ends):

Pulp Riot Velvet + Pulp Riot Cupid + Pulp Riot Powder + b3

10

Finished look—alternate view

Formula A (lightener):

Wella Professional BLONDOR + 25-volume developer + b3 Brazilian Bond Builder

Formula B (toner):

Equal parts Redken Shades EQ 9V + 9T + 9RB + Processing Solution + b3

Formula C (base):

Pulp Riot Aquatic + Pulp Riot Nightfall + b3

Formula D (midlengths):

Pulp Riot Mercury + Pulp Riot Lilac + b3

Formula E (ends):

Pulp Riot Velvet + Pulp Riot Cupid + Pulp Riot Powder + b3

11

Finished look—alternate view

Formula A (lightener):

Wella Professional BLONDOR + 25-volume developer + b3 Brazilian Bond Builder

Formula B (toner):

Equal parts Redken Shades EQ 9V + 9T + 9RB + Processing Solution + b3

Formula C (base):

Pulp Riot Aquatic + Pulp Riot Nightfall + b3

Formula D (midlengths):

Pulp Riot Mercury + Pulp Riot Lilac + b3

Formula E (ends):

Pulp Riot Velvet + Pulp Riot Cupid + Pulp Riot Powder + b3

12

Finished look—alternate view