Last updated: November 25, 2020
4 Natural Ash Toning Formulas + Tips For Mastering The Service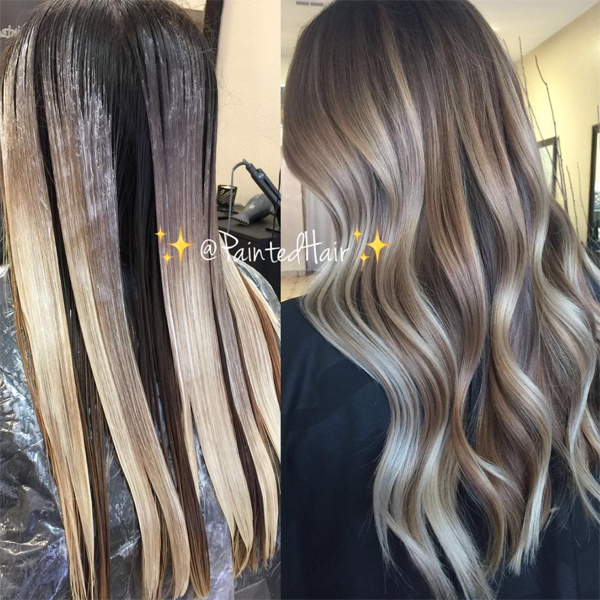 4 Natural Ash Toning Formulas + Tips For Mastering The Service
Toning is equivalent to icing a cake or applying top coat after a nail service. It's the final step that can neutralize brassy tones and add a serious wow factor to your end result. To help you master that, we are breaking down four toning formulas + tips for achieving the perfect hue from some of the best painters on Instagram (@paintedhair, @prettylittleombre, @danielmbeauty and @rochellegoldenhairstylist). Plus, with the new Redken Shades EQ Natural Ash series, creating icier finishes has never been easier! Scroll down for the deets. 
Painted Ash By @paintedhair
Toning formula:
Apply Redken Shades EQ 6A + Processing Solution and melt down into Shades EQ 9NA + Processing Solution.
Quick toning tip for balancing warmth and achieving brightness:
Always tone on tone! Often times, colorists formulate for a level that is lighter than what the client's hair is actually lifted to. Instead, tone to their actual level to avoid any unbalanced warmth.
For example, to take a Level 5 client to pale Level 9 highlights, you must lift first to Level 9/10. If the hair only lifts to Level 8, the primary visible pigments are yellow and orange. Toner can CANCEL these pigments but cannot add brightness for a Level 9 result.
Total Toning Transformation by @danielmbeauty
Toning formula:
Apply Shades EQ 09A + 09V + 09P and Processing Solution at the root, then blend down into Shades EQ 04NA + 06T + 05G and Processing Solution. 
Quick toning tip for avoiding unwanted tones:
If blonde hair is pulling unwanted tones (like hints of green, purple or blue), try using a porosity equalizer spray before toning. This will ensure an even canvas and even end results.
Soft And Bright by @rochellegoldenhairstylist
Toning formula:
Apply Shades EQ 7N + 6NA + capful of 6G and Processing Solution, then gloss with 9B + 9NW + Clear and Processing Solution. 
Quick toning tip for achieving the best end result:
Turn toning into a technique clients can see. Towel-dry the hair and comb it out at the bowl, then take the guest back to the chair where there is good lighting.
Continue to dry the hair until it's 70 percent dry. This way, you can read the color better and create softer, more precise formulas.
Brunette Balayage Top Coat by @prettylittleombre
Toning formula:
Shades EQ 8N + 8NA + 9V + Processing Solution 
Quick toning tips for maintaining color: 
Use products that balance pH levels, or the hair will be too high in alkaline.
Avoid using high alkaline styling products like hairspray to keep the haircolor from fading.
Recommend toning shampoos and conditioners (like the Redken Color Extend Magnetics Sulfate-Free Shampoo or Color Extend Blondage Shampoo/Conditioner) to clients for longevity in between appointments.