Last updated: October 20, 2023
Muted Honey Blonde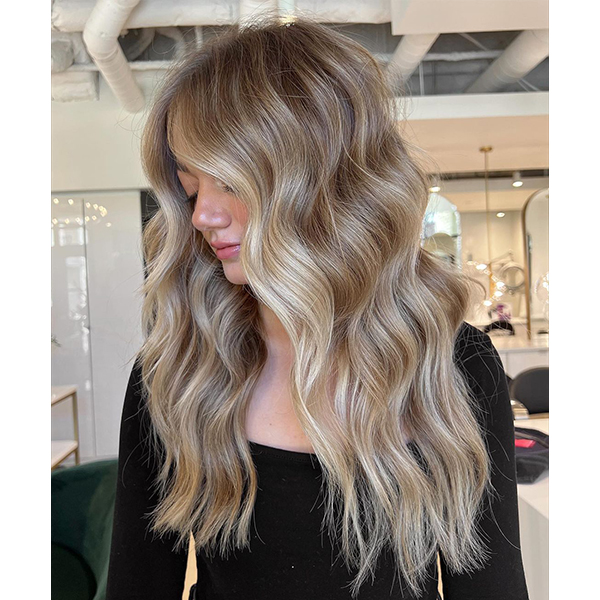 Formula A (highlights):

Goldwell Silklift High-Performance Lightener + 10-volume developer (1:1)

Formula B (lowlights):

Redken Shades EQ 7N + 7G + Shades EQ Processing Solution (1:1)

Formula C (root tap):

Goldwell Colorance 7N + 7NA + 10-volume developer (1:1)

Formula D (gloss):

Shades EQ 9N + 9G + Shades EQ Processing Solution (1:1) 
Transition Your Warm, Summer Blonde To This Muted, Winter Blonde
Make it golden, but subtle: That's exactly what lead educator and owner of Harbor Collective Salon Lexi McClure (@hairbylexidawn) created for her client. Your clients will be requesting this color this season, so keep reading to get Lexi's pricing breakdown, recommended maintenance and formulas. 
The Ideal Client:
"This is honestly great for any client that wants low-maintenance color. It provides a very easy grow-out," Lexi explains. Plus, this color is versatile and customizable for clients who like this flip between blonde and brunette: "You can tone it down to create a dimensional brunette or keep it bright for a lived-in blonde," she explains.
What Can Clients Expect From Their Appointment?
From start to finish, this look took Lexi three hours with the help of her assistant. Price-wise, Lexi will charge $390.
Pro Tip: "I do a base price of $300 and then add on any additional bowls of color," Lexi explains. 
Recommended Maintenance For Golden Blonde Tones:
Clients looking for low-commitment color? This is the look for them. "I have clients that will come in every three months and clients that only come in once a year with this technique," Lexi explains, as the seamless grow-out makes it very versatile and low maintenance.
When it comes to at-home care, keep it simple: "Keep your hair hydrated, use minimal heat and good quality products," Lexi advises.
Products Used
COLOR FORMULAS
Formula A (highlights):

Goldwell Silklift High-Performance Lightener + 10-volume developer (1:1)

Formula B (lowlights):

Redken Shades EQ 7N + 7G + Shades EQ Processing Solution (1:1)

Formula C (root tap):

Goldwell Colorance 7N + 7NA + 10-volume developer (1:1)

Formula D (gloss):

Shades EQ 9N + 9G + Shades EQ Processing Solution (1:1) 
FORMULA STEPS
1. Apply Formula A and process for 30 minutes. Keep an eye on foils while applying Formula B, rinsing out lightener if necessary. Process lowlights for 30 minutes, then rinse (including any remaining foils.)
2. Apply Formula C as a root tap and process for a total of ten minutes. In the meantime, apply Formula D as a global gloss and process for five minutes.
3. Rinse and style as desired.