Last updated: January 28, 2021
4 Secrets For Blending Shadow Roots And Toners

4 Need-To-Know Tips For Blending Shadow Roots And Toners
When it comes to creating the perfect shadow root and blending toning formulas, a lot of colorists run into trouble with timing and creating a seamless end result. So @cassandraplatinum took to her Instagram to share her ways for mastering this application process. Here's what she does and why it works—check it out below.
Cassandra's Toning Formulas:
Formula A (roots):
Equal parts Redken Shades EQ 6N + 6T + 7P + Shades EQ Processing Solution
Formula B (mids):
Equal parts 9B + 9P + 9V + Processing Solution
Formula C (ends):
Equal parts Clear + Processing Solution
The Secrets
1. When toning, always apply the root color first, says Cassandra. This helps with timing and allows the root to process the longest—giving it the max depth and deposit necessary.
Pro Tip: Cassandra says she always tones on damp hair, and when working on blondes, she rarely goes darker than a Level 6. Here's why: Damp hair is easier to comb through—so it will create a more seamless blend when using different formulas, and working on damp hair prevents over-toning when neutralizing ash. Cassandra also stays higher than a Level 6 on rooty blondes because it's the sweet spot for adding depth and contrast without going into brunette territory.
2. To start, apply Formula A working in horizontal sections across the entire back of the head. Blend the formula down through to the midlengths, then apply Formula B at the mids and comb it through to the where the shadow root should start and stopping before the ends.
3. After the back is complete, move to the sides and apply the color to the same areas using vertical sections instead of horizontal and overdirecting the hair away from the face. (Watch the video to see what we mean!)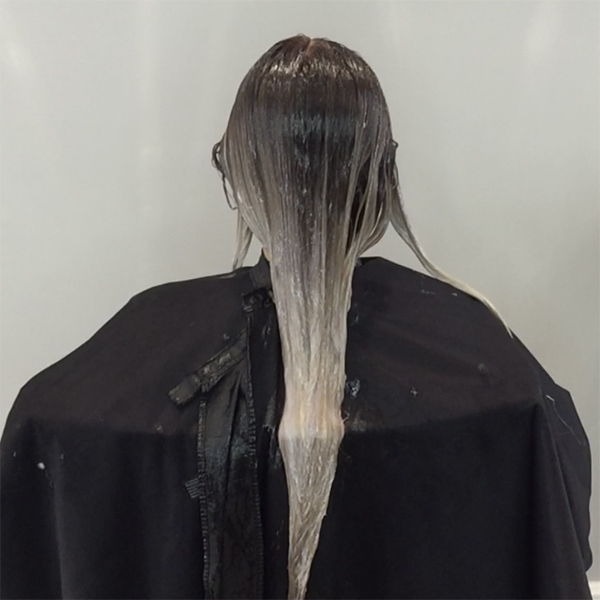 Pro Tip: Work in horizontal sections in the back and vertical sections on the sides. Here's why: It's easier when the hair is damp to work from bottom to top, and horizontal sections give a good visual as to where you should place the darker formula/shadow root. Switch to vertical sections on the sides because it's neater and allows you to work away from the client's face. Plus, using a slight overdirection keeps the root blended without creating any harsh lines, says Cassandra. 
4. Isolate the front hair pieces to keep them light.