Last updated: October 24, 2019
Nine Zero One Salon Celebrates 10-Year Anniversary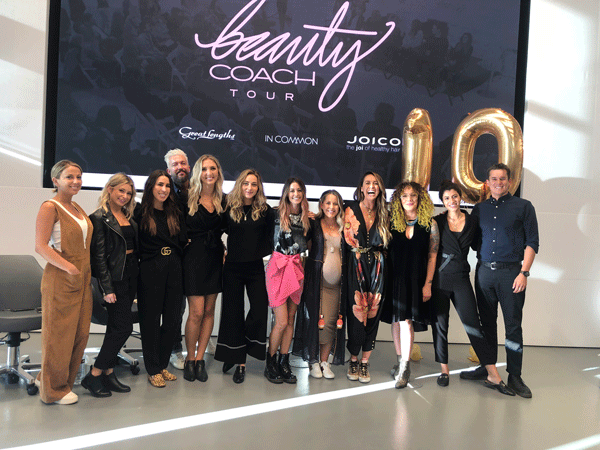 One of the things we love here at BTC is live, onstage education (you can tell, right?). So, when we were invited to attend the last Beauty Coach Tour class with mega-celeb stylists Riawna Capri (@riawnacapri) and Nikki Lee (@nikkilee901), we couldn't say no! Not only was it a full day of all things hair, but it was also an anniversary celebration for Nine Zero One Salon, which Riawna and Nikki opened 10 years ago! There was even a special appearance by longtime client Julianne Hough! Scroll down for a full recap of our day the #AcademyOfHair with Joico and the Nine Zero One Salon Team!
Guests, which included stylists from all over the country (and Europe!), were first treated to a video that showed Nine Zero One's journey over the past decade plus the friendship between owners Riawna and Nikki. They then spoke of their career path, where they went from students to assistants to hair extension artists until they eventually opened their own salon in West Hollywood, Cali. where they now cater to some of Hollywood's biggest names.
Then it was time to see some models and live education! The Beauty Coach Tour is all about bringing everything you need to know on how to succeed as a hairdresser, Nikki explained. Nikki demoed a highlighting color technique using all Joico products and she shared how to apply/style Great Lengths USA extensions while Riawna shared how to cut naturally curly and textured hair. They also educated the audience on the best business practices for running a successful salon, how to handle problematic clients and social media best practices.  
The day ended with a special guest—actress, singer and dancer, Julianne Hough! She shared the story of her friendship with Nikki and Riawna thanks to Nine Zero One Salon and then had the audience participate in some self-love and motivational exercises they can practice in their everyday lives. "I've been coming to Nine Zero One Salon from the beginning," Julianne shared, "not just because they do great hair. But because they are my friends, they make me feel safe and they give me a push when I need help feeling like myself." Then, Riawna and Nikki's families surprised them onstage with special plaques commemorating their 10-year anniversary!
Not only was it a day of education but a celebration of friendship, love, motivation and family. The party continued the following evening at The Dream Hotel in Hollywood, Cali. where guests not only celebrated the first 10 years of Nine Zero One Salon but toasted to the next decade!
Click through the slideshow to see more of our day with Nine Zero One Salon and Joico!