Last updated: August 05, 2021
Toning: How To Choose The Right Color Formula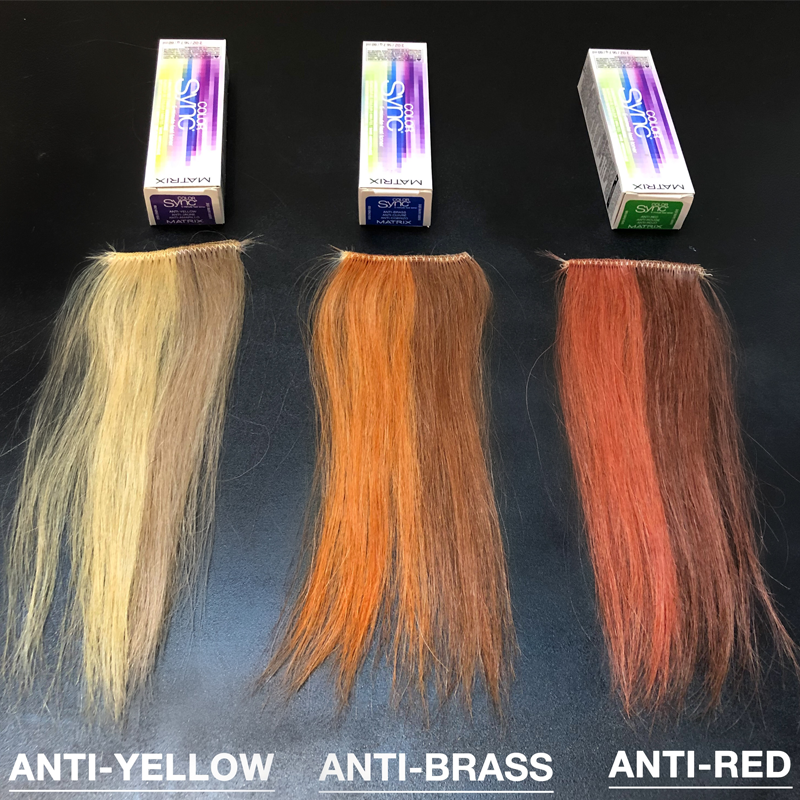 Formulating Tips For Blondes, Corrective Color & Pre-Toning
Whether you're pre-toning for vivid haircolor, correcting unwanted pigments OR just need to give your blondes a quick refresh—how do you formulate toners? Before you reach for that mixing bowl, read through this guide on how to determine the best formulas. Plus, learn the major differences between alkaline, sheer and 5-minute toners from Matrix Global Artist Constance Robbins (@constancerobbins)! Keep scrollin'.
1. Pre-Toning For Vivids? Try This!
To pre-tone or not to pre-tone? If your client wants silver or lavender hair but has unwanted tones from previous color, you might need to remove some underlying pigments. Pre-tone directly after the prelightening process to achieve a clean canvas.

Try This: Constance uses Matrix's Anti-Yellow Color Sync 5-Minute Fast Toner that uses purple tones to cancel yellow on Levels 9 and lighter. It makes pre-toning an easy step (it processes from 1 to 5 minutes) for achieving cooler pastel end results. 
2. Mix & Match For Corrective Color
We LOVE a good color correction (the ones that change your client's life!) but let's be real—formulating for corrective color can be tricky. That's why Constance also uses the 5 Minute Fast Toners for working through pesky underlying pigments. Here's how:
Are they pulling orange? Try this: For brunette clients who have old red in their hair, pre-tone with Anti-Brass which uses blue tones to cancel brassiness on Levels 6 to 8. Then, do a final toner with Matrix Color Sync Original later for rich, mocha brunette results.
Are they pulling red? Try this: For super dark-haired clients (we're talking LAYERS of 1A on their hair!), pre-tone with Anti-Red which uses green tones to cancel warmth on Levels 1 to 5. Then, try toning with something like Color Sync 6A to get them to a nice transition color.
Constance pre-colored the swatches below with the potential underlying pigments (red, orange and yellow), to show how pre-toning can neutralize warmth and cancel unwanted tones in literally 1 to 5 minutes. OMG, right?! Don't sleep on this step 😂
3. Cool Blondes—This One's For You!
One thing's for sure: Your super blonde clients DON'T want to see yellow. But when they are already a Level 8 or lighter and don't need the lift—what's the best way to enhance their tonality? Constance uses a deposit-only formula, like Matrix's Sheer Acidic Toners, because acid falls lower on the pH scale. That will keep the cuticles tight and create a sheer gloss that lays over existing pigments without lifting damage.
What's cooler than being cool?! Constance applying this Sheer Violet & Sheer nude for a color refresh!
4. Alkaline v. Acidic? Here's The Difference!
Yes, acidic toners have low pH formulas and are deposit-only BUT when is an alkaline formula a better choice for the color situation? Alkaline-based toners will shift the base (from a quarter to half a level higher) and provide even color saturation. It's perfect for achieving a subtle shift with full coverage saturation, while acidic toners lay over existing pigments so they work better on light blondes.
Love a good visual? Obvi! Watch Matrix Artistic Director Danielle Keasling (@danielle.keasling) break down different toning color results below!
Tap HERE to watch acidic toning techniques with @constancerobbins!