Pixie Haircut: 4 Styling Tips For Short-Haired Clients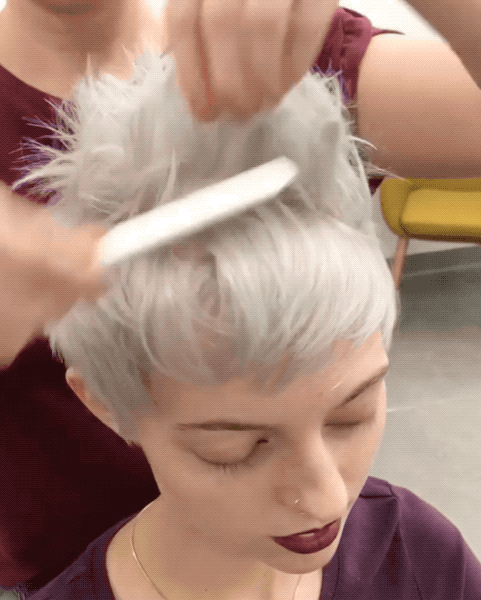 Short Hair Styling Tips + Textured Pixie Video How-To
If your clients have ever contemplated chopping their longer locks into an ultra-cool pixie, THIS is their moment (2018 is the official year of the haircut!). Whether they're feeling French-girl chic one day and rock 'n' roll the next, this super versatile haircut can be worn hundreds of different ways—and it's your job to show them how!
BTC Team Member Emily Anderson (@emilyandersonstyling) is known for her Instagram feed of pixie haircut inspo (and her own platinum pixie!), so we snagged Emily's best short hair styling tips below. Plus, a fast styling how-to for a highly textured, matte-finish pixie look!
1. Work With Natural Partings & Head Shape
You've cut a fresh pixie, now what? The blowout. Emily recommends using a visual map to work with the client's head shape and partings to enhance their natural movement. Follow these easy steps:
Create A Visual Map: Identify where the natural partings are on the head before drying, so you know where their hair naturally wants to move before manipulating with product or heat.
Build Foundational Grip: Emily recommends prepping the hair with a dry texturizing product to add grip and texture—like Schwarzkopf Professional OSiS+® SESSION LABEL Powder Cloud!
Control Movement With Air Flow: Utilize the movement of the natural parting in the crown. Allow the hair to flow in the direction it naturally wants to move and use that as your guide during the blowout.
2. Less Hair = Smaller Tools
Start becoming more comfortable with smaller barrels and irons. "A small flat iron is my most-used tool for styling short hair with versatile results," shares Emily. "I can easily create bends and waves for the lived-in feel or a more structured wave, smooth or straight texture."
3. Determine Your Client's Preferred Finish
On short-haired clients, the products you use will alter the haircut's vibe drastically. Consult with your client about how they want to style their hair at home, and determine the best-suited finish. Matte or shiny? Lightweight or stronger hold? Determine what will best suit their hair texture, density and personal style before styling.
Pro Tip: For pixie first-timers, teach clients how to style their own hair at home. This will give them confidence and build trust, aka improving client retention and empowering them to experiment (and fall in love with!) styling their new haircut. 
4. Matte Texture: Watch This Fast Styling Tutorial
If your client likes edgy texture that emphasizes their short and choppy look, try this matte-finish style with an enhanced Mohawk section. Get the quick styling how-to below:
Prep the hair by applying OSiS+® SESSION LABEL Powder Cloud to the root and working through the hair using your fingers.

Backcomb the hair using a fine tooth comb, then use OSiS+ Mighty Matte to create piecey definition throughout.
Apply OSiS+ Freeze Strong Hold Hairspray all over for long-lasting hold.
Watch The Video How-To Below
 

 

View this post on Instagram

 
THAT MATTE TEXTURE! Check out the finished look below.