Last updated: December 13, 2022
Pixie Haircuts: What You (And Your Clients) Need To Know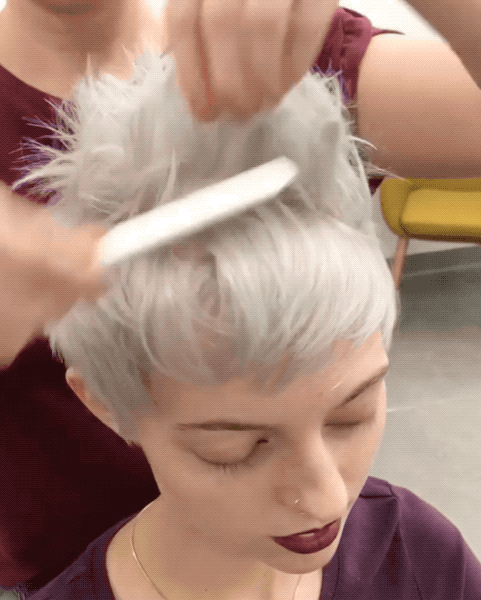 Pixie Haircuts & Pixie Hairstyling In 2022
You've probably seen pixies popping up on Instagram more frequently and it's got us thinking, "Are pixie haircuts in style for 2022?" But here's the tea: A pixie cut is always in style! So with more and more clients wanting to chop it all off, below, we're sharing everything you (and your clients) need to know about a pixie haircut. From how to customize a pixie for every face shape and how to style it to how to grow out a pixie, keep reading to learn more!
Access UNLIMITED Cutting, Blonding & Styling Education With A BTC-U Member Subscription—Click Here To Get 50% OFF An Annual Membership!
Pixie Cut Consultation
Chances are getting a pixie haircut wasn't a rash decision for your client, but that doesn't mean there won't be some hesitation at the start of the consultation. Here are the questions your client will probably ask you before getting a pixie cut:
Can I pull off a pixie cut?

Are pixie cuts easy to maintain?

What should I know before getting a pixie cut?

Will I look good with a pixie cut?

Is a pixie cut good for thick hair?

Is a pixie cut good for thin hair?

Does short hair make you look younger?

Is short hair healthier than long hair?
Will I Look Good With A Pixie Cut?
Before she chops all her hair off, pretty much every client wants to know if she can pull off short hair. And she can! As long as you give her a cut that works best with her head shape and facial features.
Oval

—Basically an oval face shape was made for a pixie cut because there's no need to balance anything. These clients can rock anything from a very short pixie and tiny fringe to textured locks.
Long

—For elongated face shapes, the goal is to reduce the volume up top so it doesn't look even longer. To balance this shape, opt for longer fringe that reaches the eyebrows to give the allusion of a smaller forehead.
Heart

—For clients with a heart shaped head, you'll want to highlight their cheekbones so stick to long and deep side fringe but leave the length at the back of the head as short as possible to create balance.
Round

—With round face shapes, the goal is to make everything look longer so add some volume up top and keep the back and sides as short as possible. You also have the option to add some movement and texture with layered locks or asymmetrical bangs.
Square

—Just like with round faces, you want to cut a pixie that blurs the angular lines of the face and layers will accomplish that.
Diamond

—For clients with a diamond face shape, you're working with angular structures and slimmer, pointy chin shape. So to balance all this out, you have to highlight the cheekbones while playing with her face lines so opt for an asymmetrical pixie cut with textured locks. The different lengths will help break of the strong contour of her face.
What Should I Know Before Getting A Pixie Cut?
Before they commit to such a major chop, some clients will ask what they should know before getting a pixie haircut. Here are some key points to share:
You won't run out of shampoo and conditioner as quickly.

Your hair will dry in about 2 minutes flat.

People will have strong reactions, both good and bad so be confident.

Your haircut appointments will be more frequent.

Growing it out is a process, so be prepared.

The bedhead will be insane at times.

You may need to learn how to style your hair all over again.

You'll have periods where you really miss your longer locks.

You may feel like you need to amp up your style or makeup to match your haircut. 

You'll have nearly no tangles to brush out.

Make sure you are in the right mindset for a major change if you choose to get a pixie cut—it's an adjustment at first!
Is A Pixie Cut Good For Thin Hair?
Or is a pixie haircut good for thick hair? Both actually! Any client can rock a pixie as long as you customize the cut to complement her head shape and facial features. (And a little confidence doesn't hurt either 😉) Don't let clients stress about the question, "What's the best cut for my face shape?" It's more important to identify what features they want to highlight or may feel insecure about during the consultation.
So how do you customize your client's pixie? It's all in the detail work! Those finishing touches of customized texture and softening the ends is what completes the haircut. And whether you're cutting wet or dry, keep consistent moisture. "The hair flicks and moves differently depending on moisture levels," shares BTC Team Member Emily Anderson (@emilyandersonstyling). And if you're cutting dry, then make sure the hair is 100 percent dry.
Note: A long-layered pixie is the best shape for thin hair and a textured, choppy pixie is best for thick hair.
How Much Is A Pixie Cut?
A pixie cut is just like any other type of haircut so it'll vary from stylist to stylist due to factors like location and experience.
How To Style A Pixie Cut—4 Tips
1. Work With Natural Partings & Head Shape
You've cut a fresh pixie, now what? The blowout. Emily recommends using a visual map to work with the client's head shape and partings to enhance their natural movement. Follow these easy steps:
Create A Visual Map: Identify where the natural partings are on the head before drying, so you know where their hair naturally wants to move before manipulating with product or heat.
Build Foundational Grip: Emily recommends prepping the hair with a dry texturizing product to add grip and texture—like Schwarzkopf Professional OSiS+® SESSION LABEL Powder Cloud!
Control Movement With Air Flow: Utilize the movement of the natural parting in the crown. Allow the hair to flow in the direction it naturally wants to move and use that as your guide during the blowout.
2. Less Hair = Smaller Tools
Start becoming more comfortable with smaller barrels and irons. "A small flat iron is my most-used tool for styling short hair with versatile results," shares Emily. "I can easily create bends and waves for the lived-in feel or a more structured wave, smooth or straight texture."
3. Determine Your Client's Preferred Finish
On short-haired clients, the products you use will alter the haircut's vibe drastically. Consult with your client about how they want to style their hair at home, and determine the best-suited finish. Matte or shiny? Lightweight or stronger hold? Determine what will best suit their hair texture, density and personal style before styling.
Pro Tip: For pixie first-timers, teach clients how to style their own hair at home. This will give them confidence and build trust, aka improving client retention and empowering them to experiment (and fall in love with!) styling their new haircut. 
4. Matte Texture: Watch This Fast Styling Tutorial
If your client likes edgy texture that emphasizes their short and choppy look, try this matte-finish style with an enhanced Mohawk section. Get the quick styling how-to below:
Prep the hair by applying OSiS+® SESSION LABEL Powder Cloud to the root and working through the hair using your fingers.

Backcomb the hair using a fine tooth comb, then use OSiS+ Mighty Matte to create piecey definition throughout.
Apply OSiS+ Freeze Strong Hold Hairspray all over for long-lasting hold.
Watch The Video How-To Below
 

 

View this post on Instagram

 
THAT MATTE TEXTURE! Check out the finished look below. 
How Often Does A Pixie Cut Need Trimming?
It'll take a solid four weeks before your pixie cut client hits that awkward in-between stage so prepare to pre-book her for a trim once a month.
How Long Does It Take To Grow Out A Pixie Cut?
On average, hair grows about six inches each year so according to Briana Cisneros (@brianacisneros), it'll take about four years total to grow out a pixie cut. Here's how she broke it down in an Instagram caption:
A pixie will reach the shoulders in one year.

It'll hit right above the chest after two years.

 

It'll reach her bra strap in about three years.

And finally, it'll reach the waist in four years.
How Do You Grow Out A Pixie Cut?
Clients, your pixie cut won't grow out overnight but here's what you can do to make sure your hair is growing at its fastest and healthiest:
Get regular trims—The key thing is to get enough taken off to remove split ends without cutting off too much, so be open with your stylist about wanting to grow your pixie out.  
Embrace each stage—Growing out a pixie haircut means at some point you'll rock a bob, a lob and maybe even a shag. Enjoy each stage and don't be afraid to try different products and hairstyles during each one.
Learn new styling tricks—If you ever feel uninspired as you reach each new length, don't hesitate to ask your stylist for some styling tricks. Not only are they the professional, but they'll be happy to teach you how to style your hair at home.
Invest in some extensions—Patience is the secret when growing out a pixie but if you ever want longer locks overnight, invest in something like clip-in or tape-in extensions.
Go the extra mile—Keep an exfoliated and clean scalp, take your vitamins, eat a healthy diet, sleep on a silk pillowcase and rinse your hair with cold water after each shower.
Are you making these four point cutting mistakes that ruin a pixie haircut? Click here to find out!
Click here to access a complete guide on how to cut and style a pixie cut!

Schwarzkopf Professional®