Last updated: September 18, 2023
5 Mistakes You're Making With Purple Shampoo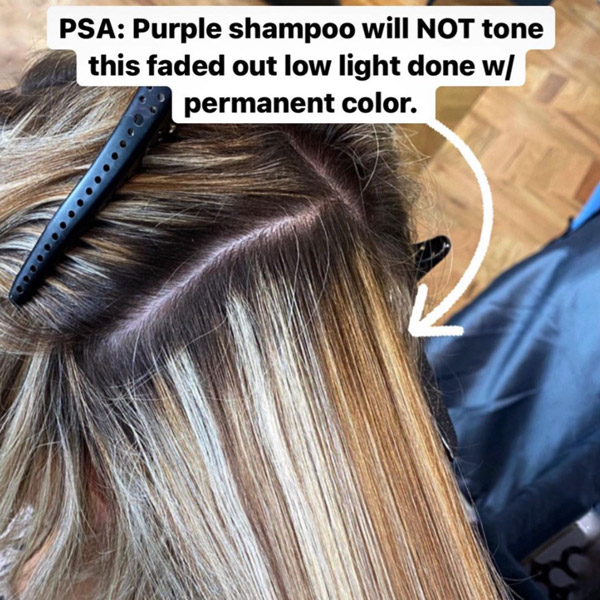 Common Toning Shampoo Problems + How to Fix Them! 
Over-toned grayish blondes, brassy brunettes and clients that are STILL seeing yellow—these are all tell-tale signs of using purple shampoo incorrectly. But don't worry, we snagged some need-to-know tips to help you and your clients avoid common purple shampoo mistakes. Plus, colorists share their go-to products to fight unwanted tones.
Mistake #1: Not shampooing first
Why follow a clarifying shampoo with a toning shampoo? The answer is simple: Buildup! Let Carly Zanoni (@the.blonde.chronicles) explain: "Scalp and product buildup are extra layers toning shampoo has to fight through to work effectively. That's why a clean canvas is a must for even results and to avoid creating more buildup." 
Hit play to check out more purple shampoo mistakes—and keep scrolling for a full breakdown!
 

 

View this post on Instagram

 
Mistake #2: Applying too frequently 
Purple shampoo is essential to keeping blondes yellow-free between appointments, but overuse can turn color from blonde to blah FAST. To avoid dull or grayish tones, colorist Julian Normand (@jeweldoeshair) recommends GOODBYE YELLOW from Schwarzkopf Professional once every three to four washes.
"GOODBYE YELLOW is great for blondes, but overuse can actually cause their hair to turn darker or even gray! So establishing a proper schedule can keep clients happy and cool," he explains. 
Mistake #3: Expecting it to cancel orange
We know the darker the starting level, the warmer the lift. So, to neutralize orange tones from brunettes, Carly grabs a blue shampoo like GOODBYE ORANGE from Schwarzkopf Professional. 
"On the color wheel the direct counter to orange is blue, so a blue shampoo is perfect for my brunette clients that struggle with brassy hues," Carly explains. 
Related: 3 Fast Toning Cheats for Brunettes
Mistake #4: Skipping the pre-tone step
Pre-toning is a crucial step to creating an even canvas for toning, but how do you decide what to pre-tone with? The answer is in the color wheel. Shades that are direct counters will neutralize each other out. 
Austin-based colorist Samantha Kliebert (@sammiiestyles) pre-tones her brunettes with a blue shampoo to neutralize orange undertones. "If your highlights are NOT yellow, then a purple shampoo won't work. The blue formula in GOODBYE ORANGE works perfectly to get rid of unwanted warmth before toning," she explains. 
To achieve his signature silver transformations, colorist Jack Martin (@jackmartincolorist) has to lift his clients to a Level 9 or 10. To counter the yellow pigments in his raw lift, Jack pre-tones at the backbar with a purple shampoo. Here's how he does it:
"At the sink, towel dry the hair before applying GOODBYE YELLOW. Then, leave it on the hair for five minutes and rinse with cold water. It helps create the most amazing results," he explains.
Tap to watch Jack cancel unwanted yellow tones in a single shampoo!
 

 

View this post on Instagram

 
Mistake #5: Toning faded permanent color
Clients complaining their purple shampoo isn't working? Carlos Rojas (@colorbycarlos) has. "I've had clients tell me during their consultation that their blonde looks dark and warm, but they are confused because they use purple shampoo at-home," he shared in a recent IG post.  
Carlos realized the client was trying to tone faded lowlights done with permanent color. "It's important to let your clients know that permanent color will permanently change the hair. So, if they are trying to tone a faded Level 7 lowlight (remember: all hair fades warm), purple shampoo will not only not work but it will also cause their previous highlights to appear darker." 
This content is sponsored.
Schwarzkopf Professional®