Last updated: November 08, 2023
You Just Over-Toned Your Blonde Client, Now What?

How To Formulate Cool Blondes Without Muddy, Dull End Results
Accidental over-toning: It happens to the best of us, but oftentimes stylists want to correct their formulas when in reality, the issue lies in the porosity of the hair. We are here to help: Scroll on to learn how to avoid over-toning, three quick fixes for an over-toned blonde—plus, cool-toned formulas to save for later.
1. Try A Root Smudge On Top Of A Mask
We all know how porous blonde hair can be, so it's important to "fill in" those porous areas so the color does not overfill the cuticle during processing. "You have to take into consideration the porosity of the hair," explains Michigan-based color specialist Lisa Tucker (@rootedwithlisa). "The key is to even the porosity of the hair before you apply a toner," she adds. Here's how she preps the hair to avoid over-toning:
After lightener is rinsed, towel-dry the hair and apply a treatment to even out porosity. "I typically grab the Schwarzkopf Professional® BLONDME® Masks," Lisa recommends. 

Next, apply your root smudge/tap DIRECTLY on top of the mask, followed by a gloss on the ends.

Once your toner is finished processing, shampoo and condition as normal.
Lisa's Favorite Formulas: "A few of my favorite balancing toner formulas are both from Schwarzkopf Professional IGORA VIBRANCE®," Lisa explains. Screenshot them for later! 
Formula A (gloss): 1oz 9-12 + 1.5oz 9-0 + splash of 9-55
Formula B (root smudge): 10g 9-12 + 2g 6-23 + 9-0
2. So, You've Over-Toned: 3 Ways To Fix This Mistake
If you find your blonde toner has grabbed too dark, try these three tricks from Schwarzkopf Professional Digital Artistic Team Member and BTC Team Member Carly Zanoni (@the.blonde.chronicles) to correct this mistake:
Wet Balayage: Try a wet balayage technique to brighten mids and ends: "I use Schwarzkopf Professional BLONDME® Clay Lightener + 10 to 20-volume developer for about 15 minutes," Carly explains. "This is my favorite for when the ends of your blonde get too muddy," she adds.
Bleach Wash: This option is ideal for all-over blondes that are a bit over-toned: "I mix powder lightener, developer and shampoo and apply to damp hair. I watch it and rinse after about five to 15 minutes."
Clear Permanent Color: "Even though it's clear, this formula is still alkaline and has the ability to lift and lighten the hair," Carly explains. Her favorite method is mixing Clear Permanent Color with 10-volume developer and apply it to overtoned blondes for a slight shift in brightness.
PSA—When NOT to use these correction techniques: "Keep in mind, if there is darker, natural dimension mixed in with the blonde, the lightener from the wet balayage and the bleach wash will lift that as well as the blonde, which could end up orangey. Same goes for the permanent color clear," Carly warns.

3. Correcting Bands & Brass Without Dulling Color 
Cool tones aren't just for neutralization: "They can also be used to control the amount of warmth that you want to see," Lisa says. Instead of the classic technique of using violet-based toner to neutralize unwanted warmth, strategically control warmth with purposeful formulation.
Lisa's guest came in with bands of warmth throughout her hair and ends that were a little too warm: Their goal was to add depth, brighten and cool down prelightened pieces and control overall warmth. Keep scrolling to get her application steps and formulas!
Step 1: Apply Formula A as a root melt; once finished, drag the product down into a lowlight where depth is needed. P.S.! Scroll down and click the beaker below to get Lisa's formulas.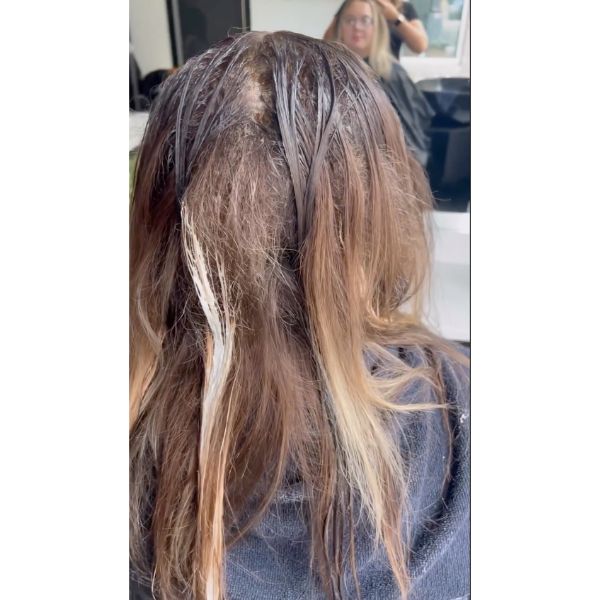 Photo Credit: Instagram via @rootedwithlisa
Pro Tip: Why should you use Schwarzkopf Professional's NEW IGORA VIBRANCE® Cools? "IGORA VIBRANCE® is a moisturizing demi-permanent hair color that offers up to two-times more shine, 50 percent white/grey blending and lasts up to 25 shampoos," Lisa explains.
Step 2: Next, apply Formula B to brighten dark areas.
Step 3: Rinse and apply Formula C to cool down the look. 
Step 4: Cleanse and style as desired.

Formula A (melt and lowlight):

Schwarzkopf Professional IGORA VIBRANCE® Cools Demi-Permanent Color 20g 6-23 + 5g 6-0 + 6-volume developer

Formula B (highlight):

Schwarzkopf Professional BLONDME® Clay Lightener + 7-volume developer

Formula C (gloss):

IGORA VIBRANCE® Cools 1 oz 9-12 + 1/4 oz 9-0 + developer
Photo Credit: Instagram via @rootedwithlisa
4. How To Formulate For Controlled Warmth
Do you have a client that typically requests a warm tone, but you keep wanting to cool things down? This is your sign to trust your gut and instead of eliminating warmth, control it: "My client typically wears very warm brown and blonde shades, and I convinced her to try some tones on the cooler side. She was a [little] nervous, I had to reassure her a few times," Detroit-based colorist Jasmere Waller (@jasblack) explained, adding that: "It came out fire." 
Check out the before and after below:

Save Jasmine's formulas for controlled warmth for later: 
Formula A (lightener): Schwarzkopf Professional BLONDME® Lightener + 7-volume developer 
Formula B (roots): Schwarzkopf Professional IGORA ROYAL® Permanent Color Cools 6-23 + 30-volume developer  
Formula C (glaze): IGORA VIBRANCE® Cools 6-23 + 9-21 + Clear
Bonus: Help Clients Understand The Difference Between Warm & Cool
Not all clients are familiar with tonality or color theory, and it's our job to help them feel at ease so they know what to expect their end result to look like. "You have to make it relatable," explains Lisa. If your client requests an "ash" blonde, will they be happy to see ashy, more muted silver tones when they really wanted a brighter, reflective blonde that features some warmth? That's why it's key to break down the difference!
Try using this trick from Lisa to make understanding color theory less intimidating for clients: 
For warm tones: "I compare how the sunset reflects on the water. How it creates a beautiful show of different tones. Warm tones reflect light and make the hair appear shiny," Lisa explains.
For cool tones: "Ashy tones tend to absorb light which could in fact make a hair color appear darker and more muted. They have silver-grey hues with undertones of blue and violet," Lisa adds.
Products Used
Schwarzkopf Professional®