Last updated: May 19, 2023
The Bixie Haircut Trend Is All Over The Internet—But What Is It?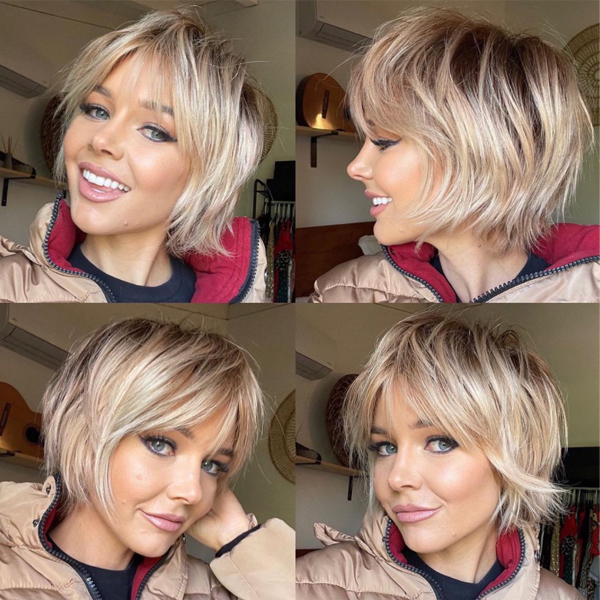 Everything You Need To Know About The Bixie Trend
The most-talked about haircut trend is "The Bixie." So, is it a bob? Is it a pixie? Well, you guessed it—it's somewhere in between. But as bixie becomes a trending word on the internet, it's been paired with a range of different celeb haircut pics that have us asking: How do we approach the cut technically if a client requests it?
Keep scrollin' to find out what BTC editors found when investigating the trendy haircut. Plus, cutting tips to achieve the look! 
Here are a few different versions of the bixie!
Have Bixie questions? BTC University has answers! Subscribe now to unlock exclusive access to Briana's Bixie class and learn her entire technique!
Hmm… This Haircut Looks Familiar
Let's throw it back to the '80s for a hot second, when Lady Diana's street style and short feathered haircut influenced the world's biggest beauty trends. Flash forward to 2021, Princess Diana is EVERYWHERE. Models like Hailey Bieber have nodded to Diana's iconic fashion style, we've all binged "The Crown" and hit the theaters to see Kristen Stewart portray pop culture's princess. ✨ A few decades later, the trends have returned. 
In some ways, the bixie appears to be Princess Diana's famous '80s haircut with a 2021 update: Heavily layered, texturized and cropped in between the length of a short bob and a pixie. 
The Key Elements Of The Bixie
"Basically, it's equal part bob and equal part pixie," says ARC™ Scissors cutting expert Briana Cisneros (@brianacisneros). "It [has] a beautiful grow out as well, that [the client] could grow into a full blown bob." If a client requests this cut, here are a few important factors Briana shared in a recent IG post. 
Key terms to know:

Shattered

, texturized and layered

This look utilizes both razor- and scissor-cutting techniques for achieving maximum movement. 

Consult with the client about what length they want, and what's most suitable for their face shape and lifestyle. 

Pair with short

curtain bangs

if a client requests fringe. 
Learn Briana's entire cutting technique on BTC University! Subscribe today to access over 150 courses in cutting, hair color and styling!