Last updated: November 30, 2023
The '90s Bob: How To Cut & Style Fall's Biggest Trend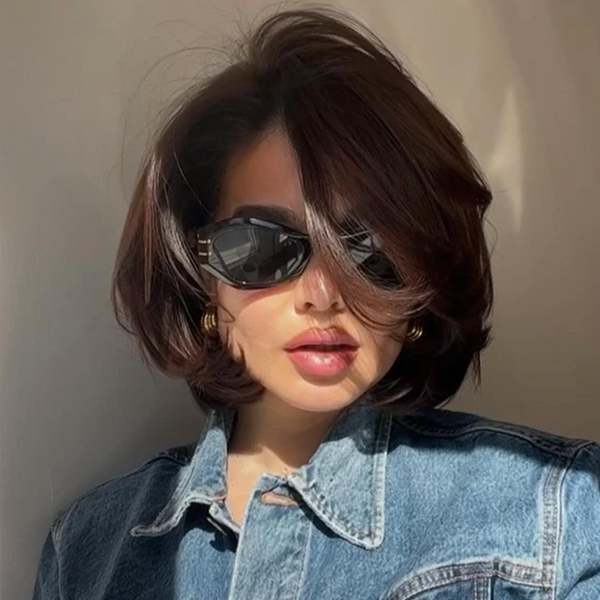 The '90s Bob/Lob Revival is Here: How To Achieve The Look
If there's been one solid reference among our clients this year—it's the nostalgic hair of iconic '90s supermodels. Enter the next chapter: The internet's latest obsession is the luxe Christy Turlington-inspired bob. The swishy, nineties bob with a strong perimeter and bouncy bevel adds instant-volume, elongates the neck and makes hair appear fuller. Whether jaw or collar bone-skimming, this chic haircut is ultra-wearable and flattering.
What really makes this bob expensive-looking is the way you style it. Blown-out and bouncy or air-dried, tucked and ready-to-wear, we're breaking down how to cut and style the modernized version below.
Here's a cheat sheet of the elements of a '90s bob:
Strong Shape: 

The signature strong shape makes the hair appear fuller, combined with a soft blunt perimeter and

intentional texturizing to bring a soft, airy feel to the cut. 

Personalize: Add flair with dramatic side parts, middle parts or paired with fringe. 
Length: Whether jaw-skimming or hitting above the collar bone, this cut elongates the neck for a naturally elegant look.
Beveled Styling: Creating the cut is half the battle. Styling and creating the bend is key to enhancing the signature bevel that truly establishes the look without losing volume at the crown.
Scroll through for all the nineties bob inspo you need:
"The haircut is pretty structured yet still really soft at the same time," remarked the London salon Instagram @thehairbros for this soft, blunt bob cut by one of their resident stylists, Francesca Inverarity (@frankie_inv).
Press play to learn see step-by-step how Francesca creates a '90s bob for her client:
 

 

View this post on Instagram

 
The Key Points You Must Know: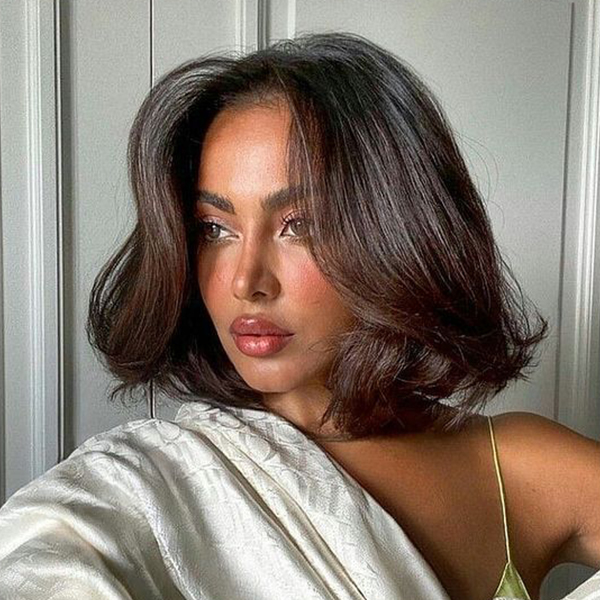 Avoiding the Bell Shape: 3 Tips To Remove Bulk
The line between this elegant cut and something a bit more Lord Farquaad-inspired is fine. Thankfully, ARC™ Scissors Artistic Team Member Chris Jones (@chrisjones_hair) knows exactly what to do to remove unwanted bulk. 
1. Create an undercut:
"Sometimes when the hair is so thick the best way to remove bulk is by doing an undercut," advises Chris. To do so, he will section off the hair above the nape and remove weight near the hairline:

Photo Credit: Instagram via @chrisjones_hair
Pro Tip: A sharp shear is important to create the blunt outline that supports the strong shape of this look. That's why Chris uses ARC™ Scissors PARAGON II: "They are my go-to scissor I can use on wet or dry hair, are perfectly balanced and stay sharp for months," says Chris. 

2. Utilize an internal layering technique:
Want to know Colorado salon owner and ARC™ Scissors Ambassador Ray Hornback's (@rayvoltagebeauty) secret to removing weight? Undercutting combined with internal layering: "To avoid the bell shape, I typically create an undercut and utilize internal layering to reduce the right amount of bulk to help the cut remain blunt looking." This will help combat a bulky perimeter as well as add movement.

Photo Credit: Instagram via @rayvoltagebeauty
3. Encouraging the bevel:
 Wella Professionals UK Color & Trends Ambassador Jordanna Cobella's (@jordannacobella) technique to encourage the beveled shape involves precise weight removal: "When dry, elevate to 90 degrees and point cut the corner of graduation off." This will encourage the beveled look you want.
Press play to see her process below:
Creating The Beveled Look: Blowout & Roller Tips
In the case of a '90s bob, cutting is only half of the battle—bring out the blow-dryer, rollers and lightweight styling products for soft hold for a beveled finish. Not only will this achieve that '90s volume at the crown with movement through the ends, but also convince your bob clientele that roller-sets aren't reserved only for long layers.  
Follow these steps from our resident cool-girl haircutter Moroccanoil® Global Color Ambassador Rachel Williams (@rachelwstylist). 
Everyday Styling: Teach Clients About Versatility 
One of the best features of this haircut: Wearability. From a luxe blowout to a relaxed, tucked style—it's extremely versatile. If you're looking for a less polished look: "To style this haircut, you can really do as much or as little as you want," explains @thehairbros. "You can just slick it back for a wet look with mousse or gel. You could air-dry it, put nothing in it at all and just tuck it behind your ear."

Photo Credit: Instagram via @frankie_inv
Pro Tip: For this look, Francesa used Hairstory Hair Balm to help define natural waves to give her client that sexy, undone texture.
Beveled

or Flipped Out? Spoiler: Both Look Great 
Although the beveled-in look is signature to the '90s style bob, you can also open up the hair around the face by changing your styling approach. Follow these steps from Australian stylist Grace Fitzgerald (@gracefitzgeraldhair) to get that same high-volume foundation that flicks out around the cheekbone and through the ends. 
Products Used