Last updated: October 03, 2023
Textured Vs. Layered Bob: Read This To Learn The Difference!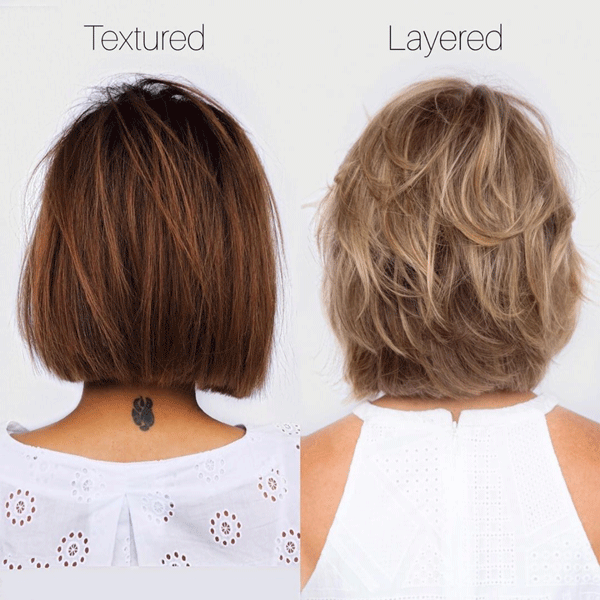 The More You Know 🌈 : Texture Vs. Layers
Ever have a client request a fresh chop with "just one or two layers," but their inspo pic is a wavy-styled textured bob? We feel your pain. To help you navigate the perils of client consultations, we asked cutting expert Chris Jones (@chrisjones_hair) to break down the difference between these two on-trend cuts AND to share his cutting tips for achieving both! Scroll down for everything you need to know.
Know The Difference: Textured Vs. Layered
Knowing the difference between a layered and textured cut will help avoid any miscommunication during a consultation as well as any styling mishaps later on. 
Chris Broke Down The Two Cuts In This EPIC Insta Post!
Textured Bobs:
More subtle shape
Less at-home maintenance
Almost entirely one length
Just enough texture to add movement
Layered Bobs:
Work best for clients with natural texture or wave
Require a bit more styling
Also great for clients with finer hair, allowing you to create volume without losing weight. 
 CLICK HERE TO Learn @chrisjones_hair Signature Bob:
Subtle Graduation Vs. Square Layers
For his texturized cuts, Chris uses his SYMMETRY 30/2 Reversible Blender from ARC™ Scissors to create movement AND remove weight in one step. How? By using the texturizing shear to slide cut through the hair with the straight blade on the bottom, creating subtle graduation throughout. 
Check Out Chris's Slide Cutting Technique Below!
Ready To Try This Slide Cutting Technique? Click Here To Purchase The SYMMETRY 30/2 Reversible Texturizer from ARC™!
So what's the key to Chris's layered cuts? "I like to use my PARAGON II by ARC™ to cut square layers because they remove weight throughout the entire haircut. Once I have them throughout the head, I will go in and remove the corners to remove more weight." 
Click Here To Purchase A Pair Of PARAGON II & Receive FREE Cutting Education From ARC™!
Ready For More Cutting Tips? Click Here To Get 4 Tips For Cutting Bobs & Lobs!