Last updated: February 24, 2022
How To Break The Base With Haircolor in 10 Minutes: When, Why And What To Formulate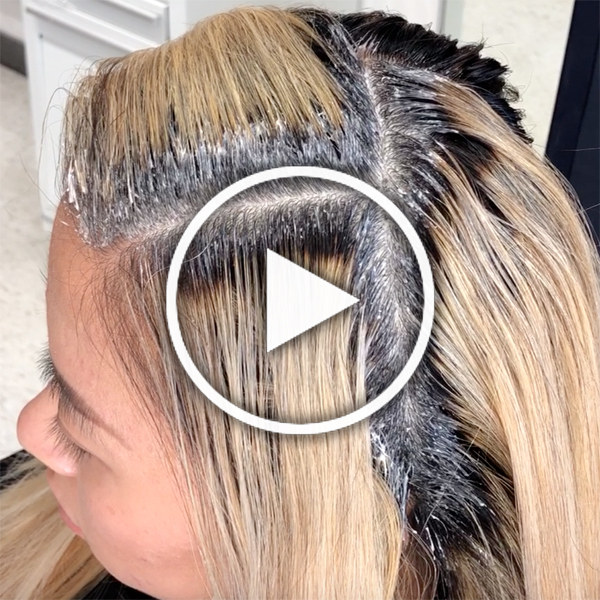 What Is Breaking The Base With Haircolor?
How do you "break the base"? Also called base softening or base adjusting, the process to break the base in haircolor is simple when you understand color formulation, your client's underlying pigment and the right product to use. Learn when and why to break the base with haircolor with this technique from color queen and BTC Team Member Josie Vilay (@josievilay)!
BTC spent the day at Josie's salon, Hairology, in Winnipeg, Manitoba to get an in-depth look at what it means to base break and how to actually work smarter, not harder, by using base breaking. Keep reading for everything you've ever wanted to know about breaking the base AND watch the how-to video to learn exactly what Josie did for this technique!
First, check out this before and after…this transformation on Josie's client, Hien, happened in about 30 minutes!

What Does "Break the Base" With Haircolor Mean?
Here's what base breaking is:
A way to lighten new growth one to two levels without the use of lightener
A method to blur and blend an existing line of demarcation
A quick technique to diffuse new growth with existing color, especially using a fast color product like Schwarzkopf Professional® IGORA® COLOR10
Which Clients Are Ideal For A Base Break Technique?
When these clients sit in your chair, consider using a base breaking technique:
A natural Level 2-3 client with very light ends who desires a blended transition from regrowth to ends
A bleach-and-tone or foil highlight client who wants a root touch-up but doesn't have enough regrowth to complete a retouch with lightener
A client who needs a break from using lightener but still wants a blended base
The benefit to breaking the base is mostly speed—you can do this as a very fast add-on to an existing appointment for a cut or blowout, and with the 10-minute processing time of IGORA COLOR10, the entire process takes less than 30 minutes to apply, process and rinse.
What Products Should You Use To Break The Base?
Josie mixes up Schwarzkopf Professional IGORA COLOR10 to use on Hien's hair because it processes in 10 minutes and fades gracefully, so her base break client will be ready for lightening services at the next appointment. "In 6 months, her natural color will grow in and the base break will act as a middle color, almost like an ombré," Josie said. "The amino acids in IGORA COLOR10 break through the cuticle and into the cortex faster, so the process is complete very quickly." Apply the base break formula the way you would apply a color or lightener retouch.
How Should You Formulate To Break The Base?
For Hien, Josie considered the following:
Hien's ends are very blonde, but her regrowth is a Level 2-3
Because of Hien's starting level and hair type, Josie knows the underlying pigment of Hien's hair will be very warm—red, orange and yellow.
The client had very little time before she had to be out the door, and Josie knew she didn't have enough regrowth for a bleach retouch—but the client REALLY wanted that line of demarcation to be erased.
Because of these considerations, Josie's game plan was this:
Lift the root to a warm brown and blend the existing blonde
Formulate to neutralize the warm underlying pigments in the client's hair using cool tones
Mixing with 30-volume developer for the most lift and deposit
Josie's base break formula for Hien's hair:
IGORA COLOR10 7-12 + 30-volume IGORA developer
Why? She breaks it down:
"For a client with a Level 2 root and Level 8 ends, a soft blend is achieved with a Level 5 to Level 7 at the base," Josie said.
Josie ended up mixing a Level 7 in IGORA COLOR10 with an ash/céndre tone direction—aka blue and violet—to cancel the warm undertones in her client's natural shade.
"I could have used a Level 5 instead, but remember that cool tones absorb light, so to the eye they appear darker than warmer tones," Josie added.
"I also could have used 20-volume developer instead of 30-volume, but I wouldn't use a lower developer than 20-volume, because ash tones won't be as visible," Josie said.
For clients with natural Level 6-8 bases, formulate with a neutral (like IGORA Color10 in a 6-0) but add a tiny bit of ash. Don't use warm formulas at the base—you could end up with a hot root look!
How Long Should You Book For A Base Break—And What Do You Charge?
For this client, Josie applied the base break formula to the root and a toning formula on the mids and ends in about 30 minutes. The total processing time was roughly 15 minutes—IGORA COLOR10 takes 10 minutes to process, and the Schwarzkopf Professional IGORA VIBRANCE toning formula takes about 15—and then the client was rinsed, dried and styled. The entire appointment took an hour. Josie says she would charge the client for a toning service, which in her salon includes a blow-dry and style, at about $150.
Click the beaker below for the full formulas!

Formula A (base break)

20g Schwarzkopf Professional IGORA COLOR10 7-12 + 20g 30-volume Schwarzkopf Professional IGORA developer

Formula B (toner)

15g Schwarzkopf Professional IGORA VIBRANCE® 8-11 + 15g 8-19 + 15g 9.5-1 + 45g IGORA VIBRANCE® Activator Gel 1.9%
Watch The Video How-To Below!
Schwarzkopf Professional®