5 Ways To Keep Blonde Hair From Going Brassy & Drying Out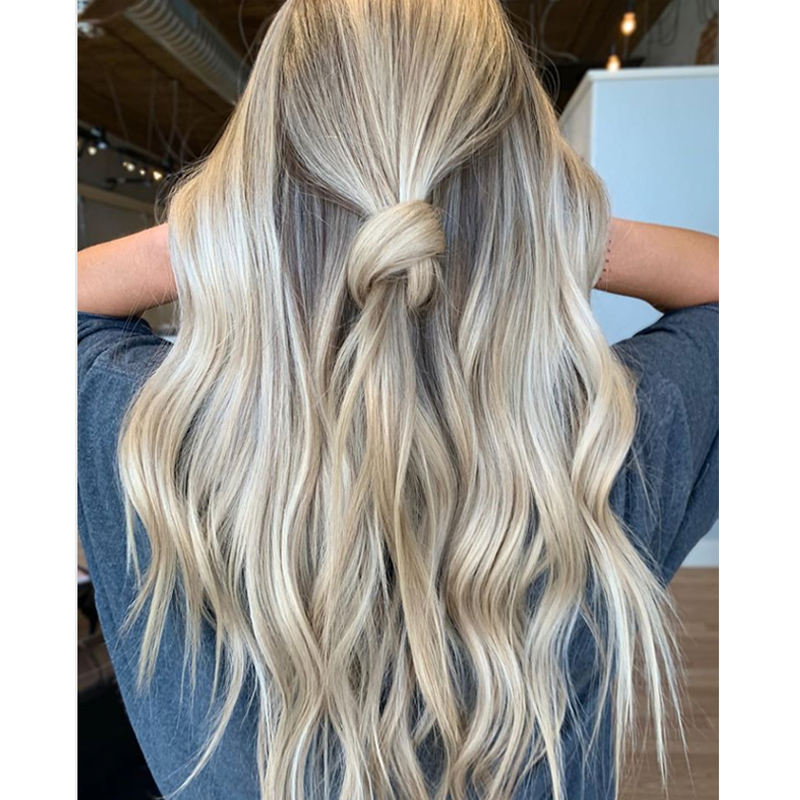 5 Essential Tips For Keeping Blonde Hair Healthy
Dear clients, we love you but you're damaging and dulling down your bright and healthy blondes (that legit took us hours to paint!). If you're having a hard time communicating the dos and don'ts of color maintenance, keep scrolling for five simple ways to keep blondes lookin' fresh and feelin' good—from the salon to their at-home beauty routine! Plus, what you can do before they leave your chair to improve longevity.
Products Used
1. Before They Leave The Salon, Do This!
How can you help blondes with color longevity before they leave your chair? Christina Lotenero (@hairbychrissydanielle) uses this color care routine DIRECTLY after any lightening service and suggests clients mimic her regimen for at-home maintenance—this will help you show (not tell) how haircare directly impacts their blonde haircolor!
At The Shampoo Bowl: Apply Schwarzkopf Professional BC Bonacure® Peptide Repair Rescue Treatment to seal the cuticle and lock in the glaze. Its low pH formula restores distressed, porous strands.
Keep The Ends Fresh: To prevent porous ends from splitting and breaking off, apply BC Bonacure® Peptide Repair Rescue Sealed Ends to nourish the hair and add shine to blondes.
2. Gone Swimmin' 🌊 How To Handle The Summer Months
Let's get real. Summer vacay gets the best of all of us BUT nobody wants 'chlorine green' hair, so give clients Samantha Harman's (@samanthasbeautyconfessions) simple breakdown of the summer haircare basics:
Wash and wet hair before getting in the pool. "Hair can only absorb so much water so wetting it before you get into the pool will help limit the amount of chlorine it can absorb," says Samantha.

Cleanse the hair directly after swimming to avoid build-up.

Use a leave-in conditioner or a mask, like BC Bonacure Peptide Repair Rescue Treatment, once a week to keep hair from drying out.
3. Don't Make These Common Mistakes
Two of the biggest reasons bright, dimensional blondes end up looking dull and damaged? Clients washing their hair too much and excessive hot tools usage! Here's the tea:
Don't Overdo It: Only wash color-treated hair 2 to 3 times a week, suggests Christina, because overly washing can dull and strip out blonde haircolor. Use dry shampoo to soak up excess oils instead, suggests Samantha.
Turn Down The Heat: "Think of bread when you toast it, it turns brown," says Christina. "You're doing the same thing to your blonde if you aren't using heat protection!!" Always remember: Minimize hot tools usage, heat protectants are a MUST and blondes should never use the full heat settings on their irons.
4. How To Cancel Unwanted Warm Tones
One of the easiest ways to keep it cool, neutralize unwanted warmth and kick brass is with purple shampoos like Schwarzkopf Professional GOODBYE YELLOW®, BC Bonacure® Color Freeze Silver Shampoo or BLONDME® Tone Enhancing Bonding Shampoo depending on the desired intensity. "If they feel it's too intense, I tell them to mix it with their regular to dilute the pigment a little," shares Christina.
Peep All Three Purple Shampoos & Their Differences Below!
 

 

View this post on Instagram

 
5. Do This Every Four to Six Weeks…
While at-home maintenance is KEY, recommend that blonde clients come in for a toner refresh every 4 to 6 weeks between major lightening services. This will get them back in your chair—especially those balayage clients that only come in every few months—to refresh their color and allow you to assess their hair condition more often.