Last updated: October 09, 2021
4 Root Shadow Tricks & Formulas For Blondes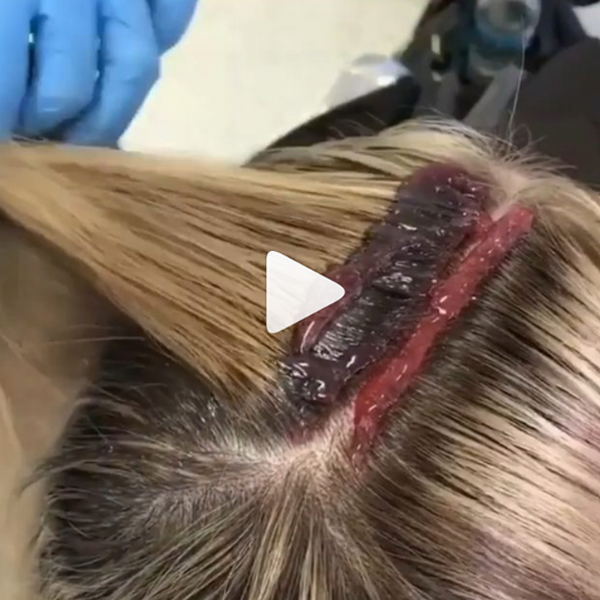 Root Shadows: Tips & Color Formulas For Soft Blondes
Shadow roots, root drops, root melts, whatever you call them—here are some tips! Whether you're dealing with regrowth on routine bleach-and-tone clients, trying to prevent bands on bright blondes or looking to achieve a super soft balayage—a root shadow is probably your best option. That's why we're sharing how to formulate, where to place shadow roots on platinum hair, @josievilay's faux drop root technique AND MORE. 
Learn UNLIMITED Balayage, Cutting & Styling Education With A BTC-U Member Subscription—Click Here & Start Today!
1. Prevent Bands On Platinum Blondes
Here's @hairbychrissydanielle's formulation trick for shadow roots on platinum retouches. Goal = maintain brightness, create softness and prevent harsh outgrowth. 
Think of this shadow root as more of a 'baby root tap' (see placement.)

Only tone the roots down to a Level 8-9 to prevent banding as it grows out.

Glaze the ends with your typical (Level 10) toner, and blend the melt together with a brush.
Check Out This Platinum Root Shadow Road Map!
Trust The Process: "The root will tend to look dark, [but] I promise you when you rinse it, it won't be," shares Chrissy. "We're applying to wet hair and it's diluting that formula, therefore, you will never have a true Level 8, just a soft beautiful blend."
2. Formulating Shadow Roots: Go Darker 👏
If you want to create a shadow effect, you need to formulate darker. "Since you are applying on damp hair, you will need to go down a level at the roots to get the look you are trying to achieve," shares @samanthasbeautyconfessions. Peep the color formulas below for a bright blonde melt—using all Schwarzkopf Professional tbh – true beautiful honest permanent color formulas for soft dimension.
Pro Tip: Samantha added tbh – true beautiful honest Tone Softener to her gloss formula to dilute the permanent color into a demi for shimmering nuances without harsh outgrowth, blending it seamlessly with the root melt.
Peep The Color Formulas Below!
Developer Tip: Samantha used two different developers for her color application—IGORA VIBRANCE® Activator Lotion for the shadow root because the creamy consistency allows a more precise application, and IGORA VIBRANCE® Activator Gel to gloss for a quicker application at the shampoo bowl. 
3. Faux Drop Root Trick
When your client comes in and doesn't want her regular bleach and tone, @josievilay uses this faux drop root technique to soften and blend the regrowth. This is also perfect for clients who want a color refresh but need a break from the bleach in between bigger color services.
Watch @josievilay's Technique Below!
 

 

View this post on Instagram

 
4. Root Shadow & Gloss At The Same Time
What's the easiest way to cut down color appointment times? We've got you. Here's how and why Samantha melts and tones at the same time:
Micro Tap The Money Piece: Do the face-framing section last with less of a drop root to create high-impact brightness and avoid unwanted lines.
Same Color Line, Different Techniques: Samantha uses Schwarzkopf Professional tbh – true beautiful honest permanent color to root tap and gloss on blondes who want dimension to illuminate their natural highs and lows.
Solid Blondes? Do This: Even if a client wants to be solid blonde, Samantha still root taps to help blend everything together and give the color longevity. 
Schwarzkopf Professional®