Last updated: June 02, 2021
How Tracey Cunningham Transitions Clients To Gray Hair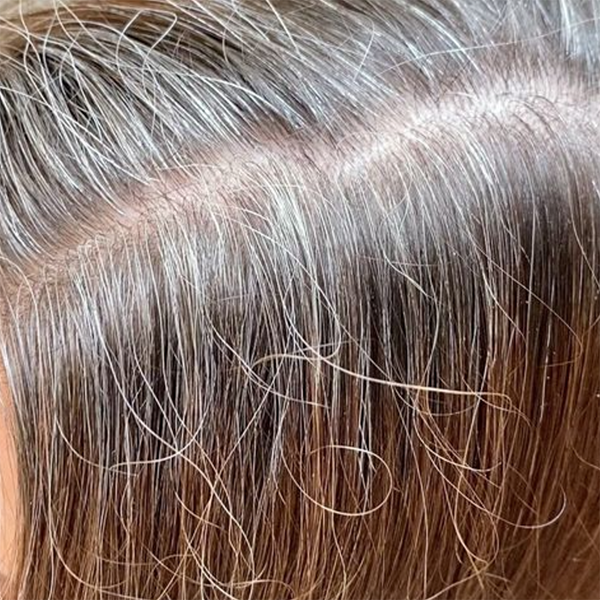 Don't Be Afraid Of Transitioning Clients To Gray
When your longtime gray coverage client comes in and says, "I'm ready to rock my gray hair," you COULD panic and think you're losing a client—or you could get excited about a new opportunity and even more client loyalty. "It's not going to hurt your business," iconic colorist and salon owner Tracey Cunningham (@traceycunningham1) told BTC in a recent interview. In fact, she dedicates a whole chapter to silver hair in her new book, "Tracey Cunningham's True Color: The Essential Hair Color Handbook." We've got Tracey's tried-and-true silver formulas and tips, so keep reading!
Tracey is known for helping her clients achieve the most authentic-looking version of themselves through haircolor, and her client roster is pretty packed: Jennifer Lopez, Gwyneth Paltrow and Drew Barrymore, to name a few. Sometimes, your most authentic self is a silver-haired beauty! Especially during the pandemic, clients were growing out their grays and ready to transition to their now-natural color.
"I'm constantly using natural gray growth patterns as inspiration for my work," Tracey wrote in her book. "I'm very often thinking about the brightening and feature-framing qualities natural silver can provide when I'm creating blonde highlights."
So is your client ready to make the change? Here's how to do it.
Have them grow their hair out as much as they can. This way, you can see the natural growth pattern of their gray. Is it silver in some areas, white in the other? This is crucial to creating a gray for the client that is as natural as possible.
Highlight her hair, taking care to avoid the roots at her part so you can maintain the natural gray there.
Apply Tracey's go-to sterling silver formula: 20 cc Redken Shades EQ 9N + 40 cc Shades EQ 9B + Shades EQ Processing Solution. "It doesn't look sterling silver unless you add a little bit of that N to it," she said.
For the most natural result, highlight the hair again, then "do the drop," as Tracey said: 4 oz Shades EQ Clear + a capful of Shades EQ 1B + Shades EQ Processing Solution. "If you put that on and off, you'll get white," she said. "If you leave it on a bit, you'll get gray, like silver but a little bit brighter."
Help her maintain her newly natural hue with Olaplex treatments and glosses in between sessions.