Last updated: February 19, 2020
Toning Tricks And Formulas For Icy Blondes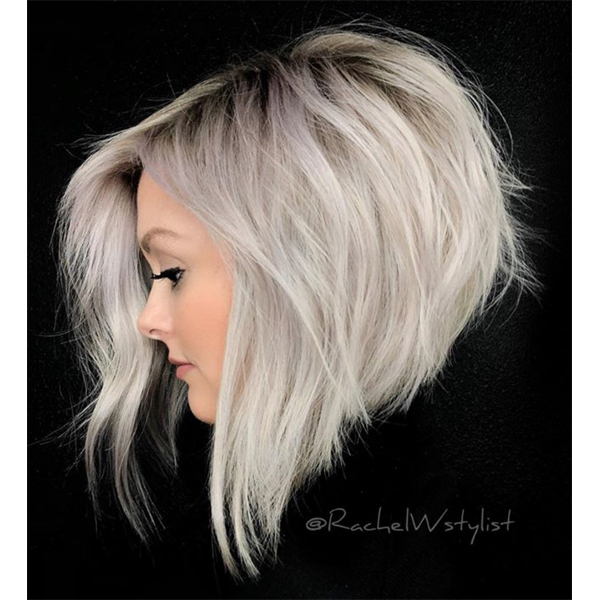 Toning: 5 Tips For Creating Icy White Blonde Hair
When trying to get a client to the icy blonde of her dreams, the last thing you want to see are pockets of yellow and orange. That's where toning comes in. Because things like stubborn warmth and formulating to the wrong toner level can plague even the most talented of colorists, we're sharing five toning tricks and formulas from BTC Team Member Rachel Williams (@rachelwstylist) that'll help you achieve the iciest of blondes every time. Keep scrolling to learn more!
1. Eliminating Warmth
Achieving a true icy tone won't be possible unless all warmth is eliminated during the lightening process, and there are a few neutralization tactics that work for Rachel. First, she mixes her lightening formula to a 1:1½ ratio because it keeps the lightener moist while preventing dry spots (which cause the warm areas). She also likes to use a processing cap to keep the heat from the scalp contained, which will help the midlengths and ends to lift evenly. 
2. Determining The Level Of The Toner
Rachel keeps it simple by toning at the level that the hair is lifted to. So if the hair is lifted to a Level 10, she'll tone the hair with a Level 10. "If you tone a level darker than you lifted the hair, it will take your lightened Level 10 to a darker blonde and it will also take away the overall brightness of the blonde," advises Rachel.
3. Rachel's Fave Formulas For Icy Blondes:
To achieve a soft white platinum: Aloxxi TONES® 10V + 7-volume developer (1:2 ratio)
To achieve an icy platinum with a hint of silver: Aloxxi TONES® 40g 10V + 10g 9P + 100g 7-volume developer
To achieve a pearl platinum with lavender undertones: Aloxxi TONES® 40g 10V + 10g 9P + 1½ cm Violet Intensifier + 100g 7-volume developer
Note: Rachel says the hair needs to be lifted to a clean Level 10 in order to achieve any of the above platinum tones.
4. A Little Trick For Creating An Icy Pearl Tone
Although similar looking, not all shades of icy blonde are the same. If the end goal is an icy pearl tone, Rachel has just the trick: After the toner is rinsed out, towel-dry and then apply a mix of one tube Aloxxi ULTRA HOT® Italian Ice + a dot of ULTRA HOT® La Dolce Violet. "I do this because it creates a softer pearl finish, the tone has a longer longevity and the hair is left super shiny," shares Rachel.
The trick is that you're coloring the hair the desired tone you want to achieve, and there are two reasons why it works: 
The hair is lightened to a Level 10 and then toned to eliminate unwanted yellow pigments first, so the hair is a clean and perfect palette that allows the color to achieve a platinum pearl finish.
Aloxxi ULTRA HOT® is a collection of intense semi-permanent fashion colors that are formulated with advanced direct dye technology, which provides even color results that fade on tone. That means you don't need to worry about uneven, blotchy spots popping up as the color fades. 
5. What To Do With Those Stubborn Areas That Won't Lift
Instead of reapplying lightener or bumping up the developer, Rachel has a different approach to those stubborn areas that don't lift as well as the rest of the head: She tones with Aloxxi CHROMA® High Lift (in shade 11V, 11A or 11P depending on the desired tone) + 7-volume developer. Why? Because CHROMA® High Lift allows her to get a little more lift while she tones at the same time.
 

 

View this post on Instagram

 
CLICK HERE to learn how to achieve this on-trend rooty blonde balayage!