Last updated: February 16, 2021
Bronze Brunette Foilayage
By

Sarayah Politi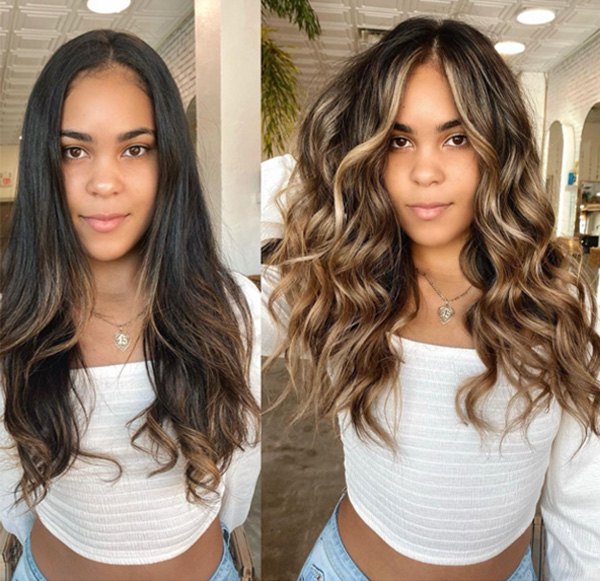 Formula A (foilayage)

TRUSS Professional Air Libre Bleaching Powder + Blanc Blond Lightening Powder + 8X Powder + 10-volume developer

Formula B (foilayage)

Air Libre Bleaching Powder + Blanc Blond Lightening Powder + 8X Powder + 20-volume developer

Formula C (root melt)

Redken Shades EQ 4M + Shades EQ Processing Solution

Formula D (pre-tone ends only)

Shades EQ 8GN + Clear + Shades EQ Processing Solution

Formula E (all-over gloss #1)

Shades EQ 8N + 8V + 8GI + Shades EQ Processing Solution

Formula F (all-over gloss #2)

Shades EQ 8N + Shades EQ Processing Solution
Sometimes a foilayage service turns into a color correction. When Sarayah Politi (@hairbysarayah) went to transform her client's hair into a dreamy bronze brunette, the ends lifted to a warm pink color from previous artificial color. That's when she turned to strategic formulation and foil work—five hours later, THESE were the results!
Keep scrollin' for the color formulas, application steps and pro tips to prevent brassy brunettes!
Total Chair Time: 5 hours (2 hours of foil work)
Pricing: $600
Who Is The Ideal Client For This Technique?
This is perfect for deeper brunettes looking for a very bright bronde look that you won't be able to achieve with hair painting.
Avoid This Mistake To Prevent Brassy Brunettes
The secret to bright brunettes is getting enough lift! 🔑 If the desired goal is a creamy Level 7 and you don't lift enough to tone down and keep it bright, the results will be brassy. Sarayah suggests lifting as light as you can, so you have the flexibility to tone down to a bright Level 7 with a neutral background instead of a brassy background.
Watch The Transformation Video Below
 

 

View this post on Instagram

 
Products Used
COLOR FORMULAS
Formula A (foilayage)

TRUSS Professional Air Libre Bleaching Powder + Blanc Blond Lightening Powder + 8X Powder + 10-volume developer

Formula B (foilayage)

Air Libre Bleaching Powder + Blanc Blond Lightening Powder + 8X Powder + 20-volume developer

Formula C (root melt)

Redken Shades EQ 4M + Shades EQ Processing Solution

Formula D (pre-tone ends only)

Shades EQ 8GN + Clear + Shades EQ Processing Solution

Formula E (all-over gloss #1)

Shades EQ 8N + 8V + 8GI + Shades EQ Processing Solution

Formula F (all-over gloss #2)

Shades EQ 8N + Shades EQ Processing Solution
FORMULA STEPS
1. Start with a full foilayage using Formulas A and B. Sarayah mixes two different bleach powder lighteners and adds TRUSS Professional 8X Powder for a clay-like consistency. The lifting process took roughly an additional hour after the application time.  
2. Root melt with Formula C.
3. Use Formula D to pre-tone the ends only—this is where the previous artificial color caused the hair to lift to a warm pink. Process for 5 minutes, then rinse.
4. Apply the first all-over gloss with Formula E, process for 10 minutes and rinse.
Pro Tip: Sometimes it takes multiple tones to get it perfect during corrective color services, so Sarayah used two gloss formulas.
5. Apply the second all-over toner with Formula F. Process for 15 minutes, rinse, wash and style.
Check Out The Before & After Below!