Last updated: February 17, 2023
Honey Brunette Curls Transformation
By

Reema Jaber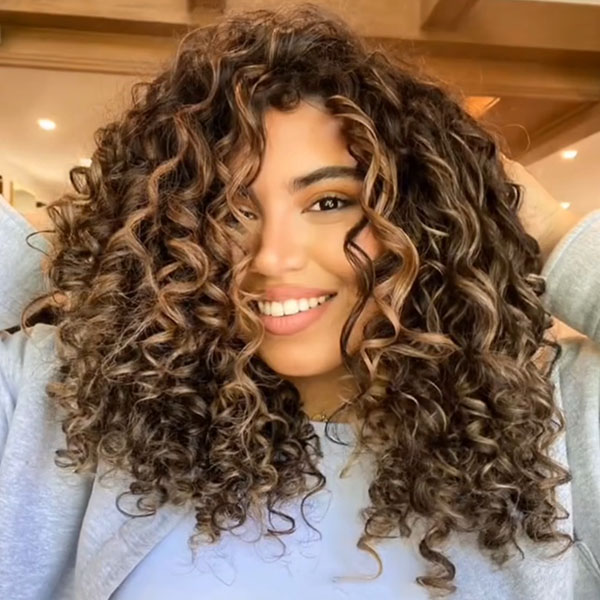 Formula A (lightener)

Schwarzkopf Professional BLONDME® Bond Enforcing Premium Lightener 9+ + 20-volume developer

Formula B (shadow root)

Schwarzkopf Professional IGORA VIBRANCE® 4-0 + 6-volume developer

Formula C (mids to ends)

IGORA VIBRANCE® 20g 6-46 + 20g 6-0 + 20g 8-46 + 6-volume developer
Summer is the time for brighter, sun-kissed colors. Spice up a dull brunette with a pop of honey hues. Balayage and curly hair specialist, Reema Jaber (@hairbyreema), transformed her client's curls to glow like never before. Here are all the juicy details on how she accomplished this must-have look!
Hit play to be mesmerized by Reema's honey curls creation!
 

 

View this post on Instagram

 
Who is the ideal client for this look?
Clients are loving brunette this year, more than ever before. Our trend radar for brunettes is showing warm, honey hues that pop against darker shades. This sun-kissed balayage truly stands out on deep brunette curls. 
What was this client's starting canvas? 
"My client's hair was virgin Level 4 with naturally curly hair. It was also her first time getting her hair lightened!" says Reema.
How long will this look last?
This process took a total of four hours. The client will come in every three months for a toner to maintain the honey blonde color. "She will come in after eight to ten months to refresh her balayage, since she prefers to keep her hair healthy and doesn't want to go too light," says Reema. 
What does pricing look like for something like this? 
Reema charges $500 for balayage and the haircut is $140. She explains, "I typically charge for service and technique. My pricing starts at around $400 and goes up depending on length, thickness and amount of color used."
Click HERE for everything you need to know before brightening a brunette for the summer!
COLOR FORMULAS
Formula A (lightener)

Schwarzkopf Professional BLONDME® Bond Enforcing Premium Lightener 9+ + 20-volume developer

Formula B (shadow root)

Schwarzkopf Professional IGORA VIBRANCE® 4-0 + 6-volume developer

Formula C (mids to ends)

IGORA VIBRANCE® 20g 6-46 + 20g 6-0 + 20g 8-46 + 6-volume developer
FORMULA STEPS
1. For this foilayage, utilize a bricklay sectioning pattern to keep the sections organized and easy to separate.
2. To create the "money piece effect", apply Formula A, using back-to-back sections (weave, slice and teasylight) around the hairline.
3. Allow the lightener to process. Rinse and wash, once the desired lift is achieved. 
4. Next, apply shadow root with Formula B. Tone the mids to ends using Formula C. 
5. Process for ten minutes, then rinse and wash. 
6. Protect with K18 Professional Molecular Repair Hair Mist to keep the integrity of the client's natural curls.