Last updated: October 13, 2021
5 TIPS FOR THE PERFECT BRONDE FORMULA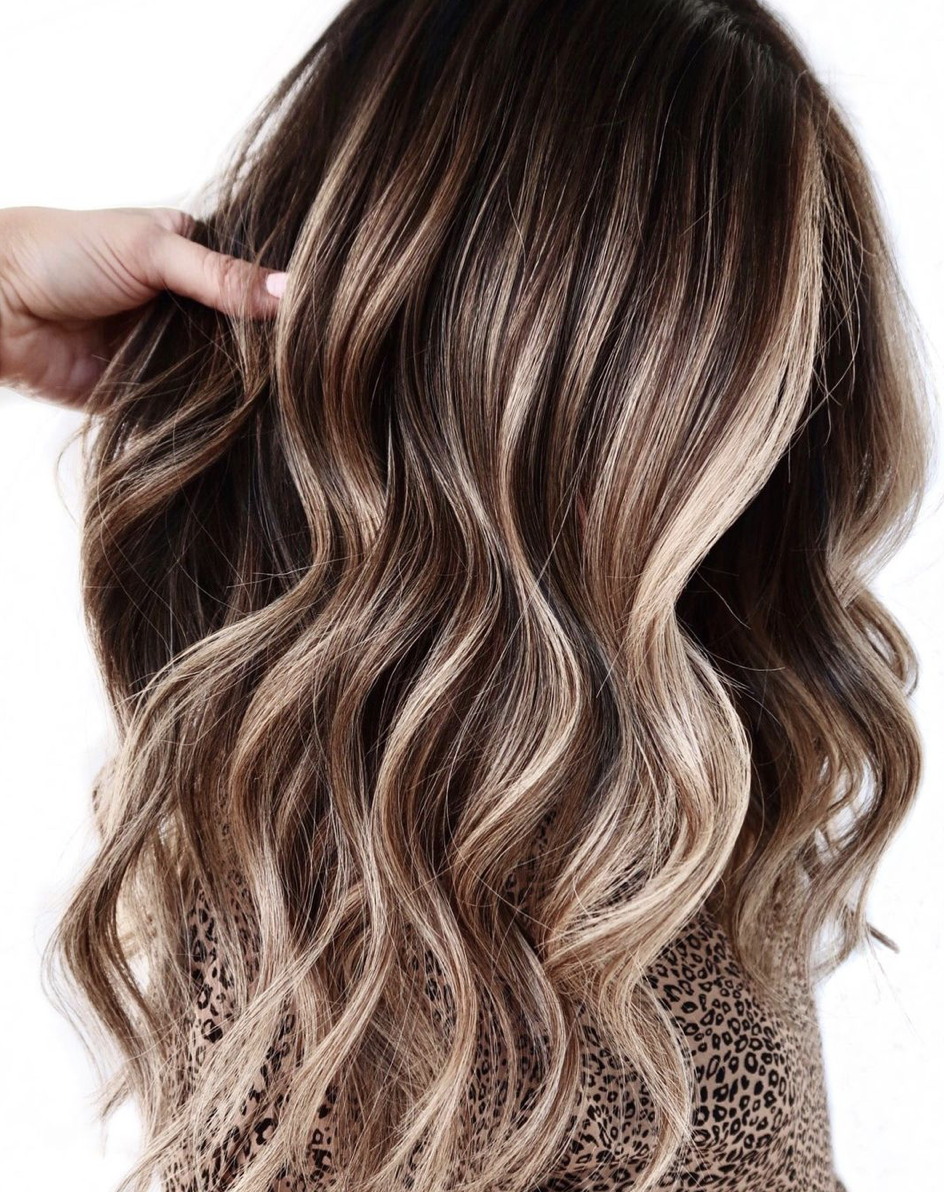 5 Tips For Formulating The Perfect Bronde
As temperatures drop and fall is in full swing, bronde haircolor is becoming highly requested by clients. Because it is such a customizable color with many different interpretations, it can actually be tricky to achieve. So we reached out to some bronding experts for their advice. Scroll through for tips, tricks and the biggest mistakes to avoid!
1.  Don't over highlight.   
"So when I think I bronde, I personally think that it will first read as a brunette and then your eye is like, 'Oh! I love those lighter pieces.' I feel like if you describe someone as 'that blonde girl' she isn't bronde, she is blonde. If she is described as the brunette girl, then you probably have your bronde right where it needs to be. I always say: Don't over highlight! Instead, create bright pieces in dark hair," explains Mick Lewis (@hairbymickk).
2. Keep the toner neutral.
"I define a bronde tone as a cool to neutral highlight with some warm reflection. I try to lift the hair pale enough to mix cool and warm tones together for a balanced result. I almost always include an NB or GI in Redken Shades EQ in my formulas to avoid toning the hair too ashy or too dark," explains Caitlin Dugan (@coloredbycaitlin).
To achieve just the right balance of warmth, Farhana Premji (xo.farhana.balayage) recommends, "If your starting point is light and you are deepening to a bronde, be sure to add a touch of warmth to avoid a flat result. If your starting point is a brunette and you've prelightened to achieve dimension, you'll want to tone with a cooler background to even out the lifted warmth. It's all about finding the balance between light and dark and cool and warm."
3. Control the lift.
It is important when creating a bronde tone to not lift the hair too light. "Bronde means not blonde and not brown but just in between the two and it can be cool or warm," explains Sharon Mudavanhu (@yogacolourist). "To create the best warm bronde, I lighten the hair to a darker yellow, usually a Level 8. For a cool bronde, I will lighten to the lightest yellow at a Level 8 but not a 9," says Sharon. 
Toning Tip: "I tone in three zones, paying particular attention to Zone 2 and Zone 3. I use warm and cool tones mixed together. For example, for a warm bronde, I will use a Level 6 gold violet on Zone 2 so I cool it a bit but the warm is dominant, then a Level 8 violet gold on the ends so it's cooler than Zone 2 but still warm so it pops. For a cool bronde, I tone Zone 2 with a Level 6 natural and a Level 7 violet and Zone 3 with a Level 8 violet ash," explains Sharon.
4. Listen to your client.
Because bronde can mean different things depending on who is interpreting, it is important to really have that initial conversation with your client to understand their desired result. "My biggest tip is a thorough consultation to understand your starting point and desired end result. A bronde to a brunette means an overall brunette base with dark blonde or light brown dimension. A bronde to a blonde means an overall dark blonde base with medium blonde dimension. Essentially, you're wanting to create a low-contrast color result with a warm/neutral tone," explains Farhana.
5. Don't be afraid to balayage.
"Bronde is a creation of natural dimension. I think bronze—a natural glow that is golden with cool sun-kissed highlights and brown lowlights. Use a balayage or open air painting to get a more natural lift and seamless transition of tone," suggests Rachel Redd (@rachel_redd). When formulating for a bronde tone, it is important to maintain a natural tone complimentary to your client's natural glow. A rich brown base within the client's natural level for depth will create less visibility of regrowth.
Pro Tip: "You're wanting to create natural sun-kissed highlights, so using lightener with a low volume or a high lift permanent haircolor will achieve this tone without overprocessing the hair," explains Rachel.