Last updated: January 15, 2021
How to Permanently Heal Hair: K18 Peptide Rebuilds Keratin in 4 Minutes
A decade of research reveals a way to heal hair for permanent reversal of damage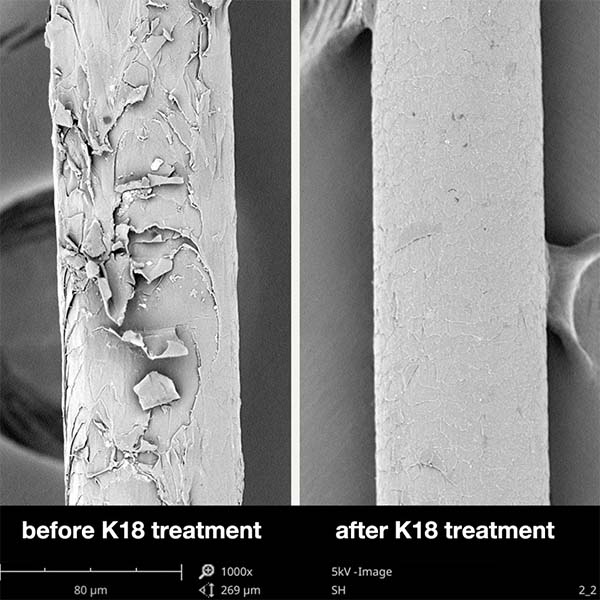 New Service Offering: K18 Treatment Rebuilds Keratin Permanently
When bond builders were invented in the mid 2010s, the beauty industry saw the creation of an entirely new category of products that transformed color services and made possible the ultra-platinum trends we see today. Something this transformative to the pro beauty world only happens once in a lifetime…or does it?
Ed Connaghan, president at K18 Hair, says that "applying keratin genomics makes repairing hair possible now" and said this new discovery is "another unicorn."
Unlike bond builders, this isn't a temporary fix. According to Connaghan, this biosciences discovery, 10 years in the making, can progressively renew the hair's keratin dimer structure (which is key to repairing hair) while also reconforming the disulfide bonds that traditional bond builders temporarily strengthen.
What does this mean for stylists? A four-minute, professional-only, spray-on product to be used before chemical services that is not rinsed out, followed by a four-minute mask. Used together, Connaghan shared that the hair's broken keratin chains are reconnected to restore hair back to near virgin strength and elasticity. 
Before chemical services with K18, and after chemical services with K18.
Evolving Beyond Bond Builders
Ten years of bioscience research went into the creation of the patented K18 peptide, including scanning and analyzing 1,242 decapeptides. In plain English—this is serious science.
"When Suveen [Sahib], co-founder of K18, presented me the science, I was like, 'Guys—this is very complicated,'" said Connaghan. With a background in the tech industry, Sahib took a deep dive into hair chemistry and determined that cosmetic chemistry was not the answer to solving hair repair. Instead, he focused on biotechnology and recombinant protein technologies (in plain English, how to create protein encoded by a gene).
Working with a skincare research scientist, K18 patented a series of bioactive sequences of keratin decapeptides that interact with larger keratin molecules in human hair, a breakthrough that makes hair repair theoretically possible.
This research connected K18 with Professor Artur Cavaca Paulo, a top bioengineering scientist out of Europe whose decade-long work in keratin genetic expression led to him mapping the set of keratin proteins produced in hair. Professor Paulo patented the full library of bioactive agents encoded by human genes of hair keratin and keratin-associated proteins. For those of us who aren't scientists, here's what this means: The patented K18 breakthrough is an outcome of this collaboration.
Sahib still knew the science would be difficult to distill down for pro hairdressers and consumers. That's when he called Connaghan, who had years of experience with Olaplex. Connaghan's background in building brands across the globe helped Olaplex become one of the fastest growing brands in the history of professional beauty, ultimately selling for nearly a billion dollars only five years later. So it makes sense that the K18 co-founders called Connaghan to help build K18.
"I realized we have something much bigger than the existing bond builders on the market," Connaghan said. He quickly got to work, enlisting major hairdressers like Spoke & Weal Founder Jon Reyman, Spoke & Weal Director of Color Christine Thompson, master hair colorist Aura Friedman who works out of Sally Hershberger Salons, and Jack Martin, known for his jaw-dropping silver hair transformations.
How the K18 Peptide Works
Why is K18 so groundbreaking? Sahib explains, "Think of the hair structure like a ladder. The sides of the ladder are made of keratin, the rungs of the ladder are the disulfide bonds. Both parts of the ladder are crucial for the hair to remain in a healthy, unbroken state, and both parts of the ladder can be destroyed through chemical services."
"Bond builders repair the rungs of the ladder—the disulfide bonds—by patching the broken bonds like a hard glue. This fixed repair is not permanent and can wash away over time. The keratin sides of the ladder are still damaged, though, and if the sides of the ladder are weak, it can't support the rungs," Sahib said.
"We've just become a version of the Human Genome Project," Connaghan said. "This is the science of biomimetics—more simply, the discovery of a peptide that imitates the hair's actual DNA, resulting in a product that reconnects the keratin chains once broken by chemical services."
This is the future of innovation. K18 and biomimetics will be to the beauty industry what Tesla is to cars," said K18 Director of Global Sales and Education Jordan Alexander (@jordanstylist). "Our goal is to reinvent both current categories and create entirely new ones through bio-tech for years to come."
How To Perform the K18 Service
Once the K18 Peptide was patented and trademarked, the co-founders created a product line that integrates the bioactive agent in a variety of ways. Most importantly, the products stand alone (meaning they are not mixed into any color, lightener or chemicals), take only four minutes and are meant to be left in the hair, not rinsed away. And there are only four products—two pro-only and two retail products—because simplicity is part of the K18 ethos.
The in-salon K18 Treatment promises to protect hair and lessen damage. It improves color uniformity and longevity, and adds strength, shine and manageability, according to K18 Hair. Here's what the service looks like:
Spray K18 Mist section by section onto hair prior to chemical service, then wait four minutes before proceeding with the service.
After processing, shampoo the hair, do not condition, and towel-dry.
Apply the K18 Mask for four minutes. Don't rinse, just style as desired.
The K18 Treatment can be used with any existing service you offer. It works with any color, chemical treatment or existing bond builder you already use.
"This is a post-COVID dream," Connaghan said. "You don't have to sit at the basin for 30 minutes." It's also not just for chemical services. Because all hair has damage, such as heat styling, environmental stressors, even those with "virgin" hair will see results from K18, he said. The standalone treatment, the K18 mask, is applied after shampooing and left for four minutes before styling, plus it can be retailed for at-home use.
"It gives hairdressers so many options on every client. Even for a man who doesn't want color, but wants improvement in texture," Connaghan said. "Use it before perming or chemical straightening/relaxing, as a service upgrade for a haircut, as a standalone treatment—it's safe for every client, and every client will see their hair restored to its most healthy and resilient state, he said."
"I don't believe in most things. I'm doubtful," Reyman said. As owner of multiple salons and also a session stylist, Reyman tries countless products. "This expands my possibilities and gives me opportunities with different types of hair that I didn't think were possible."
Before K18 Treatment and after K18 Treatment.
Pricing & Profitability
With the global pandemic making salon appointments shorter and farther between for many consumers, adding K18 to your service menu could be a new, quick way to add extra profit.
The pro-sized K18 products are 150 ml, with about 50 applications in each product. Performing the K18 Mist and K18 Mask steps cost about $2.24 per application. An upcharge of $15 per service can result in $630+ dollars in profit from one bottle of each product.
"We want to bring people back to the salon, and this product will do it," Connaghan said. "It's for every generation and every hair type. It works on extensions, amazing on bleaching, amazing on perming…use it once, and your client will want to use it every time."
The K18 Peptide Dose retail product, which sends clients home with one dose of the mask, is another way to add profit quickly. Salons can make about $300 on 50 of the doses. "We're kind of like the drug dealers," Connaghan said. "The first time you use it, it's, 'wow.' The second time is 'wowzers!' And the third time is 'holy sh*t.'"
K18's "Less Is More" Mantra
The products are vegan, not tested on animals, and contain no sulfates, silicones, sodium chloride, formaldehyde or parabens, and Connaghan said a little K18 goes a long way.
"We're getting more biosensitive," Connaghan said. "We'll educate people to use less and be more caring about the environment, using less water, less harmful chemicals and realize you don't need to damage your hair for results when you have biomimetics and the DNA-level ability to alter texture."