Last updated: June 29, 2020
Is Pre-Toning Necessary? Read This!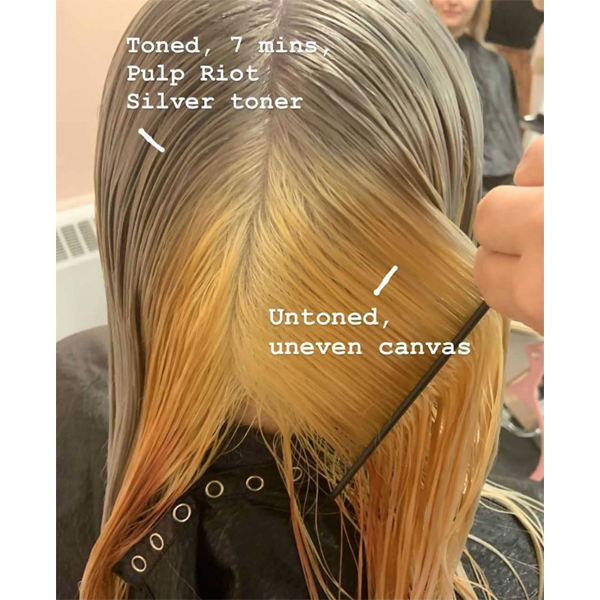 Should Every Colorist Pre-Tone Before Applying Fashion Colors?
Pre-toning the hair before applying fashion colors—is it a must? Depends on who you ask. While some colorists are team pre-tone all the way, others like BTC Team Member Kelly O'Leary-Woodford (@hairbymisskellyo) don't consider it a requirement. "When doing fashion colors, personally for me, a part of that creativity is using the color wheel to achieve the perfect vibrant tone," she shares. So keep scrolling to learn two reasons why Kelly doesn't pre-tone AND how she uses the color wheel instead.
 

 

View this post on Instagram

 
If the end goal is a bright color, Kelly won't pre-tone for two reasons:
It'll require more time.

It creates a barrier, making the colors a little less vibrant.
If she's painting a rainbow masterpiece, instead of pre-toning, Kelly gets strategic with her color placement:
Areas that are holding some brass is where she'll add pink, purple, orange or red. "That yellow undertone will give it that punch and something to hold onto," shares Kelly.
For areas with less brass/a more even canvas, Kelly will place blues, greens and lighter tones.
"If a guest is open to fashion color, chances are that they will be open to you using the wheel to correct," notes Kelly.
Pre-Toning With Color-Depositing Shampoo—Here's How It Works!