Last updated: May 17, 2021
The Top 10 Toning Tips We Shared In 2019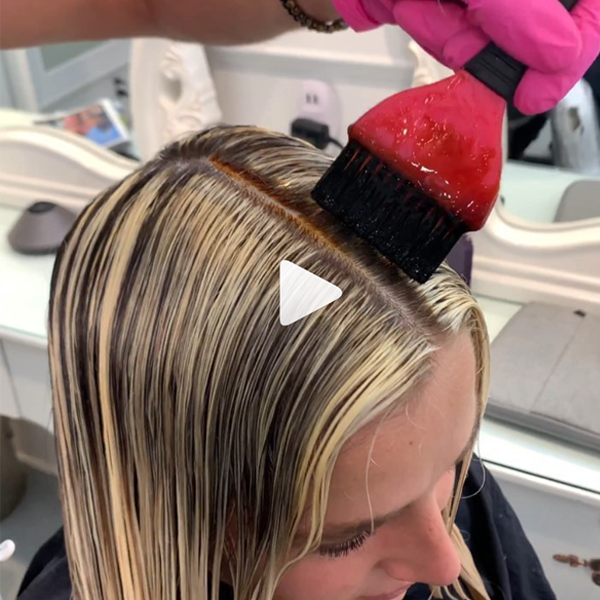 10 Of The Best Toning Tips We Shared In 2019
If there's one thing we learned this past year, it's that our BTC fam is ALWAYS searching for toning education 👏 That's why we're rounding up our top 10 tips on toners ALL in one place—so you can scroll n' screenshot everything you need to know to step up your gloss game. Keep reading to learn how to formulate for icy blondes, when to pre-tone, flash toning brassy brunettes with black 😱 AND MORE!
Access UNLIMITED Cutting, Blonding & Styling Education With A BTC-U Member Subscription—Click Here To Get 50% OFF An Annual Membership!
1. Flash Toning Brassy Brunettes With Black
Flash toning is Farhana Premji's (@xo.farhana.balayage) one formula trick for neutralizing stubborn brunette brass in JUST 60 SECONDS with…black?! Yep, all you need is one minute and a splash of Redken Shades EQ 1B. Just remember this:
This is impactful for guests who can't get past a Level 7/8 or are fighting against their previously dark color.

DO NOT walk away after the toner is applied because it legit only takes one minute to process. Shades EQ 1B carries the heaviest amount of blue pigment, which will give you max control of stubborn brass.

Farhana says this is meant to be applied before the final gloss and should only be applied to hair with zero pre-existing yellow—or else you'll be seeing green!
Watch The Flash Toning Technique Below
 

 

View this post on Instagram

 
2. Myth Buster: Will Toner Lift Hair? 🤔
Understand the mantra: Color doesn't lift color! "If you want ashy tones, lift past where you need to be and tone down," shares Lisa Walker (@lisalovesbalayage). "For example, lift to Level 8 and tone with Level 7. Or to brighten dull ends, use a level lighter and add gold."
3. Toning Over A Shadow Root—Do This!
For that on-trend rooty blonde clients want, a shadow root creates a deep base for ribbons of dimension to fall off AND it helps the grow out process look naturally blended. Here's how Sarmad Najem (@hairbysarmad) tones over a shadow root:
Apply a 1/2-inch shadow root to towel-dried hair. Process for 10 minutes.

Then, smudge the root area and process for 5 minutes.

After the shadow root is applied, then apply toner with a brush or bottle.

Work in 1-inch slices and gently massage the toner into the hair while processing.

Process everything for 10 to 15 minutes.
Watch The Technique Video Below
 

 

View this post on Instagram

 
4. Is Pre-Toning ALWAY Necessary?
While some colorists are team pre-tone all the way, others like Kelly O'Leary-Woodford (@hairbymisskellyo) don't consider it a requirement. Instead, she will use the color wheel to achieve the perfect vibrant tone. Here's when and why:
If the end goal is a bright color, Kelly won't pre-tone for two reasons:
It'll require more time.

It creates a barrier, making the colors a little less vibrant.
Instead of pre-toning, Kelly gets strategic with her color placement like this:
Areas that are holding some brass is where she'll add pink, purple, orange or red. That yellow undertone will give it that punch and something to hold onto.

For areas with less brass/a more even canvas, place blues, greens and lighter tones.
5. Toning Trick For Stubborn Areas That Won't Lift
Instead of reapplying lightener or bumping up the developer, Rachel Williams (@rachelwstylist) has a different approach to those stubborn areas that don't lift as well as the rest of the head: She tones with Aloxxi CHROMA® High Lift (in shade 11V, 11A or 11P depending on the desired tone) + 7-volume developer. Why? CHROMA® High Lift allows her to get a little more lift while she tones at the same time.
6. Remove Blue Shades With This Pre-Tone Trick!
Have a client that wants to transition from a blue hue to a more natural shade, but removing the blue is problematic? Mirella Manelli (@mirellamanelli) uses this "browning-out" technique:
Why Doesn't Lightener Work?


When using lightener first, the end result is just going to be a lighter, brighter blue, shares Mirella. Unless the client wants to go for a darker, natural shade then this process could work, depending on how dark the client wants to go.
So, What IS "Browning-Out"
In order to give your client a better chance at a natural end result, you first have to neutralize the blue shade, making it easier to color over. Mirella used her Kenra Professional Color Book, opened to the color wheel page and found the complementary color for blue and teal. Complementary colors are opposite each other on the wheel, so, to brown out blue use a copper shade and for teal, red.
7. Toning 101 Client Edition: Send THIS To Your Clients
Are your clients saying no to toner? Are they confused when you charge it as a separate color service? This video from Stevie Vincent (@saintvincentstudios) will help you break it down for them.
 

 

View this post on Instagram

 
8. This Toning Mistake Will Result In Green Hair!
Trying to neutralize warmth? Don't make this mistake when toning with Level 09s. "Just remember the difference between 9V and 9P as it can be confusing to some," shares Makenna Young (@makennayounghair). "You can use 9V to cancel out the yellow, but if you use strictly 9P trying to cancel out the yellow, you will result in green hair due to the blue that is in 9P."
9. Tap Through @hairbysarmad's Top Toning Formulas
Scroll through and screenshot some of Sarmad's most double-tapped Schwarzkopf Professional IGORA VIBRANCE® formulas!
10. Toning With Black and Pink For Platinum?!
So, this isn't a tip… but our BTC fam couldn't stop watching this viral toning technique from @robsonpelequero on Instagram. See it for yourself––watch the super satisfying video below!
 

 

View this post on Instagram