Last updated: April 23, 2018
Pink Shadow Root Cut and Color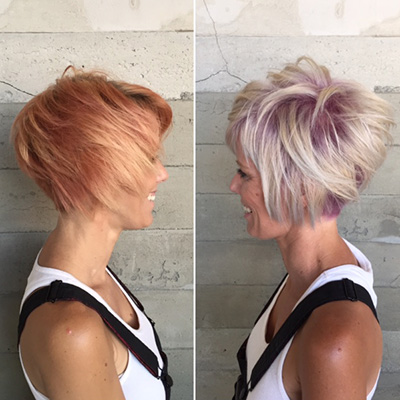 Formula A:

Mix equal parts Wella Professionals BLONDOR + Wella Professionals COOL BLONDOR + 30-volume developer + Olaplex

Formula B:

Wella Professionals BLONDOR + 20-volume developer + Olaplex

Formula C:

15g Wella Professionals Color Touch 10/6 + 1g Wella Professionals Color Touch /68 + 24g Wella Professionals Color Touch 1.9% developer + 8g of Olaplex No.2

Formula D:

40g Schwarzkopf Professional PEARLESCENCE Cotton Candy + 40g of 6-volume developer
Sometimes, she's going to come into your salon asking to switch it up a little! Cute and daring but not too far out—she wants that bright, vivid color, but she also wants it in a surprising, original way. When a client asked her for a lovely late-summer shake up, Alexis Thurston, from Butterfly Loft Salon and Spa & Übungalows in Encino, CA, knew just what to do. She cut and styled this sweet blonde pixie seasoned with perfect pink pops of color! See how she did it!
Who Did It
Colorist:
Alexis Thurston
COLOR FORMULAS
Formula A:

Mix equal parts Wella Professionals BLONDOR + Wella Professionals COOL BLONDOR + 30-volume developer + Olaplex

Formula B:

Wella Professionals BLONDOR + 20-volume developer + Olaplex

Formula C:

15g Wella Professionals Color Touch 10/6 + 1g Wella Professionals Color Touch /68 + 24g Wella Professionals Color Touch 1.9% developer + 8g of Olaplex No.2

Formula D:

40g Schwarzkopf Professional PEARLESCENCE Cotton Candy + 40g of 6-volume developer
FORMULA STEPS
Color Application
1. Paint and saturate Formula A on all hair 3/4 inches away from the root to the ends. Process for 15 to 20 minutes.
2. Leave Formula A on the hair and apply Formula B to the roots, smudging into Formula A. Process everything together for 30 minutes.
3. Lightly wash with cool water and towel-dry the hair. Apply Formula C all over and let it sit for 6 minutes, then shampoo and apply Olaplex No. 2. Process for 10 minutes before rinsing and blow-drying.
4. Clip hair from the occipital bone up and away, and apply Formula D all over  the back area.  Place an Embee Meche on top of that area and take small slices of hair and apply color to the root. Feather out into the blonde about 1″-inch in a bricklayer pattern until all of the root area is covered. 
5. Process for 15 minutes, lightly shampoo and condition. 

Cut How-To
1. Undercut the back area using scissor-over-comb to the occipital bone, continuing in a soft crescent shape to the back of both ears.
2. Cut the top disconnection in a textured and layered A-line to  the chin with straight shears and 30-inch  teeth texture shears. 
3. Blow-dry and style the hair with KEVIN.MURPHY NIGHT.RIDER Matte Texture Paste and Kenra Professional Volume Spray 25.