Last updated: April 05, 2018
Dimensional Peach
By

Jennifer Lopiccolo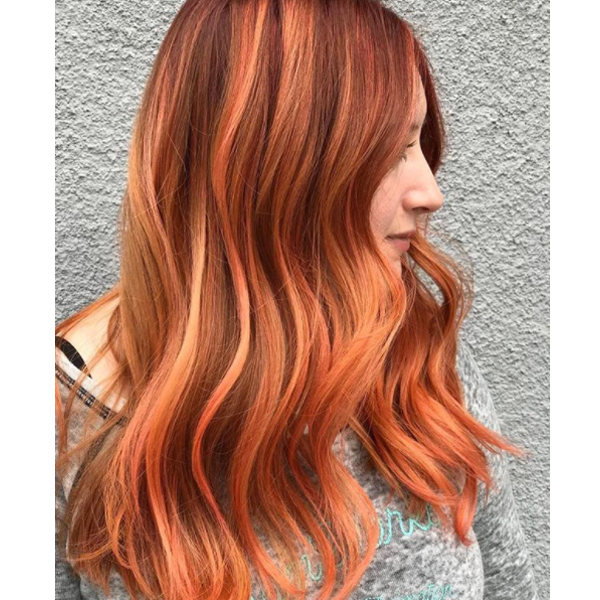 Formula A:

Wella Professionals Koleston Perfect 5/4 + 2 inches Wella Special Mix /33 additive + 10-volume developer

Formula B:

Wella BLONDOR + 20-volume developer

Formula C:

Wella BLONDOR + 10-volume developer

Formula D:

3 tubes PRAVANA ChromaSilk Pastels Too Cute Coral + ¼ oz. PRAVANA ChromaSilk VIVIDS Orange + 1/8 oz. PRAVANA ChromaSilk VIVIDS Wild Orchid
If you have a client who is dying to join the Peach family, but can't figure out the perfect shade, we have a feeling this dimensional one (which got more than 9,000 likes on our Insta!) could be a winner. Find out how Jennifer Lopiccolo (@jenniferlopiccolo_hair), a stylist at Union Salon in Pasadena, Calif., created this stunning shade in the color formulas and steps below!
Want to be featured? Tag your pics to #behindthechair!
Total time: 3½ hours
Pricing: $320
Who Did It
Colorist:
Jennifer Lopiccolo
Products Used
COLOR FORMULAS
Formula A:

Wella Professionals Koleston Perfect 5/4 + 2 inches Wella Special Mix /33 additive + 10-volume developer

Formula B:

Wella BLONDOR + 20-volume developer

Formula C:

Wella BLONDOR + 10-volume developer

Formula D:

3 tubes PRAVANA ChromaSilk Pastels Too Cute Coral + ¼ oz. PRAVANA ChromaSilk VIVIDS Orange + 1/8 oz. PRAVANA ChromaSilk VIVIDS Wild Orchid
FORMULA STEPS
Start by applying Formula A at the root, dragging the formula down and blending it into the midlengths.
While the root color processes, tease the crown area and highlight using Formulas B and C. Apply Formula B toward the top of the strand and Formula C on the ends.
Rinse the hair, shampoo and dry, then apply Formula D. Process for 30 minutes (15 minutes under the Wella Climazon, 15 minutes to cool). Rinse with cold water, then style as desired.