3 Toning Myths Debunked By @lisalovesbalayage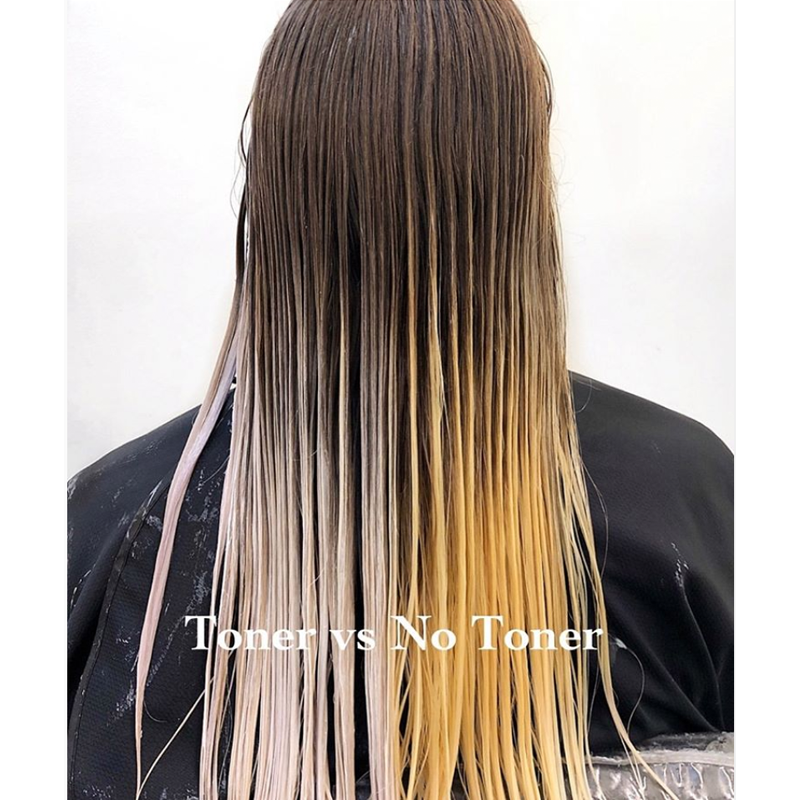 Toner Vs. No Toner—What Color Clients Don't Know!
Toner, gloss, glaze and overlays…dear clients, we love you but let's clear up the confusion surrounding these services! When Lisa Walker—aka @lisalovesbalayage to her 794k Instagram followers—posted this photo of what hair with toner vs. no toner looks like, we were reminded that most of our clients don't understand the services we're charging them for. Keep reading for three client myths and realities that will change the way clients think about toning, and how you offer your services color!
Myth 1: A Toner Is A Product, Not A Service
Don't be confused by the word 'toner' (gloss, glaze or overlay—it's all the same!). "A toner is a service, not a specific product," dishes Lisa. "It's a word used to describe what we're doing, not what we're actually using." Typically, colorists use demi-permanent color to tone hair, but semis can also be used to neutralize, enhance or brighten hair.
Myth 2: Toning Is Used To Fix Mistakes
"Unfortunately nobody's hair lifts ashy, or beige, or silver," says Lisa. "But I can guarantee you that it will lift orange or yellow and if those are not your favorite colors, then a toner may be necessary." Common rumor: When colorists tone, it's because they did something wrong. While virgin hair may lift beautifully without a toner, if you want a custom color—think platinum, champagne and rose gold—toning is a must.
Myth 3: Toner Will Lift Hair
Understand the mantra: Color doesn't lift color 👏 "If you want ashy tones, [colorists] lift past where you need to be and tone down," shares Lisa. "For example, lift to Level 8 and tone with Level 7. Or to brighten dull ends, [they will] use a level lighter and add gold." 
Colorists, are you strategically formulating your toners? Read the post below!
We're living for these Schwarzkopf Professional IGORA VIBRANCE® tones. 
 

 

View this post on Instagram

 
So You Understand Toning, Now What? Let's Talk Longevity!
Every color  service a hairdresser does is temporary, but you can help prolong and maintain toners by keeping strands healthy. "The healthier the hair is, the longer it will last," shares Lisa. "The more damaged or porous the the hair is, the more temporary it will be and these clients may require more frequent maintenance."