Last updated: April 27, 2022
BRUNETTE BOLD MONEY PIECE
By

Chris Weber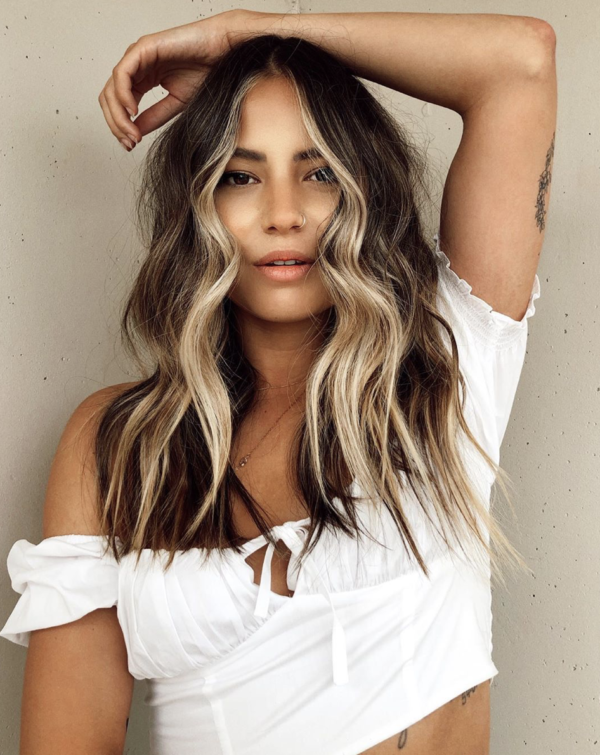 Formula A

L'Oreal Professionel Blonde Studio 9 Lightening Powder + 3o-volume developer + Olaplex No.1

Formula B

Redken Shades EQ Demi-Permanent 9NB + Redken Shades EQ Demi-Permanent 9V + Redken Shades EQ Processing Solution
How to Achieve a Bright Money Piece on a Brunette
Bold chunky money pieces have officially made a come back and we are seeing them in a wide range of hues. Not only are they STUNNING, but they are a fun way to introduce your client to lightening services without the commitment of a full head of highlights or global lightening service. Chris Weber Mirlach (@chrisweberhair) is known for his ability to created dimensional, bold looks, so we asked him for the details on everything needed to achieve and maintain this look.
Who is this technique for?
This technique is perfect for anyone who wants a pop of color and a low maintenance upkeep. Any client with a darker base is ideal for this look because it provides the perfect amount of contrast. Clients with a lighter base can still have this look, but it would require darkening the base and have a higher maintenance level. 
PRO TIP: Previously box colored and heavily layered hair can make this look a challenge. Because this look requires a full hairline, bangs will also change the final result of this look. It is important to always have a consultation to let your client know any challenges that can arise.
How long does this technique take and how long does it last?
Chris usually books out four hours total for this service. This length can vary slightly from client to client depending on the hair length and if it has been previously lightened. If the right products are used for at home care, this color can last 3-4 months.
What is the average price for this service?
Chris usually charges between $500-$650 total for this service. Price varies depending on the clients hair density and length. 
What is the maintenance for this look in the salon and at home?
This look generally requires 3-4 sessions a year every 3-4 months. Chris likes to switch up his placements each time his client comes back. "I always choose a different placement to make sure we don't over process the same pieces over and over" he says. Clients can also come in for a tone and refresh every now and then if they want to.  
At home care is just as important as salon maintenance. Chris loves to send his clients home with ORIBE Bright Blonde Shampoo and recommends using this every second to third wash. He also recommends a moisturizing conditioner and mask to take home as well.
Products Used
COLOR FORMULAS
Formula A

L'Oreal Professionel Blonde Studio 9 Lightening Powder + 3o-volume developer + Olaplex No.1

Formula B

Redken Shades EQ Demi-Permanent 9NB + Redken Shades EQ Demi-Permanent 9V + Redken Shades EQ Processing Solution
FORMULA STEPS
Step 1: Starting at the hairline, apply Formula A in a combination of weaves and slices all around the hairline.
PRO TIP: Start with a lower developer since this will sit the longest and the hairline is the most fragile.
Step 2: Balayage ends with Formula A where you want to see a pop of color. 
PRO TIP: Less is more for this look because it will keep it dimensional. 
Step 3: Rinse, shampoo, and apply Formula B to towel-dried hair all over for 30 mins.
PRO TIP: If ends are not as bright as you want, before toning you can apply a wet balayage to ends to brighten them up a little bit more.