Last updated: April 01, 2022
The "Wet Mop" Is TikTok's Biggest Men's Haircut Trend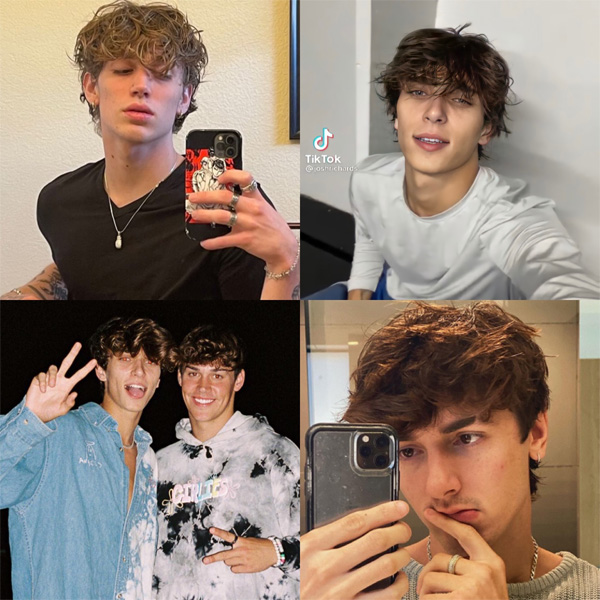 The 2022 Men's Trend That's All Over The Internet 
You've heard of the bixie and the wolf cut by now—but, WHAT is a "wet mop"?! Also nicknamed "the TikTok haircut," this trend is single-handedly responsible for getting Gen Z guys into salons this year. Pretty cool, right? Here's everything you need to know about the trendy haircut, including how to cut and style the look and why we love it.
Wait… This Haircut Looks Familiar! Here's Why.  
You may recognize this haircut from your first celebrity crushes like The Beatles or Justin Bieber in his "One Less Lonely Girl" era. That's because this haircut takes elements of the retro mop top hairstyle—which has seen a TON of different variations throughout the decades—and gives it a fresh 2022 update. See the throwback references below!
 

 

View this post on Instagram

 
 

 

View this post on Instagram

 
The Wet Mop: Key Elements 
Longer on top and shorter/midlength on sides and back

Tapered flow into a layered top with heavy fringe 

A LOT of texturized layers and movement

Often worn wavy or styled with a flat iron or curling iron
Check out this quickie from @joshlamonaca!
Is It A '90s Curtain Cut or A Wet Mop (Top)?
Short answer: Add flippy curtain bangs and a middle part to a retro mop-top silhouette and you'll get a look that's reminiscent of the boy-band-approved '90s curtain cut. This version frames the eyes, gives clients a *young Leo* vibe and is a great transitional cut for growing out their hair. 
Watch Gilad Goldstein (@myguiltycrown) cut a '90s curtain haircut below! 
 

 

View this post on Instagram

 
Pro Tip: Gilad likes to cut this look wet, so he uses the HARMONY II by ARC™ Scissors. Here's why: The blade is super sharp, so the scissors won't bend or push the hair. 
How To Style The Wet Mop 
Your client got a wet mop, now what?! The secret to styling this look is creating the right amount of movement and fullness throughout the top. As their stylist, the MOST important thing you can do for the men in your chair is simple: Educate them!
Teach your guys how to properly use product to style their hair at home and personalized tips, like drying curly hair with an old T-shirt instead of a towel to preserve their curl pattern. 
Try these easy Victory Barber & Brand stylers to get clients started. 
Dry Grooming Cream:

Part styling product, part grooming aid, this cream works best on mid to longer lengths. Use this to add definition to curls, waves and smooth away frizz. 
PRIMER Volume & Texture Tonic

:

Add thickness to fine hair and loose hold for longer lengths, curls and waves. Spray into damp or towel-dried hair for subtle surf-style or hit with a dryer for volume.
Pro Tip: Remember when everyone on TikTok was getting perms? If a client wants waves or curls that are more permanent, we've got you. Read this guide to introducing clients to perms, the process and maintenance dos and don'ts!
Watch TikTok star Josh Richards' perm transformation below!
Plus, check out this DIY styling quickie. 
Here's Why We Love This Haircut
Hair salons can expect to see an influx of male clients in salons this year. That's because guys are INVESTING in their hair more now than ever. The trends are shifting to longer lengths, more high-maintenance looks and a big emphasis on styling—yes, many clients are ready to try a blow-dryer or flat iron for the first time! Read four blow-drying tips to teach male clients.
Remember, while a TikTok trend may get a new client in your chair, it's YOUR job to turn them into a regular. You've got this!