Last updated: July 07, 2021
5 Retouch Tips For Bleach + Tone Clients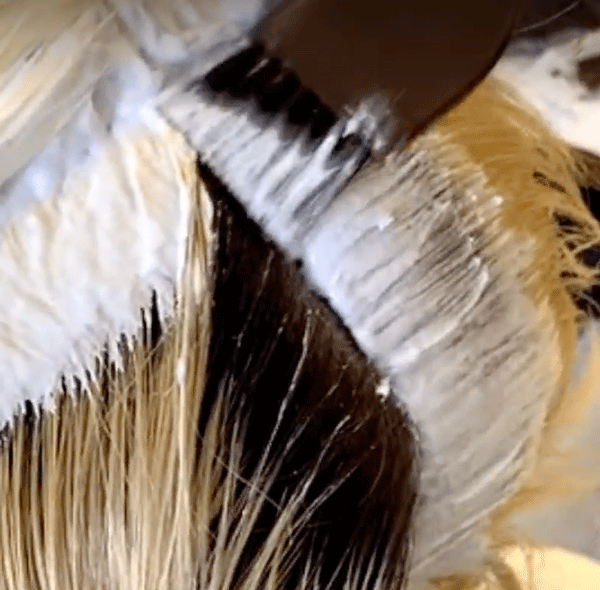 Blonding Education: 5 Tips For Lifting + Toning 
Bleach and tone clients, we love them—but they are anything but simple. Hot roots, lines of demarcation and fast-fading toners can really dull a bright blonde, but don't worry! We asked Richie Rivera (@richieriv) the North American Color Director for Sassoon to share his tips for a seamless bleach application. 
Scroll down for his tips on achieving an even lift, how to bleach the hairline safely and how to formulate toners for long-lasting color. Want to learn more from Sassoon? Click here to become a BTC-U Member and gain access to over 36 courses from Sassoon Academy—only on BTC University! 
Tip #1: Achieve Even Lift With Controlled Sections
A strategic application will help avoid uneven lift and banding. So Richie sections the hair into quadrants, then work in thin, see-through subsections to apply the lightener. "Don't be afraid to break the subsections up. There is no need to take one huge parting throughout the entire quadrant. Just remember to keep the partings clean and connected, giving you more control with saturation, which is key to an even lift," he explains. 
Pro Tip: Richie uses a rattail comb to create his partings, following the natural curve of the head to create clean subsections. 
Tip #2: Avoid Lines Of Demarcation With These Tips
There is nothing worse than rinsing your client and noticing a shadow between their fresh bleach and previous blonde. Below, Richie shared his go-to tips to guarantee a seamless lift: 
Tip #1: Use a smaller brush. Richie uses a tint brush to achieve maximum precision when applying lightener. 
Tip #2: Blend up at the regrowth line. Once Richie has fully saturated the regrowth, he will flip the brush over and blend the product upward, gently saturating a small amount of the previously lightened blonde. 
Tip #3: Safely Lift The Hairline With Tight Tension & A Feather Motion 
Lifting the hairline can be stressful. So Richie shared his feathering technique: A combination of tight tension and subtle feather motion. First take a thin, see-through section and comb it smooth, over-directing it back. Then with a small amount of lightener on the edge of the brush, use a gentle swooping motion to apply the product to the hairline. 
"The tight tension and very light application work together to fully saturate the section but not load so much product that the hair becomes compromised," Richie explains. 
Slide To Check Out The Before & After!

Tip #4: Add A Natural Base To Your Formula For Longevity 
Do your bleach and tone blondes complain of fast fading color? Richie suggests adding a natural shade to their toner formula. "Mixing in an N or other natural base will enhance the overall tones of the blonde but also help increase the longevity of the color," he explains. 
Tip #5: Too Much Purple Shampoo Can Leave Color Flat & Dull 
Blondes are no strangers to purple shampoo as part of their at-home maintenance routine. But Richie warns that over using purple shampoo can create buildup in the hair that can be challenging to remove at their next appointment. 
"I really recommend my clients only use purple shampoo once a week—if that. Not only does purple shampoo create a buildup, but it can also leave the color looking drabby and flat instead of cool," Richie explains.
Click The Beaker For Richie's Formula Breakdown! 

Formula A (retouch lightener)

Wella Professionals 60g BlondorPlex + 120g 20-volume Welloxon Perfect developer

Formula B (section one front subsection toner)

Wella Professionals Color Touch 40g 9/16 + 15g 10/0 + 10g 7/75 + 130g 1.9% Color Touch Emulsion 

Formula C (section two back subsection toner)

Color Touch 30g 0/00 + 15g 9/16 + 15g 10/6 + 120g 1.9% Color Touch Emulsion
Sign Up For An Annual BTC-U Member Subscription & Receive Unlimited Access To Richie's Course PLUS Over 36 Educational Courses From Sassoon Academy!