Last updated: February 21, 2023
Warm Honey Bronde
By

@megumicolor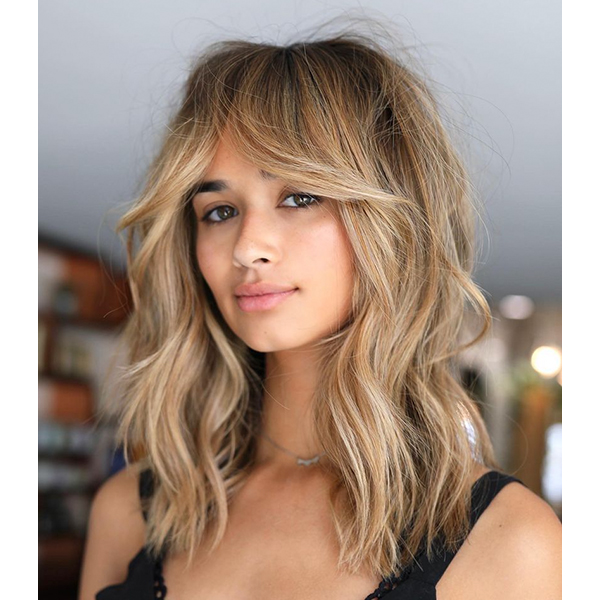 Formula B (shadow root):

Wella Professionals Color Touch equal parts 7/0 + 8/3 + 10-volume developer

Formula C (shadow root):

Color Touch /00 + 6-volume developer
PSA: Warmth is IN! That means it's time to freshen up your formulation skills before clients request different shades of honey and teddy bear blonde. Keep reading to learn how California-based dimensional color specialist Meg Mizuno (@megumicolor) created this lived-in honey bronde—plus, her color formulas!
Check out the before & after below! 

Who is the ideal client for this look? 
This is a versatile technique that can be used on many clients: "This color will suit any hair type and gives a seamless grow out," Meg told us, adding that the color took a total of two hours. Think: Low-maintenance clients who love lived-in looks!
How can clients care for this look? 
Meg advises her clients to come in every 10 to 12 weeks for a toner refresh. For highlights, she recommends visiting the salon every 16 to 20 weeks. Here are her favorite products to send clients home with:
Pureology

Hydrate Shampoo (for color longevity)

Milbon

Repair Restorative Treatment (to repair damage)
Milbon Repair Restorative Blowout Primer
Milbon Smooth Luminous Softening Oil
What is a must-know tip for stylists?
"You must know how and where the curtain bangs fall," Meg explains. This will affect your color placement, so she asked her fellow stylist Hiro (@hirohair) who she tapped in for the haircut.
When it comes to formulation, Meg uses a warmer formula for the shadow root and a more natural tone for the blonde to create a rich, vibrant dimensional color.
Press play to get a behind the scenes look of this transformation:
 

 

View this post on Instagram

 
Get UNLIMITED Access to 150+ Classes on BTC University:
Express Lowlights + Content Creation With @samanthasbeautyconfessions
Root Shadow + Toning for Brunettes By @colorbycarlos 
Bronde Highlights, Lowlights + Toning With @coloredbycaitlin 
& MORE! Click here to subscribe.
Products Used
COLOR FORMULAS
Formula B (shadow root):

Wella Professionals Color Touch equal parts 7/0 + 8/3 + 10-volume developer

Formula C (shadow root):

Color Touch /00 + 6-volume developer
FORMULA STEPS
1. Highlight with Formula A. Rinse when desired lift is achieved. 
2. Apply Formula B to zone one; then, apply Formula C to zones two and three. Process for 10 minutes. 
3. Rinse and apply Milbon Repair Professional Treatment to rebuild damage and strengthen.
4. Style as desired.