Last updated: April 06, 2023
Dimensional Golden Blonde
By

Mick Lewis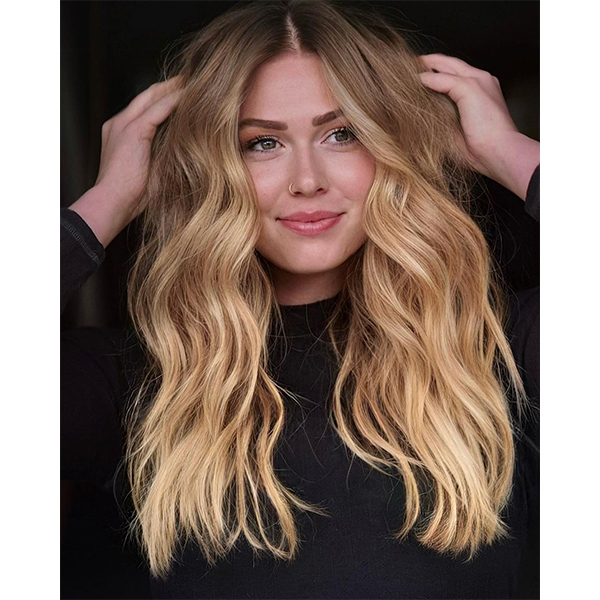 Formula A (lightener):

TRUSS Professional Air Libre Bleaching Powder + 10-volume developer 

Formula B (shadow root):

Redken Shades EQ equal parts 6GB + 6N + Shades EQ Processing Solution

Formula C (all-over toner):

Shades EQ 40g 9AA + 15g 8C + Shades EQ Processing Solution
More and more clients are embracing their natural warmth and we are here for it! That's why we reached out to Denver-based salon owner and BTC Team Member Mick Lewis (@hairbymickk) to get all the deets for this dimensional golden blonde—keep reading to get his formulas and must-have pro tips!
Who is the ideal client for this look?
This color is perfect for clients who don't want to visit the salon often or love low-maintenance looks. "This is a pretty rooted blonde," Mick says, adding that "this color grows out super well and looks beautiful in between appointments."
What can clients expect from their appointment?
Mick said this appointment took a total of five hours and he charged $700 for this look.
How can clients care for this look?
"Touch-ups are recommended every 12 weeks, but if the client can only come in once or twice a year, it will still look great. You would probably just need to go another longer session when they come back in," Mick explains.
What are your must-know tips for stylists?
Since Mick's client has very warm hair naturally, he always uses a toner that is equally as warm as the base. "And since we want to keep the warmth in the hair, I never lift past a Level 9 (yellow). The hair will fade better and stay healthy that way," Mick advises.
Get UNLIMITED access to 150+ classes on BTC-U:
Blonding Foil + Placement Strategies With @the.blonde.chronicles
Creating High-Contrast Blondes With @hairbymickk
Babylights, Balayage + Toning With @hairbychrissydanielle
& MORE! Click here to subscribe.
COLOR FORMULAS
Formula A (lightener):

TRUSS Professional Air Libre Bleaching Powder + 10-volume developer 

Formula B (shadow root):

Redken Shades EQ equal parts 6GB + 6N + Shades EQ Processing Solution

Formula C (all-over toner):

Shades EQ 40g 9AA + 15g 8C + Shades EQ Processing Solution
FORMULA STEPS
1. Apply Formula A using a weaving air touch technique with foils.
Pro Tip: "Sometimes I will hand paint on previously lightened ends in combination," Mick explains.
2. After processing, rinse and apply Formula B as a root shadow.
3. Apply Formula C as an all-over toner.
4. Rinse and style as desired.