Last updated: March 29, 2021
Rich Copper Balayage
By

Karla Leschitz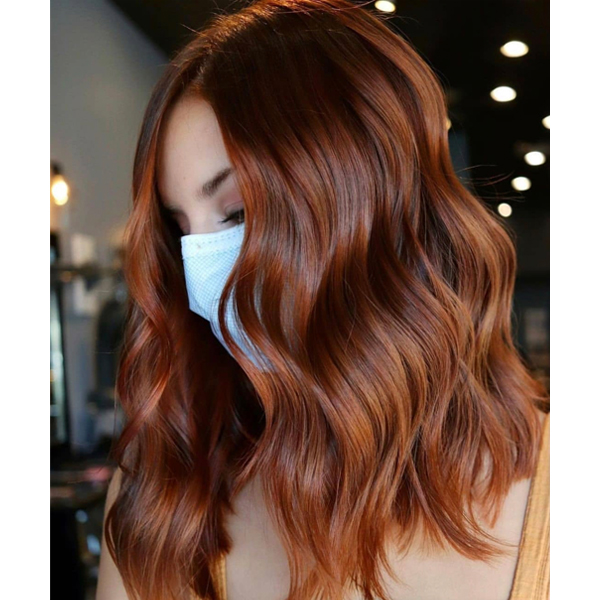 Formula A (roots to ends)

equal parts Redken Shades EQ 6CC + 6WG + 6G + Shades EQ Processing Solution

Formula B (quick toner)

Redken Shades EQ 6CC + 6AA + Shades EQ Processing Solution
Our blonde balayage regulars like to see a lot of brightness and dimension, so they have the perfect starting canvas for a dreamy rich copper. The next time a client wants to go red, brush up on some KEY consultation tips from Karla Leschitz (@kl.hairartist) below. Then, snag some of her best color formulas for a warm copper blend that pops. 
Who is the ideal client for this technique?
This service is perfect for anyone going darker, or simply looking for a tonal shift. Karla's client was previously a blonde balayage regular with a natural Level 7 base, so because of her starting canvas, this was a great way to create an impactful transformation with a fast, 30-minute application process. For clients with a solid darker canvas, prelightening the ends first is a must to achieve a brighter, dimensional result.
Choosing Semi-Permanent vs. Permanent Color
The trickiest part of this technique is starting with a light, porous canvas. Karla considered using permanent color for longevity, but that would require a corrective color approach because the end goal was two shades darker. Using permanent color would also make the journey back to blonde more complicated if the client eventually wanted to be light again, so she decided to formulate with Redken Shades EQ.
What does at-home maintenance look like for this technique?
Choosing to work with a demi-permanent means that the client will need to "baby" the color more. This includes using color-safe products, heat protectants, color-enhancing masks and coming in for toners in between sessions.
Consultation Tip For Red First-Timers
Reds are beautiful, but they're also hard to maintain richness and vibrancy, so be sure that clients are aware of the upkeep and maintenance needed. It's also super important to consider clients who like to change up their color a lot. While reds are tough to keep vibrant, they're also hard to get out of the hair.
Karla recommends explaining to the client the process and sessions that may be needed to change looks, especially going back to blonde.
How To Price This Type Of Color Service  
This will vary for every client. Hair length, density and starting canvas determines the way Karla prices this type of service. A more simple "roots to ends" color application will be more affordable, between $80 to $140 depending on how much product is used.
The price may quickly increase when someone needs to add dimension and brightness to their starting canvas first. This will require extra charges for painting, foiling or balayage in addition to the red color application cost, typically $200 to $300, or more.
COLOR FORMULAS
Formula A (roots to ends)

equal parts Redken Shades EQ 6CC + 6WG + 6G + Shades EQ Processing Solution

Formula B (quick toner)

Redken Shades EQ 6CC + 6AA + Shades EQ Processing Solution
FORMULA STEPS
1. Section the hair into quadrants.
2. Working in sections, apply Formula A from the scalp to the ends.
3. Comb through each section to ensure even saturation.
4. Process for 20 to 30 minutes and rinse.
5. To add an extra pop, Karla toned at the sink with Formula B and processed for 10 minutes.
6. Rinse, blow-dry and style!