Last updated: December 04, 2019
COLOR CORRECTION: Silver-Toned Platinum
By

Grace Joo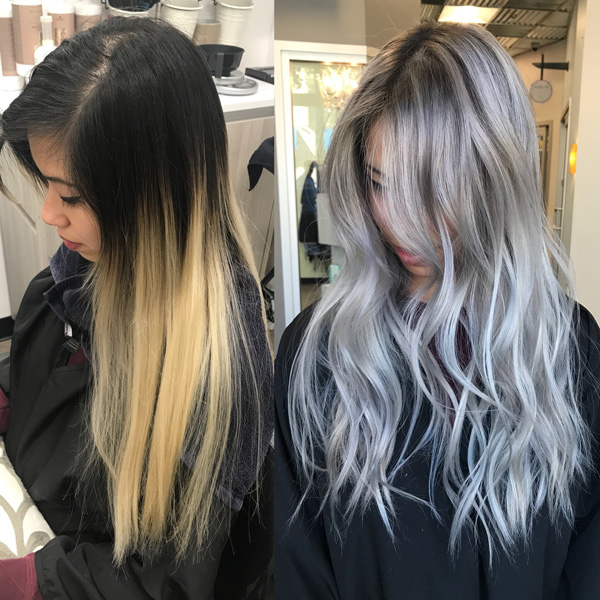 Formula A:

Schwarzkopf Professional BLONDME + 20-volume developer

Formula B:

Schwarzkopf BLONDME + 30-volume developer

Formula C:

Equal parts Schwarzkopf IGORA ROYAL 5-1 + IGORA ROYAL 6-12 + 7-volume developer

Formula D:

Schwarzkopf IGORA ROYAL 60g 9.5-22 + 10g 8-29 + 3g 0-11 + a dot of 0-99 + 7-volume developer

Formula E:

Redken Shades EQ 9V + 9P + Shades EQ Processing Solution
Achieving the perfect shade of silver platinum is one challenge, but what if your client, whose natural base is typically color-resistant Asian hair, came back with a whole year of regrowth?! It happened to Grace Joo (@colorwithgrace), a blonde specialist in Pasadena, Calif., and she absolutely crushed this color correction with a little patience and two different treatments. Get the color formulas and how-to steps below!
Want to be featured? Tag your pics to #behindthechair!
Total chair time: 5½ hours
Products Used
COLOR FORMULAS
Formula A:

Schwarzkopf Professional BLONDME + 20-volume developer

Formula B:

Schwarzkopf BLONDME + 30-volume developer

Formula C:

Equal parts Schwarzkopf IGORA ROYAL 5-1 + IGORA ROYAL 6-12 + 7-volume developer

Formula D:

Schwarzkopf IGORA ROYAL 60g 9.5-22 + 10g 8-29 + 3g 0-11 + a dot of 0-99 + 7-volume developer

Formula E:

Redken Shades EQ 9V + 9P + Shades EQ Processing Solution
FORMULA STEPS
1. Using Formula A, double-slice and weave throughout the entire head. Process for about 1½ to 2 hours without heat.
2. Rinse, then apply Formula B on towel-dried hair to any areas that are still warm. 
3. Then, rinse and apply Olaplex No.2. Let sit for 5 minutes, then rinse again.

4. On towel-dried hair, apply Formula C to the roots and blend the ends with Formula D. Process for about 20 minutes.
5. Rinse and shampoo with Joico Color Endure Sulfate-Free Shampoo. Then, tone with Formula E and let sit for no more than 5 minutes.

6. Next, mix Schwarzkopf Professional BLONDME Keratin Restore Mask with some Olaplex No.2 and leave on for a few minutes before rinsing.
7. Blow-dry, then style with a 1½-inch Hot Tools curling iron. Spray some Kenra Professional Platinum Dry Texture Spray 6, follow with OUAI Hair Oil, then gently brush the curls out with your fingers. 

8. Send her home with Fanola No Yellow Shampoo so the silver tone lasts until her next appointment.