Last updated: February 08, 2023
CINNAMON COPPER BALAYAGE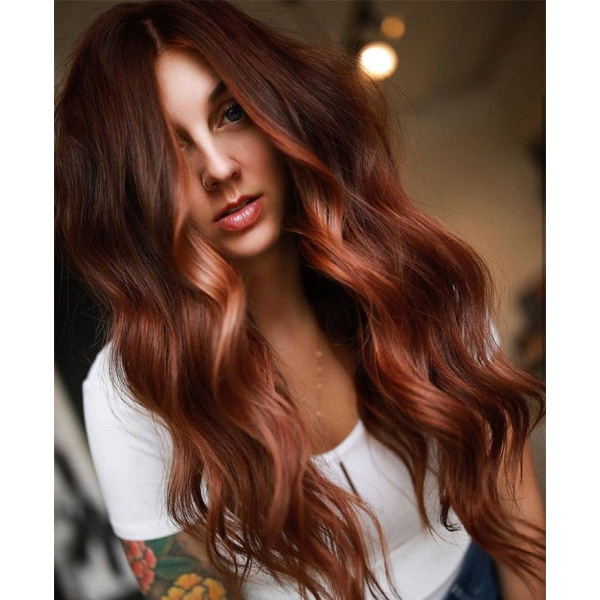 Formula A (lightener)

Wella Professionals BlondorPlex Powder Lightener + 20-volume developer

Formula B (base)

Wella Professionals ColorTouch Demi-Permanent Haircolor 6/47 + 6/3 + 7/43 + 6-volume developer

Formula C (mids)

Wella Professionals ColorTouch Demi-Permanent Haircolor 6/47 + 6/3 + 7/43 + 13-volume developer

Formula D (ends)

Wella Professionals ColorTouch Demi-Permanent Haircolor 8/73 + 6-volume developer
This sultry fall balayage got over 22,000 likes on our Instagram, so it's clear that you love this look as much as we do! We reached out to artist Cameron Kepford (@cameronkepford) to learn how he booked, priced and created this balayage.
1. Who is the ideal client candidate for this?
For this client, Cameron always strives for a lived-in technique. "We blonde her twice a year and build off of each previous session. We wanted to change the tonality of her overall look so we opted to go for a more muted red which faded beautifully and didn't create a maintenance plan," explains Cameron.
2. How long does this process generally take and how long does it last?
"I schedule all my color sessions for 3 hours. This is from consult to capturing the final result. This color service took 2 hours and 30 minutes. She had longevity with this color because I used so much gold. The pigment had a lot to hold on to and kept its vibrancy for months," says Cameron.
3. What maintenance is required for this look?
Cameron recommended R+Co Bleu Primary Color Shampoo & Conditioner to preserve the depth and the new Wella Professionals Color Fresh Masque in Copper Glow to keep her color looking fresh. "We're OBSESSED! Due to her at home regimen, in-salon services are not required until the next lightening session," explains Cameron.
4. What does pricing look like for something like this?
"Each of my color sessions start at $300. I will say that this color was built over time. I had already put in the foundation over the last two sessions. If you add the three together technically it would be $900," says Cameron.
COLOR FORMULAS
Formula A (lightener)

Wella Professionals BlondorPlex Powder Lightener + 20-volume developer

Formula B (base)

Wella Professionals ColorTouch Demi-Permanent Haircolor 6/47 + 6/3 + 7/43 + 6-volume developer

Formula C (mids)

Wella Professionals ColorTouch Demi-Permanent Haircolor 6/47 + 6/3 + 7/43 + 13-volume developer

Formula D (ends)

Wella Professionals ColorTouch Demi-Permanent Haircolor 8/73 + 6-volume developer
FORMULA STEPS
1. Lighten using Formula A and foils to create as much blonding as desired.
2. Rinse, shampoo and apply Formula B to the base.
3. Apply Formula C to the midlengths.
4. Apply Formula D to the ends.
5. Emulsify all formulas together and comb through for blend insurance.
6. Let process for 15-25 minutes.
7. Rinse, condition, and style as desired.