Last updated: May 18, 2021
Balayage Touch-up: 3 Refresh Tips For Dimensional Blondes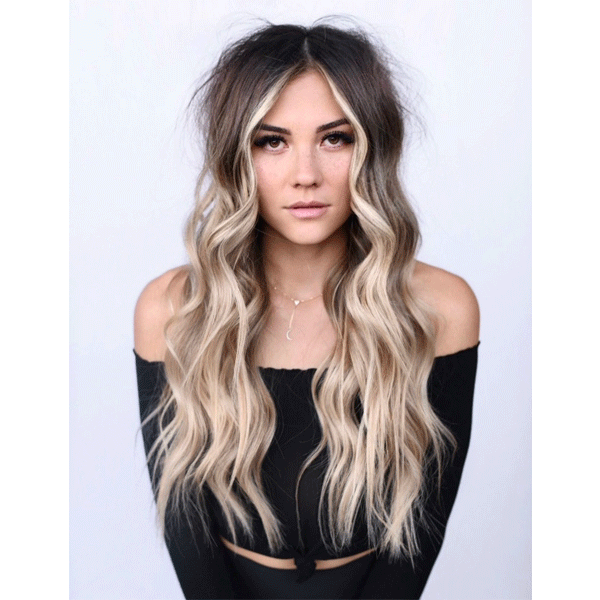 Formula A (foils):

Schwarzkopf Professional BLONDME® Premium Lightener 9+ + 7-volume BLONDME® Premium Developer

Formula B (root shadow):

Redken Shades EQ 20g 4WG + 20g 5N + 5g 5V + 45g Shades EQ Processing Solution

Formula C (midtone):

Shades EQ 20g 7N + 10g 7G + 5g 7V + 5g 6N + 40g Shades EQ Processing Solution

Formula D (wet balayage):

BLONDME® Premium Lightener 9+ + 20-volume BLONDME® Premium Developer

Formula E (all-over gloss):

Shades EQ 10VG + Shades EQ Processing Solution
How To Refresh Balayage Without Going Overboard
Picture this: A client comes in after a long hiatus and wants to freshen up their highlights but still keep a rooted, low-maintenance look. What placement should you use? How do you avoid over-foiling and making them TOO blonde? Don't worry fam, Linson Jamison (@linsonhair) has all of your questions covered during his course on BTC University!
Click here to purchase and receive unlimited access and keep scrolling for some tips to take back to the salon right now! 
What We Learned:
You can learn Linson's full technique in his 90-minute course, but we're teasing these tips you need to know now!
Tip #1: Use Strategic Placement For Minimum Foiling   
To avoid over-foiling, Linson uses a three-by-three placement to create bright pops of blonde but still keep dimension. Check out his placement below:  
Pivot Partings For A Contoured Money Piece:

"My partings follow her hairline but they aren't all parallel. Instead, for the other two foils, I pivot towards the client's part. That allows me to create a money piece that is skinnier at the top but becomes wider towards the face-frame," he explains. 
Pro Tip: Leave ends out of the foils to ensure the integrity of the hair. If dull ends need to be brightened, keep scrolling to check out Linson's wet balayage technique!
Diagonal Back For A Connected Face-Frame:

Linson uses diagonal back partings to

connect the sides to the money piece. These foils should connect to the money piece and back foils,

 so the client's highlights are blended throughout.
Combine Partings In The Back For A Blended Hairline:

For clients that like to wear their hair up, a few foils in the back can go a long way—even if they can't see them. "Everyone likes a little brightness underneath, so even if she can't see this blend, other people can. It's these little details that set you apart from other hairdressers and clients appreciate that," Linson says. 
So, he places three weaved, back-to-back foils starting at the back center hairline. Then to create a cohesive blend, he places three additional foils on either side of the center section using diagonal back partings.
Pro Tip: Connect the back foils by having the corners touch to create a U-shape section in the interior. 
Tip #2: Formulate To Fill Missing Pigments
To achieve a lived-in look AND an easy growout, Linson always formulates a natural tone into the root shadow. But that's not all—Linson formulates with repigmentation in mind.
"I always formulate with a natural. But the reason I added the WG (warm gold) is because since I lifted her to a Level 10, the 5N doesn't have any warmth to hold onto. So the end result would be missing that reflective warm tone that works for her skin tone," he explains. "The 4WG acts as a filler and then I add a little bit of 5V to keep the warmth under control." 
Tip #3: Wet Balayage Is The Key To Healthy, Bright Ends 
Placing already-blonde ends in foils could lead to serious damage. So for clients that need a bright refresh, Linson applies a wet balayage to remove any dullness but keep the integrity of the hair. 
"I'm taking big panel sections and painting on a slant that is brighter towards the face and lower towards the back, fully saturating at the ends. Since the hair is wet, the process is more gentle and it just allows enough lift for those ends to pop without causing damage," he explains. 
Slide For The Stunning Before & After
Formula A (foils):

Schwarzkopf Professional BLONDME® Premium Lightener 9+ + 7-volume BLONDME® Premium Developer

Formula B (root shadow):

Redken Shades EQ 20g 4WG + 20g 5N + 5g 5V + 45g Shades EQ Processing Solution

Formula C (midtone):

Shades EQ 20g 7N + 10g 7G + 5g 7V + 5g 6N + 40g Shades EQ Processing Solution

Formula D (wet balayage):

BLONDME® Premium Lightener 9+ + 20-volume BLONDME® Premium Developer

Formula E (all-over gloss):

Shades EQ 10VG + Shades EQ Processing Solution
Have Questions? Linson Has Answers!
One of the benefits of watching a course on BTC University? Artists are able to answer your questions in REAL TIME! Here are some technical questions viewers had for Linson during his livestream:
Question: Is a three foil placement typical with all of your refresh clients?
Answer: "It depends on the density and it also depends on the desired look. If I wanted to do a super chunky money piece, I would probably have done five back-to-back foils and I probably would have done horizontal partings straight back. So it varies, with my client today I wanted the result to be natural and soft so I went with three. But, because they are back-to-back the highlights will pop." 
Q: How do you determine your toner formulations for creating different shades for lived-in blondes?
A: "Personally, it depends on the client's skin tone, eye color, their natural haircolor and their maintenance preference. Now that I have an established clientele, they really trust me to determine their end shade. But if you are trying to build a name for yourself, you really want to be cautious. So, a trick I learned is bringing a silver foil and a gold foil under the client's chin. One of them will make their face glow and one will wash them out and that is how you can determine what toner to formulate. If both foils make them glow, you can do my favorite formula which is a 'cool/warm', mixing violet and gold together for the toner.'
Click Here To Purchase Linson's Course & Learn His Entire Technique! PLUS—Your Purchase Includes Unlimited Access!