Last updated: September 18, 2023
Dark Auburn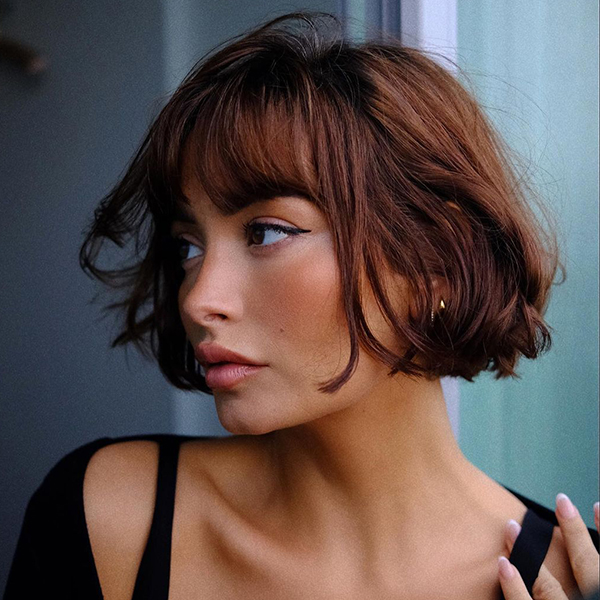 Formula A (high-lift color):

L'Oréal Professional Majirel High Lift Beige + 30-volume developer

Formula B (roots):

Majirel 20ml 8G + 15 ml 7M + 5ml 6CR + 30-volume developer

Formula C (ends):

Majirel 20ml 8G + 15 ml 7M + 5ml 6CR + 15-volume developer

Formula D (global glaze):

L'Oréal Professionnel Dia Light Demi-Permanent Color 6GRV + 7GV + 6-volume developer
Looking to take a client with a darker starting level warmer while maintaining that luxe richness? Using high-lift color as a shortcut to lift the base, then melting with copper formulas will get you there—like this dark auburn that model and internet-beloved "It Girl" Taylor LaShae's (@taylorlashae) requested. Get formulas and recommended maintenance schedule from colorist Emily Landino (@emilylandino) below!
Who is an ideal client for this look?
"The ideal client is anyone starting with black or brown virgin hair," says Emily, adding that hair with preexisting color will need a more customized color-correcting formula. 
What can clients expect from their appointment?
According to Emily, this transformation took a little under three hours and included a permanent color application, toner and styling.
How can clients care for auburn tones?
"Normally clients get a gloss along with the root touch up every six weeks max," Emily explains, adding that they can come in sooner for a gloss if they like their copper tones looking extra-fresh. 
Photo Credit: Instagram via @taylorlashae @emilylandino
COLOR FORMULAS
Formula A (high-lift color):

L'Oréal Professional Majirel High Lift Beige + 30-volume developer

Formula B (roots):

Majirel 20ml 8G + 15 ml 7M + 5ml 6CR + 30-volume developer

Formula C (ends):

Majirel 20ml 8G + 15 ml 7M + 5ml 6CR + 15-volume developer

Formula D (global glaze):

L'Oréal Professionnel Dia Light Demi-Permanent Color 6GRV + 7GV + 6-volume developer
FORMULA STEPS
Step 1: Emily's client started at a Level 4-5. She started by lifting her two levels with Formula A, leaving a half-inch of natural regrowth out. Process for 30 minutes or until your client is a Level 6.
Step 2: Wash and dry the hair. 
Step 3: Apply Formula B at the roots, and Formula C at the ends. Process for 35 minutes.
Step 4: Shampoo and apply Formula D globally.
Step 5: Wash and style as desired. 
Finished Result: 
Photo Credit: Instagram via @taylorlashae @emilylandino