Last updated: April 19, 2021
What Are Hot Fusion Hair Extensions?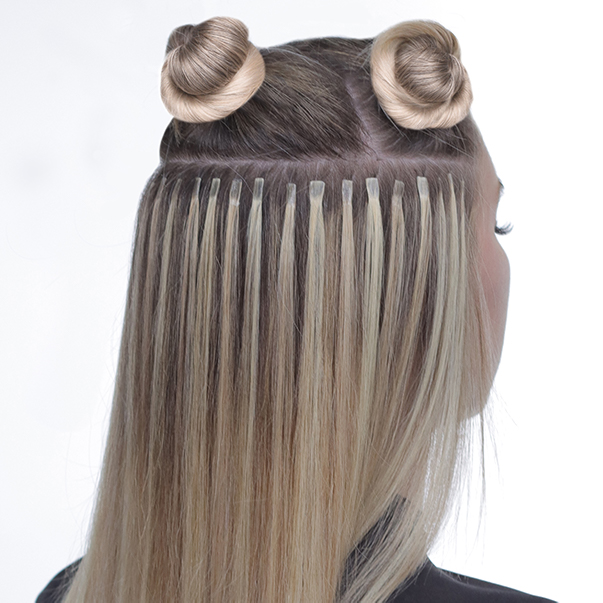 Hot Fusion Hair Extensions 101
Offering hair extension services is a great way for you to make more money behind the chair—especially if you are offering a variety of extension types to suit every client's needs. Today we're teaching you all about hot fusion hair extensions with the experts at Hotheads®! This long-lasting, ultra-comfortable and undetectable extension method will be a fan favorite with your clients, so keep reading to learn everything you need to know!
What Are Hot Fusion Hair Extensions?
Hot fusion extensions attach strands of hair to the client's head with a keratin-based tip. The process uses a heating element to attach or fuse the keratin bond and extension to the client's hair. Since human hair is 95% keratin, the fusion method is safe, comfortable and long-lasting.
How Are Hot Fusion Hair Extensions Different From Other Types Of Hair Extensions?
Since hot fusion uses keratin to attach the hair strands to the client's hair, there is no glue or tape involved. They give a naturally blended look with the client's hair, and offers much more styling versatility since the bonds are more discreet in the hair. The hot fusion method also offers a more even weight distribution within each extension bond.
How Do I Choose A Hot Fusion Hair Extension?
Look for a hot fusion extension that is ultra-soft and flexible, like the Hotheads® Keraflex™ Extensions. These are the first of their kind to have a MATTE keratin extension bond, which gives a softer and more discreet application using the proprietary keratin formula.
Always choose 100% Remy human hair, like the Keraflex™ extensions. Keraflex™ extensions is an 8mm bond width with prelayered ends for a natural blend and optimal customizability. Choose from 21 Hotheads® shades (existing Hotheads® stylists can see the shades on their color ring…no new ring needed!), all with a body wave texture that air-dries beautifully.
Who Is The Ideal Client For Keraflex™ Hot Fusion Extensions?
Keraflex™ is versatile and can be worn by almost anyone:
Fine-haired clients:
Hotheads® Keraflex™ extensions are very lightweight, and can be applied in more fragile areas or on finer hair textures.
Clients looking for added fullness:
The matte keratin extension bond on the Keraflex™ extensions is virtually undetectable in the hairline and fringe area, so you can add long-lasting fullness here without damage. Plus, Keraflex™ comes in 10-inch to 12-inch length, ideal for shorter-haired clients seeking fullness!
Clients who love to wear their hair up:
The Keraflex™ bond offers 360° movement for maximum styling options without being visible!
Clients who want to change up their color without chemicals:
With 21 shades available, you have limitless color combinations and placement options to give your client a new look without touching chemical color.
Clients who want a full head of undetectable, long-lasting extensions:
Keraflex™ is available in three length options (10″-12″, 14″-16″ and 18″), so you can customize a full head of extensions for any client, whether she wants added length or not.
How Long Do Keraflex™ Hot Fusion Extensions Take To Install?
This easy-to-master thermal activation method fuses the Keraflex™ extension hair with the client's natural hair and takes just 3 to 5 hours for a full head application. Plus, the time-consuming step of trimming the top of each bond to make them more discreet is not an issue with Keraflex™. Hotheads pre-customized the bond to 1 cm high, cutting down application time significantly.
How Long Do Keraflex™ Hot Fusion Hair Extensions Last?
The Hotheads® Keraflex™ hair extensions are the longest-lasting, single-wear method and can be worn for 3 to 5 months!
How Do I Install Keraflex™ Hot Fusion Extensions?
Hotheads teaches two application options: flat and rolled. The flat technique is best for building density and length throughout the majority of the application, while the rolled technique is ideal for face-framing, color effects or areas of high visibility.
You learn BOTH methods in the Hotheads® Keraflex™ Virtual Certification, a hands-on, interactive course, and all of the below:
Hands-on application, removal, cutting and blending

Installation on a mannequin head using Keraflex™ Practice Hair

Client consultation and color-matching tips

How to price and order extensions

In-depth product knowledge

Maintenance and at-home client care
What Equipment And Tools Do I Need To Install Keraflex™  Extensions?
 As part of your certification registration, you receive a kit with everything you need to start offering Keraflex™ services. The kit is PACKED with essentials worth $294! You will get:
Rattail Brush:

Detangles hair and extensions without damage and offers clean, precise sectioning.

Finger Sectioning Ring:

This adjustable ring with a pointed tip makes it easy to create clean sections as you work.

Alligator Hair Clips:

Use these non-slip clips to hold the client's hair in place.

Single-Prong Duckbill Clips:

Crucial for holding wefts in place during installation.

Keraflex™  Extensions Shield:

These are important because they isolate the client's hair for application and align the bond for comfort and safety.

Keraflex™ Thermal Glove:

Use this heat protectant glove for your own comfort during installation.

Keraflex™ Thermal Training Applicator:

This temperature-regulated tool allows for safe application while you are learning to install Keraflex™  extensions.

Keraflex™ Remove Tool:

The Diamond-Head tool breaks keratin bonds gently and effectively.

Keraflex™ Remove Gel:

This alcohol-based gel breaks down keratin bonds for safe and gentle removal.

Keraflex™ Practice Hair:

You'll get 100 pieces of single-use human hair for training purposes, so you can perfect your technique!
Are Hot Fusion Extensions Damaging?
Keraflex™ offers ultimate comfort and safety because the extensions are attached to the head with keratin, which is already existing in human hair. This fusion method allows each Keraflex™ hair strand to be moved 360 degrees, meaning any way your client wears their hair, they won't experience any pulling or snagging.
How Do I Remove Keraflex™ Extensions?
Keraflex™ extensions are easy and non-damaging to remove. The Keraflex™ remove gel and Keraflex™ remove tool are used in tandem in the removal process for a seamless and safe removal. The gel helps with any leftover residue similar to our tape removal process.
You'll learn exactly how to remove them in the certification course!
Is There Any Downtime After Keraflex™ Extensions Are Installed?
As with most extension installations, the client should wait a bit before touching the extensions too much. Hotheads® recommends waiting 48 hours before washing, exercising or swimming, and no chemical process on the hair for 48 hours.
How Should My Client Care For Keraflex™ Hot Fusion Extensions At Home?
Extensions specialists spend a lot of time explaining at-home care to clients because they know that no matter how beautiful the results, it all comes down to how the client treats her hair when she is not in the salon.
Here's how your client should care for Keraflex™ extensions at home:
All of the rules of extension care apply such as not going to sleep with wet hair and being sure to brush every day. 

With Keraflex™ you want to make sure you don't apply heat to the bond when heat styling the hair. 

Avoid using toning shampoos or smoothing treatments on the extensions.

Hotheads has an extension-specific wetline you can send home with your clients to ensure they will care for their hair correctly.
Hotheads® Hair Extensions