Last updated: July 18, 2019
Correcting An Extension Service Gone Wrong
Plus, Tips For Nailing Extension Application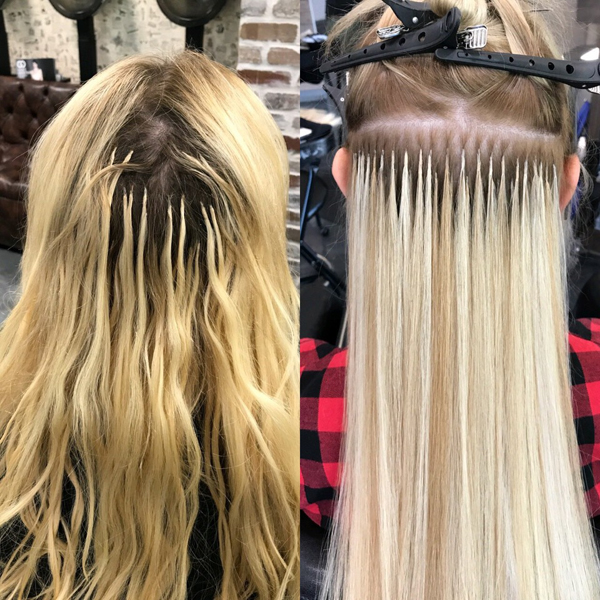 Tips For How To Correct An Extension Service Gone Wrong
Lazy extension jobs can mean serious damage to clients' hair, not to mention a completely unnatural look. Watch how extension expert and Great Lengths artist @missashleyhair corrected this client's extensions gone wrong, plus get her tips on creating the ultimate transformation. 
How much do hair extensions cost? And how much should you charge? Click here!
On Understanding Hair Density & Application…
Know This: Small bonds must be used with fine hair in order to avoid breakage.
Here's Why: Matching density to density gives the hair a more natural finish, which is the end goal of any extension application. The hair should never look ropey, and the ends should always move effortlessly.
Takeaway Tip: If the hair is baby fine, use fine or extra-fine hair extension strands. When using Great Lengths, they term customizing the bond sizes as follows:
Fine bond = standard bond cut in half
Extra fine bond = standard bond cut into thirds
Custom bond = standard bond cut into fourths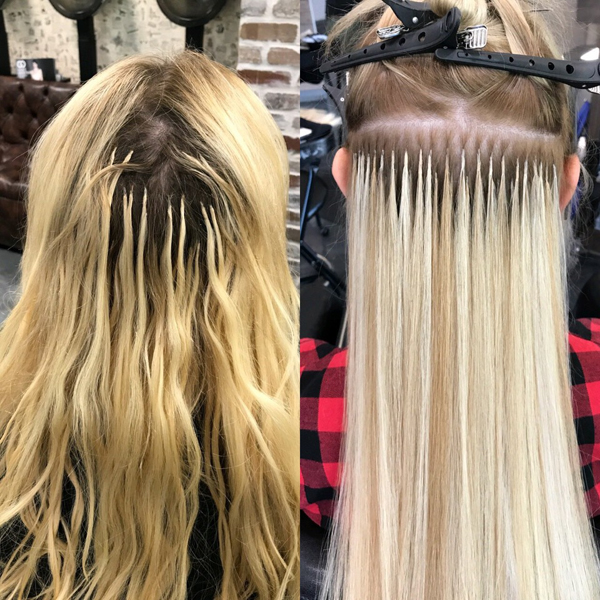 On Dealing With Growth Patterns…
Know This: Be aware of growth patterns when applying extensions, especially in the crown area.
Here's Why: Never apply directly into the growth pattern (aka the swirl) because you won't be able to cover it.
Takeaway Tip: When getting closer to the top, drop all the hair down to make sure that all the bond attachments are covered with "top hair" before moving up another row.
On Sectioning The Hair…
Know this: Before starting, understand the client's desired end result.
Here's Why: Sectioning or parting the hair serves as a blueprint for your finished style and allows more control and precision as you proceed through the application. For this reason, the partings and subsections must be straight. Do not follow the curve of the head anywhere you are working. It's a good idea to step an arms-length away to check your parting and subsections.    
Takeaway Tip: To maximize density, leave out 1 inch of hair around her hairline (because it's more fragile and fine toward the perimeter) to prevent breakage. Then, minimize the spacing between the rows as you apply. 
On Maintaining The Look
Know This: Brushing is super important. 
Here's Why: Brushing prevents any tangling and matting of the extension. And, while Great Lengths Bonds generally last 3 to 5 months, each client is different and depending on how well they maintain their hair, that can determine the life of the extension.
Takeaway Tip: Explain to clients that the scalp and the bonds need to be thoroughly brushed daily with the Great Lengths extension brush. And remember, hair density plays a role too.
On Pricing The Service
Know This: "How much does this cost," is the most-asked question Ashley gets, and for her, providing a full-head lengthening service can range from $1,200 to $5,000. The exact amount varies depending on many factors and can only be given after an in-person consultation. This particular application was $3,000.
Takeaway Tip: Be passionate about your work and don't ever take the easy (lazy) way out. Extensions are too much of an investment. "Your clients will support you for a lifetime if you not only do great work, but you also show them that you're passionate about lifting them up and making them feel beautiful," says Ashley.