Last updated: October 06, 2023
8 Dandruff Myths Vs. Realities

One of your regulars is in for a trim. You greet her at the front desk, walk her to your station, put on her cape and start your consultation, and poof!—little white flakes, EVERYWHERE. If you could use some help knowing what to do next, you're not alone. So we asked two dandruff experts, Diane Cole Stevens, NIOXIN artist and artistic director of Cole Stevens Salon, and Christopher Langlois, scalp health specialist and owner of René Furterer Focus Salon Christopher Langlois Atelier in Pittsburgh, Penn., for their advice, as well as some common dandruff myths, so you know exactly what to do the next time a client with dandruff sits in your chair.
First of All, What is Dandruff?
The most common type of dandruff (and the one you're likely seeing in your chair) is Pityriasis Capitis Simplex, which is caused primarily by oil from the sebaceous glands mixing with dead skin cells and/or product buildup, which results in itchiness and flaking of the scalp. This type of dry dandruff can get worse due to dry skin, stress, diet, poor hygiene, product buildup and sensitivity to products. Here are some common myths about dandruff and flaking.  
Note: there are different (and more severe) conditions that can cause scalp flaking, including Seborrheic Dermatitis, which is dandruff accompanied by scaly patches and red skin. Eczema, Psoriasis, fungal infections and ringworm are also accompanied by scalp flaking. These conditions require a doctor referral.
8 Dandruff Myths (And Realities)
1. Your clients should scratch away flakes before shampooing.
Myth. Roughing up the surface of the hair can cause irritation, pain and even infections—not to mention the flakes could come back even thicker because the scalp is trying to protect itself. Step away from the rattail comb!
2. Dandruff is contagious.
Myth. However, it is important to know that itchy scalp isn't always dandruff—it may be another condition that is contagious.
3. Listerine can help clear up dandruff.
This is Actually True. Ingredients in Listerine like menthol, eucalyptol, methyl salicylate and thymol contain antiviral and antifungal properties that can help dry up and control dandruff. Clients with a dry scalp can try mixing Listerine with water in a spray bottle and misting at the scalp, then letting it sit for a few minutes.
4. Dandruff is caused by poor hygiene.
This is (Kind of) True. Not washing the scalp regularly or relying too heavily on dry shampoo can affect scalp health. But these factors are more likely to cause dandruff:
Using low-quality shampoo
Applying low-quality conditioner directly to the scalp instead of only to the hair.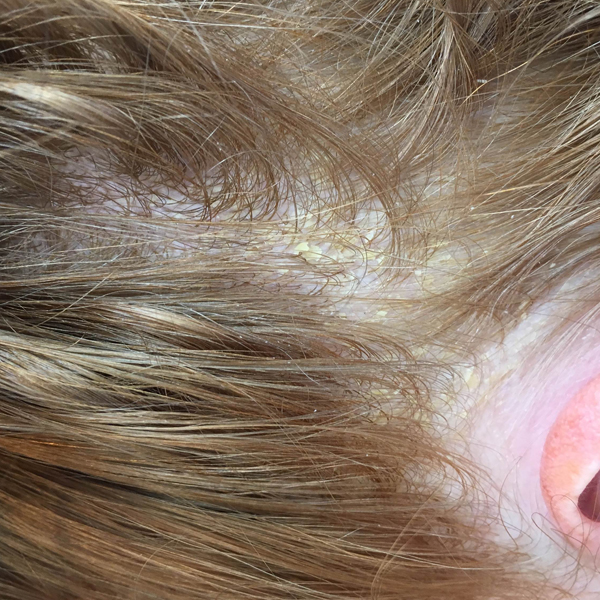 5. Weather can affect dandruff.
This is True. Just as our skin is affected by colder weather, the winter months (when the air is drier), can dry out our scalps, too.  
6. Diet can affect dandruff.
This is Also True. Nutrition plays an important role in scalp health, just as it does with the rest of our body, says Christopher. Have a client with a dry, flaky scalp? Diane suggests advising them to:
Drink plenty of water
Avoid salty, fried foods and coffee
Eat foods rich in Vitamins A, B and C
7. Dandruff causes hair loss.
Myth. Often, clients notice hair loss at the same time they notice dandruff and believe the dandruff is causing it. Not true. However, many hair loss triggers (like poor diet and stress) also trigger flakes.  So while dandruff does not cause hair loss, the two are sometimes related, as a poor scalp environment can contribute to dandruff and hair loss.
8. To treat dandruff, use a dandruff shampoo, like Head & Shoulders.
Myth. Explain to your clients that dandruff shampoos are very drying, and can make hair brittle. Keep reading for some products you should recommend instead.
How to Treat Dandruff
Diane recommends the NIOXIN Scalp Recovery line, which is specially designed for scalp-related problems. The line includes a Medicating Cleanser, a Moisturizing Conditioner and a Soothing Serum, which all infuse the hair with moisture while soothing the scalp.
Christopher recommends weekly scalp treatments (done at home or in the salon) for his clients. "My favorite is the René Furterer COMPLEXE 5 regenerating plant extract or the René Furterer ASTERA soothing freshness fluid (for clients with sensitive skin). These scalp treatments specifically remove buildup of sebum and dead skin cells." Here's how he does it:
Christopher starts by massaging the scalp with his fingers to increase blood flow.
He then applies the treatment and lets it process.
He cleanses with CURBICIA lightness regulating shampoo (for scalps prone to oiliness), ASTERA soothing freshness shampoo (for irritated scalps), KARITÉ HYDRA hydrating shine shampoo (for dry hair and normal to oily scalp), KARITÉ NUTRI intense nourishing shampoo (for very dry hair and scalp) or KARINGA ultra hydrating shampoo (for textured hair).
After towel-drying, he applies ASTERA leave-in soothing freshness serum to the entire scalp. This serum has glycine which reduces itching, while ingredients like Cimentrio and Vitamins B3, E and F rebuild cells and protect the scalp. 
Note: begin each treatment with a scalp analysis, looking for any broken skin (including open wounds from scratching), which would prevent treatment and require a doctor referral.
How to Talk to Your Clients About Dandruff
If you're a new stylist, you might have discovered that it can be hard to talk to your clients about their flakes—it's a sensitive topic that can be embarrassing! But if you ignore it and your client finds out about their dandruff from someone else, they'll wonder why you didn't say anything. "Clients rely on us as licensed professionals to tell them what's going on with their hair, and we have an ethical obligation to discuss a client's scalp health," says Christopher.
Here's how to broach the subject.
If you see flakes during the consultation, be honest. Share this with your client, then ask if you can examine their scalp.
Ask your client about their lifestyle and haircare routine, and if they have any other scalp conditions, then—if you feel comfortable—educate them about what could be going on. There are many reasons a client could be experiencing a dry scalp (see above).
Recommend a plan. This could involve changes to their diet, using professional scalp treatment products or switching up their haircare routine.
Always be gentle and discreet—staying mindful of your clients' feelings and being sensitive of others nearby.  
Remember: "If a stylist doesn't have the training or education to help a client, it doesn't mean they should not discuss it with the client," says Christopher. "Referring them to a specialist is not a sign of weakness…more often than not, your client will respect you more for it."