Last updated: November 08, 2019
The Top 10 Cool-Girl Wave Tips We Posted In 2018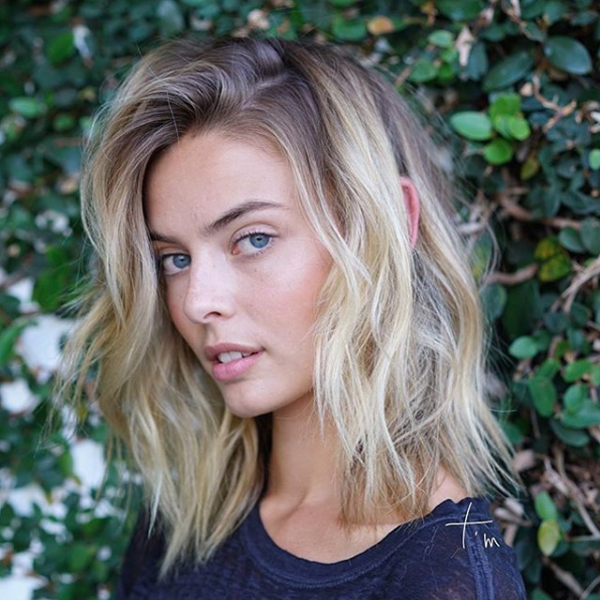 10 Of The Best Tips For Styling Cool-Girl Waves From 2018
Your clients want the lived-in waves they're seeing all over Instagram—they wanted them all of 2018 and we bet they'll be asking for them this time next year. But why? They accentuate strong haircuts and dimensional color. Plus, they give any woman instant confidence with their effortlessly cool "woke up like this" vibe. That's why we put 10 of our best waving tips from 2018 all in one place. Scroll for them all! 
1. Start Waving These Sections First
Before determining your wave pattern or technique, West Coast cutter Tim Morrison (@timm.morrison) recommends assessing the texture of your client's hair. Take smaller sections for heavy hair, and larger sections for finer hair.
Another cool-girl texture master, Chris Jones (@chrisjones_hair), recommends starting around the face frame on the sides and throughout the top—this will give the curls enough time to cool as you continue working around the head.
2. Always Alternate Directions
Working from bottom to top, start with the "sideburn" section around the hairline to help frame the face. Curl the hairline sections away from the face and then switch to alternating directions for a more natural effect. Alternating sections will get more movement out of the cut.
3. Marcel Tip: Practice Holding The Iron Open
Using a Marcel to make waves? The trick is working with one hand. Celebrity stylist Harry Josh (@harryjoshhair) recommends holding the iron open with one hand—not even opening and closing it yet, just holding it open—to get a feel for how it works.
4. Still Nervous? Don't Even Close It
You can create a beautiful wave pattern while holding the Marcel open—no need to close the clamp! Hold it open (remember, you've practiced holding it open, so this part is easy) and wind a section around the barrel. Because the iron has equal heat distribution, just two or three seconds will give you the wave you're looking for.
5. Not Comfortable With A Marcel? Choose The Right Tool
Does it really matter if you use the same sized curling iron on the same heat setting for every client? The short answer is yes. Click HERE to get a full styling guide that breaks down the tool you need to achieve cool-girl waves on every hair type and length.
6. Avoid This Mistake On Bobs & Lobs
Are those wavy lobs and bobs falling straight the second your client leaves the salon? You might be taking too large of sections. Instead, Chris recommends taking smaller sections and using a Hot Tools Black Gold™ Marcel Curling Iron (in 1- or 1.25-inch barrels) on short-haired clients. By working with smaller pieces, you will be able to get a better hold from each curl.
Watch How To Wave On Shorter-Haired Clients Below
 

 

View this post on Instagram

 
7. Don't Curl Every Section
You don't want everything to be perfect when trying to achieve effortless waves, suggests #ONESHOT Winner Mika Rogerson (@mikaatbhc). In fact, sometimes less can be more. Leave out small sections of hair that are untouched from the curling iron for more of an undone look. This will create and enhance movement within the lob haircut as well.
8. When To Leave The Ends Out
For clients with a short lob or bob cut, the hair is shortest underneath at the nape. Mika uses a 1-inch BaByliss Pro curling iron at the root to smooth the hair down to the midshaft. When she gets almost the bottom of the section, she turns the hair up toward the root, making sure to leave out the ends. See how it's done in the gif below:
9. Avoid Weighing Hair Down At The Crown
What's lived-in wave master Anh Con Tran's (@anhcotran) secret to preventing the hair from falling flat? Build volume at the crown. In this area, elevate each section and gently slide (to avoid a crease!) the Marcel back and forth with the clamp up, applying heat closer to the roots. Then hold and allow to cool before continuing the same wave pattern.
10. Break 'Em Up Without Falling Flat
To avoid looking like Shirley Temple, break the curls up after they have completely cooled. Chris recommends two different ways:
Flip 'N Shake: Does your client hold curls well? Ask them to flip their head upside-down, shake the curls out and apply a texturizer or dry shampoo. When they flip their hair back, the texture be instantly lifted with volume.
Comb Technique: After the hair has cooled, gently run a wide tooth comb throughout all of the curls and apply a texturizing product to set the lived-in texture.