Last updated: June 08, 2023
Bridal Styling 101: Pricing, Scheduling & Consultations
How To Schedule, Price & Contract Brides As A Hairstylist In our industry, every season can be wedding season. Whether you're a bridal specialist or just stepping into the special events game, Schwarzkopf Professional® Educator and bridal specialist Alwyn DiGregorio (@alwyndigshair) shares her expertise into the technical world of bridal styling.  1. Bridal Consultation Expectations … Continued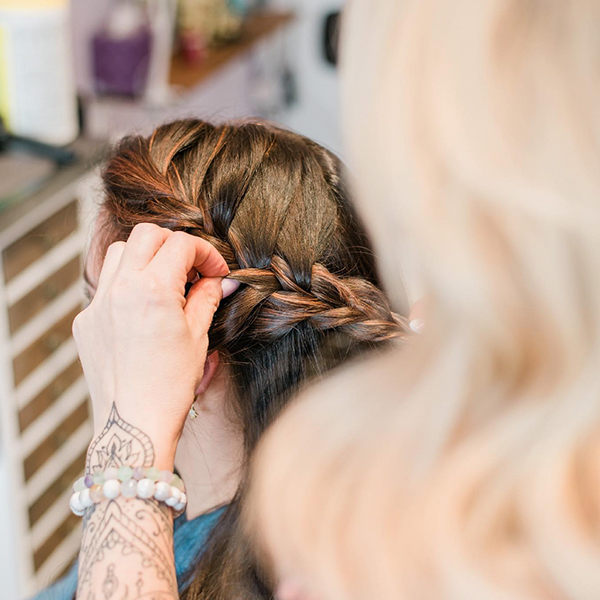 How To Schedule, Price & Contract Brides As A Hairstylist
In our industry, every season can be wedding season. Whether you're a bridal specialist or just stepping into the special events game, Schwarzkopf Professional® Educator and bridal specialist Alwyn DiGregorio (@alwyndigshair) shares her expertise into the technical world of bridal styling. 
1. Bridal Consultation Expectations & 

Scheduling
Since you'll be focusing on a look designed around one day, Alwyn has a three-step trial and consultation process she uses for every bridal client. 
"I schedule the bride's first trial, then have them sign a contract to come to their second trial to solidify the look before the big day," explains Alwyn. 
Consultation & Trial Schedule Breakdown:
First Trial—Alwyn prices an initial bridal hair trial at $125. This trial consists of two to three looks that are demoed on the bride with recommendations and adjustments depending upon the desired result. 
Timing: One hour to one hour and fifteen minutes.
Pricing: Set price. This trial is a service itself, price yourself accordingly. 
Scheduling: First trials should be a few months before the wedding day.
Second Trial—Once a style is demoed and agreed upon, Alwyn uses the second trial to perfect the look and create a "day of" run-through for her client. This trial is contractually agreed upon, with details you can find below.
Timing: One hour to one hour and thirty minutes. 
Pricing: This trial is included in day-of pricing.
Scheduling: Two to three weeks before the wedding.
2. What To Include In A Bridal Client Contract
To save yourself and your brides stress or money lost, create a contract. Brides are well versed in contract signing—so presenting them with your expectations and services is not "overdoing it," trust us. 
Here are a few things Alwyn suggests to include in the contract:
Day-of schedule. Whose hair you will be doing for how long and at what exact time.
Travel fees. Depending on your service, Alwyn includes a separate travel fee for brides more than 30 minutes away. 
Payment collection. ALWAYS take a deposit from brides, bridesmaids or anyone else using your service for a special event. To save time and avoid tracking down busy bridesmaids, Alwyn suggests having the bride handle payment collection ahead of time so it is ready to go and no payment is overlooked.
Bridesmaid expectations. "In my bride's contract, I always include what I need from their bridesmaids," says Alwyn. Since you (typically) will not see the bridesmaids' hair until the day-of, it's ESSENTIAL to layout hair washing, blow-dry and preparation expectations you will need.
Pro Tip: Alwyn asks for photos of the bridesmaids' hair from the front, back and side angles!
The contract should be completed no later than six weeks prior to the wedding day. 
Check out Alwyn's knotted ponytail tutorial:
 

 

View this post on Instagram

 
3. Products To Pack In Every Bridal Kit 
Alwyn has a list of products that are her go-to for any type of bridal styling. Peek through this list of products to add to your kit!
Take a peek into Alwyn's go-to Schwarzkopf Professional® styling products:
Schwarzkopf Professional® OSiS+ Tame Wild—To tame flyaways and smooth frizz.
OSiS+ Texture Craft—"I need this to do updos," says Alwyn. 
OSiS+ Soft Dust—To fan out braids and intricate details.
OSiS+ Magic—Ideal for sleek looks without a greasy finish.
OSiS+ Concrete—"For my brides that don't want their hair to move."
Schwarzkopf Professional® Session Label The Flexible—For a smooth working spray that can be brushed out.
This year's bridal trend prediction? Alwyn says, "There will be two types of brides. One will want a low, sleek bun and the other will go for the '90s Pam Anderson updo!"
 

 

View this post on Instagram

 
4. What To Do When "Can you just throw a few curls in my hair?" Rolls Around
It's happened to all of us. A loved one of the bride needs a (full head) "touch-up" before heading down the aisle, but did not book you to do their hair. 
Alwyn says when these inevitable times roll around, she always accommodates the request. However, this should ONLY be done once the regularly scheduled clients are finished with an extra charge billed accordingly. 
5. Why Hair Prep Needs To Start Months Before The Big Day
Part of the first trial includes color, cut and extension conversations to achieve the final look. "Basically all of my brides need to color their hair to achieve the look they want on their wedding day," Alwyn says. 
Mandatory prep like hair color corrections or extensions and maintenance should begin a few months before the wedding and end about two weeks before the big day. This ensures that the bride's hair color and length will be fresh without looking like she just walked out of a root touch-up. 
Pro Tip: Check out Alywn's TikTok @braidsbunsandbrial for all the bridal hair inspo you'll need this year!
Products Used
Schwarzkopf Professional®