Last updated: September 10, 2021
Jumbo Knotless Braids: 5 Tips For Beginners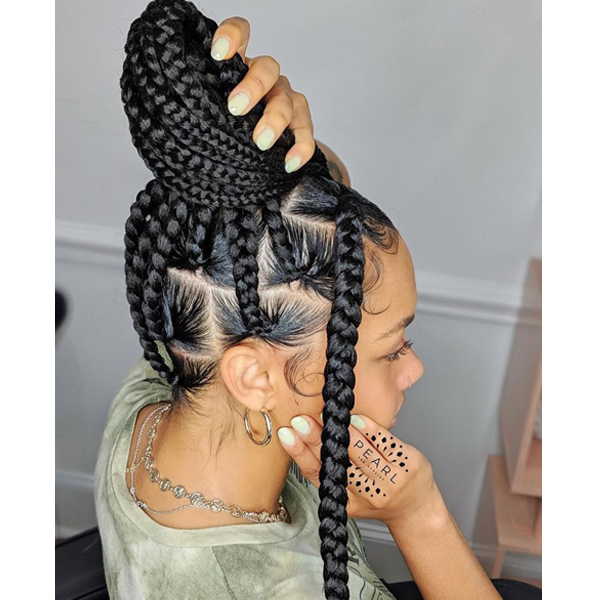 Protective Styles: When To Choose Jumbo Knotless Braids + Tips To Get Started
You want to try jumbo knotless braids, but don't know where to start—we've got you! We featured braiding expert Pearl Ransome, aka @pearlthestylist_ to her 372k IG followers, on "Ask A BTC Expert" for your beginner's guide to the protective style. Keep scrollin' to learn all the different benefits of jumbo knotless braids, how to know if your client is an ideal candidate and some tips to get you started!
#1: What are jumbo knotless braids?
This is a protective style that uses large sections and feed-in braids that are not anchored to the scalp. This look requires a fewer amount of braids which reduces tension on the scalp. That's what makes jumbo knotless braids a great opportunity to give clients a cool, easy-to-wear style while protecting their natural hair.
#2: How long does the style last?
This hairstyle lasts up to two weeks, so during this time, clients are not using a flat iron, blow-drying or manipulating their hair. This gives the client's natural hair a break, allowing the scalp to breathe and the hair to grow.
#3: Are jumbo knotless braids lighter than traditional box braids?
Short answer: Pearl says ABSOLUTELY. With jumbo knotless braids, you are able to style directly after an installation. "When you flow, your knotless braids flow," says Pearl. This style is very lightweight with zero tension on the hair.
#4: Is your client an ideal candidate for jumbo knotless braids?
Here's a fast cheat sheet to determine if you should offer jumbo knotless braids during the consultation process.
Is this your client?
Wants a style that lasts up to 2 weeks
Going on vacation, taking photos, etc.
Requests an easy, manageable style
Looking to protect natural hair and promote growth
YES! Jumbo knotless braids are a great option.
Is this your client?
Wants a style that lasts 4 to 5 weeks
Has very short natural hair that might stick out of the braids
NO! Jumbo knotless braids are not your best option.
 

 

View this post on Instagram

 
#5: The Secret To Clean Partings
Pearl's go-to for achieving super clean parts is Shine 'n Jam that helps the hair lay down flat. First, she applies the product over the partings and slicks down the roots as much as possible. Then, she goes over each line with a comb for precision. Plus, it allows Pearl to manipulate even the finest of hair strands.
Watch The Full IGTV: Ask A BTC Expert
 

 

View this post on Instagram