Last updated: October 01, 2020
The Guide You Need For Pricing Your Specialty Blonding Services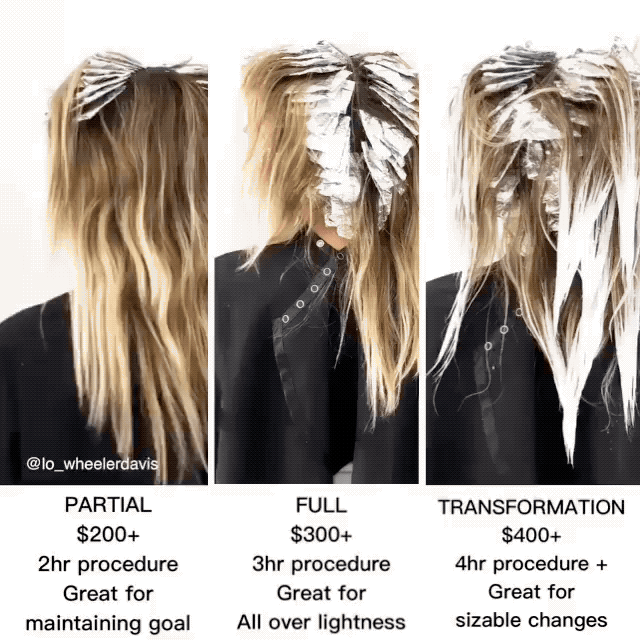 Pricing is always a hot topic among stylists, so this time we're breaking down specialty blonding services with the help of Lo Wheeler Davis (@lo_wheelerdavis), owner of Wheeler Davis Salon in Orange County, Calif. While location will determine your base price, Lo posted a super helpful guide on Insta that breaks down the average price and total chair time for everything from partial highlights to all-over color. Check it out!
"I emphasize that this is for those specializing in blonding because the average stylist books four to eight services in an 8-hour day," shares Lo. "Whereas a specialist may book one to three appointments with a specific intention and result. This template will help your clients understand your unique business while helping you price your services accordingly."
If she wants partial highlights…
Average price: $200+
Average chair time: 2 hours
If she wants full highlights…
Average price: $300+
Average chair time: 3 hours
If she wants a blonde transformation…
Average price: $400+
Average chair time: 4 hours
If she wants to go from black to blonde…
It will probably require four to six large appointments for the best results and the healthiest hair. 
Here's how to prevent disappointment…
"Transparency in the consultation is so important when measuring what is reasonable and possible for our clients individually–based off their hair, history, lifestyle and goals," shares Lo.
Here are some of Lo's tips to avoid disappointed clients:
Let them know the true cost, time and maintenance that goes into achieving the desired end result.
Show photos of your work so clients know your skill level, consistency and range as an artist.
Don't be afraid to require multiple sessions. For most clients, Lo recommends two larger appointments to get the overall result they want and four to six maintenance appointments throughout the years to make the results last.