Last updated: February 17, 2023
Vanilla Red Velvet Color Block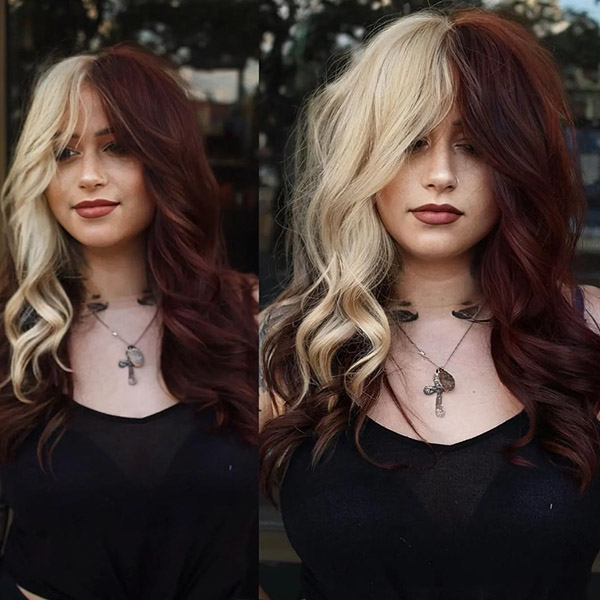 Formula A (color remover):

Schwarzkopf Professional® Bond Enforcing Color Remover Part A + Part B + OLAPLEX No.1 Bond Multiplier

Formula B (lightener):

Oligo Professionnel Blacklight Extra Blonde High Performance Ionic Lightener + 20-volume developer

Formula C (red color):

Equal parts Schwarzkopf Professional® IGORA Vibrance® 6-68 + 6-77 + 0-77 + 13-volume developer

Formula D (blonde toner):

Redken Shades EQ™ 10GI + Redken Shades EQ™ Processing Solution
How To Create A Split Dye Color Block—Plus, Formulas!
Color blocking is going viral on social right now and we just love an impressive placement strategy. So, when 2022 #ONESHOT Overall Transformation Winner and Extensions Specialist Patrick Garcia (@isthatpat) posted this red and blonde color block on IG, we needed to know the details. Keep reading for Pat's formulas, must-have tips, maintenance schedules and more!
Who Did It:
ARTIST: Patrick Garcia
MANUFACTURER: Schwarzkopf Professional, @schwarzkopfpro, Oligo, @oligopro, Olaplex, @olaplex
Duration & Pricing:
The full transformation took five hours, so Pat recommends charging by the hour for this service. 
The Ideal Client For This Look:
"This look is for clients who want to try something different and play around with color," Pat says.
Color blocking is a fun, trendy way to experiment; however, having hair this cool isn't easy. This look is best for someone who doesn't mind a high-maintenance upkeep. 
Maintenance For Color Blocking:
Pat's color-blocking clients visit the salon every four-to-five weeks for a toner refresh and root touch-up. At home, he suggests his clients use OLAPLEX products to keep the integrity of the hair intact.
Pro Tip: Pat says it's key that clients use cold water when washing their hair to keep the dark color from bleeding into the blonde.
Get UNLIMITED access to hair color education on BTC-U:
Expensive Brunette In 25 Foils Or Less With @the.blonde.chronicles
Creating The Perfect Multi-Dimensional Copper By @larisadoll
Layered Toning: Transitioning Platinum to Lived-In With @rachelwstylist
Products Used
COLOR FORMULAS
Formula A (color remover):

Schwarzkopf Professional® Bond Enforcing Color Remover Part A + Part B + OLAPLEX No.1 Bond Multiplier

Formula B (lightener):

Oligo Professionnel Blacklight Extra Blonde High Performance Ionic Lightener + 20-volume developer

Formula C (red color):

Equal parts Schwarzkopf Professional® IGORA Vibrance® 6-68 + 6-77 + 0-77 + 13-volume developer

Formula D (blonde toner):

Redken Shades EQ™ 10GI + Redken Shades EQ™ Processing Solution
FORMULA STEPS
1. Section the hair using a middle part from the roots to the nape.
2. Since Pat's client had black color in her hair, he applied Formula A to those sections to remove the existing color. Process for 20 minutes, then rinse.
3. Lighten the blonde section with Formula B. 
4. Next, use Formula C on the dark red section.
Pro Tip: Use cotton strips to separate the two colors during application.
5. Tone the blonde section with Formula D. 
Pro Tip: Grab your assistant (or co-worker) to help rinse to avoid color bleeding—and be sure to use ice-cold water!
6. Apply OLAPLEX Stand Alone Professional Treatment and process for 10 minutes. 
7. Rinse and wash with OLAPLEX No.4 Bond Maintenance Shampoo and OLAPLEX No.5 Bond Maintenance Conditioner. 
8. Lastly, apply OLAPLEX No. 6 Bond Smoother Reparative Styling Creme and style as desired. 
9. End result: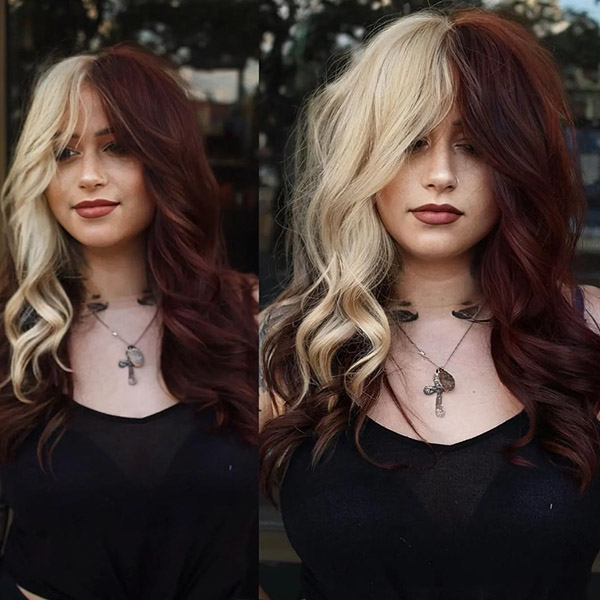 Photo Credit: Instagram via @isthatpat
Color-block obsessed? Check out this orange and black split dye formula for more inspo!